Moving with a Dog? Here's how to make the move as stress-free as possible
By Guest Blogger John, Founder of Moving FC
Are you a dog owner who is interested in moving to Long Beach (or in the surrounding neighborhoods)? We all know moving with a dog can be a stressful experience, but as a as a dog owner, you have the responsibility to make sure the moving experience is as stress-free as possible for your furry friend. In the following infographic by Moving FC, you can learn some quick tips on action steps to take before, during, and after the move.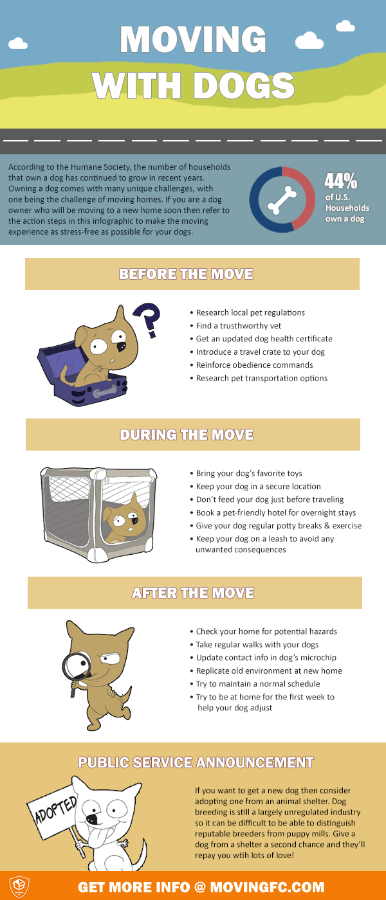 Before You Move
Research is a crucial part of the moving process. First, you need to make sure the new home you have decided to move to is dog-friendly. Some places have no restrictions as to what dogs you can own, while others may restrict you to certain sizes and breeds. It is helpful to reach out to a real estate agent as they are already aware of such information.
Research-aside, start to prepare your dog for the move. Buy a sturdy moving crate and get your dog adjusted to staying inside the crate for a period of time. This is especially important for people who are going to be moving long distances.
During the Move
When the move is taking place, it is best to keep your dog away from all the action. Ask a friend or family member to help keep your dog in one piece while the boxes are being moved out.
If you are traveling by car then you may want to take regular stops so the dog has an opportunity to stretch his or her legs, while also going for a potty break.
After the Move
Once you have finally reached your new home, it's time to do some detective work. Before you let your dog in, walk around and remove any potential dog hazards like household chemicals and food that are bad for dogs.
Also, rather than letting your dog explore the whole home at once, you may one to take it section by section. Let your dog settle in one room for a few days then expand the area he or she can explore. This would make the dog feel less overwhelmed by the new environment.
Looking to buy a home that suits you AND your four-legged companion? We are pet-friendly Realtors serving Long Beach and surrounding communities and we can help. Fill out the form below and we'd be happy to answer your questions.
If you'd like a round up of some of the best places for you and your dog to visit in Long Beach, check this list out.