Coffee! It should be one of the four basic food groups consumed all day.  Coffee is universal, and you can find a cup of Joe on every street corner. There's nothing like a great cup of coffee. It tastes like a mildly roasted nut, but not burnt, tart or bitter. It has a warm smooth finish, and the smell wakes up all of your senses leaving a relaxed smile on your face. Hot brown liquid without any pretenses.
Now, where to find this simple pleasure in Long Beach? Again, coffee can be found on almost every street corner. Let's be realistic, this is Long Beach and parking is a commodity. Many of the popular coffee houses have small parking lots, and very little street parking if any. If you are like most people living in Southern California you spend a lot of time in your car. So, what I should ask is where in Long Beach can you get good drive thru coffee?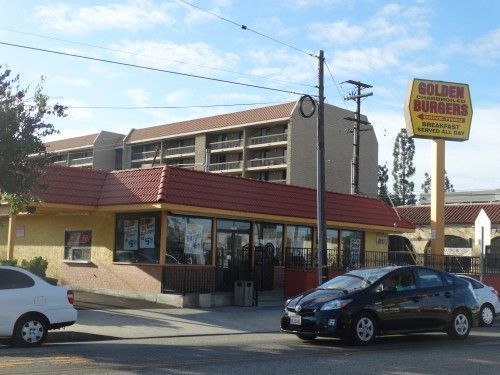 Golden Burger
Family Owned Locals' Favorite
Located on the corner of 4th St. and Junipero Ave. on Retro Row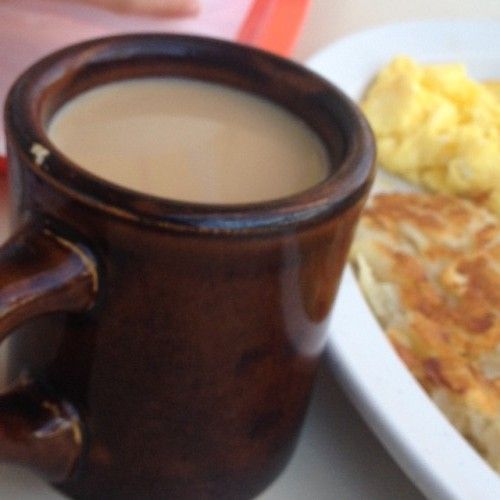 For more than 30 years, owner George Sehremelis has been serving hot coffee and great food at his restaurant. His coffee is the perfect diner coffee. It is always brewing, cream and sugar is served with every cup, and costs less than $2.00. If you dine in the restaurant, your coffee is served in the thickest of brown mugs and refills are free. Along with George, his two regular waitresses, Rosie and Kathy have been serving guests for more than 20 years. They make you feel like part of their family.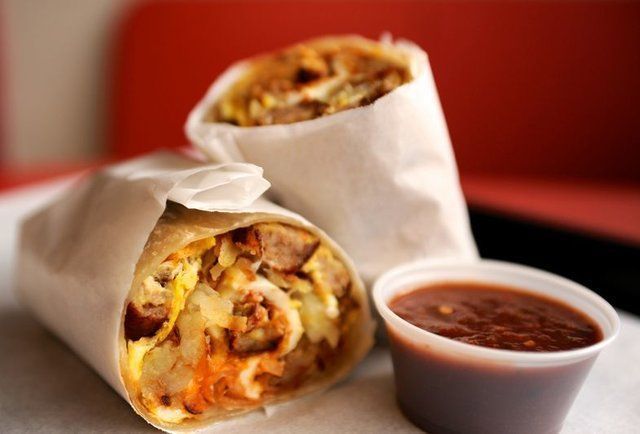 Golden Burger is at the top of the list because they have a good cup of coffee, drive thru window, excellent & friendly service, and the best breakfast burrito in town. It is full of sausage or bacon, fluffy eggs, golden brown hash brown potatoes, melted cheese, and home-made salsa. It pairs perfectly with a hot cup of coffee.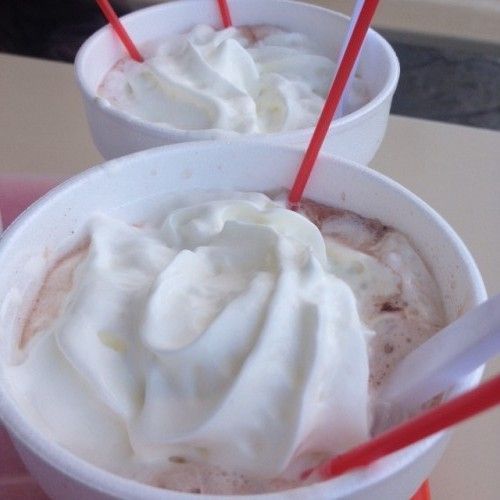 Like any good diner you can also get great hot chocolate. It is creamy rich chocolate served with a mound of whipped cream.  A sweet way to start your day.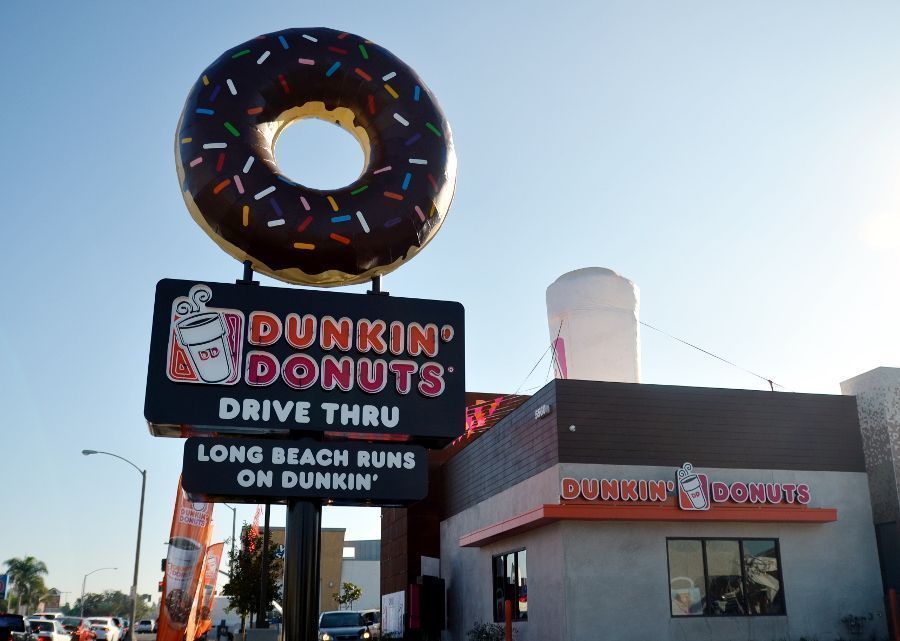 Dunkin Donuts
Located at 5560 East Seventh Street – Look for the big sprinkled donut.
It is new to town, and there is a line all day, every day.  Seventh Street is a perfect location for drive thru coffee. It is the main artery in Long Beach. It takes you from the 710 freeway on the West side of town to the 22 East, 605 and 405 South on the East side of town.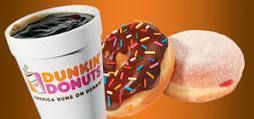 There are only three Dunkin Donut locations in Southern California and Long Beach is lucky to have one. Their coffee is also the classic diner coffee. It is mellow in flavor and never tastes like it has been sitting on burner all day. When ordering at the drive thru window you will be asked if you would like cream or sugar in your coffee. That means you can start drinking it the moment you receive it at the pick-up window.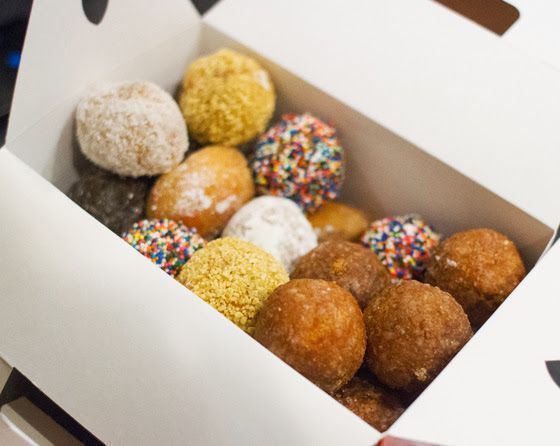 Dunkin Donuts sells 2.7 million cups of its signature coffee a day. That makes it the nation's largest seller of brewed coffee through a fast food outlet. The names says it all – Dunkin Donuts… Your coffee tastes even better when you have a sweet treat to dunk into it. The extensive menu has everything from classic sugar raised donuts, chocolate bars, blueberry glazed, and their trademark donut holes, Munchkins.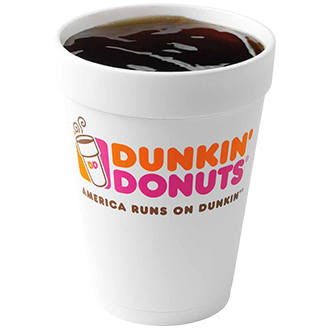 There motto is "coffee is fuel", and that "Long Beach runs on coffee." Well, they seem to know their Long Beach market. You can drive thru one of the busiest intersections in the city and pick up a great cup of coffee without getting out of your car.
Starbucks
Two Drive Thru Locations: Bellflower Ave. & Spring Ave., and Spring Ave. & Palo Verde Ave.
Starbucks sells more than just a good cup of coffee. They sell a lifestyle. Therefore, you can get more than a fresh brewed cup of coffee at their drive thru window. You can get skinny drinks, frozen drinks, hand shaken, blended, and vente (large) drinks. Starbucks started in 1971 with just beans and equipment, and almost 45 years later they have 17,000 stores in 55 countries. They believe in serving the highest quality of coffee and doing business responsibly.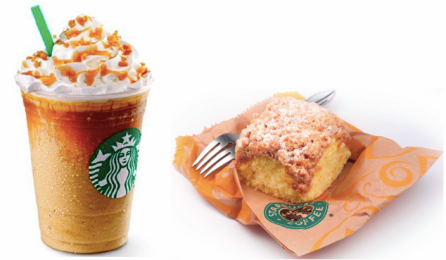 Starbucks has such strong core values it's no wonder they can pride themselves on consistency. It does not matter what Starbucks you drive thru, you will receive the same quality cup of coffee every time.They also want you to expect more than coffee when you drive up to their window. Therefore, the menu is always changing to accommodate even the pickiest customers. This includes a variety of pastries, muffins, cookies, and sandwiches that compliment your coffee. They also take pride in keeping our community green. They promote fair trade coffee products and recycle paper cups and supplies. You can drive thru get a cup of coffee, and have the peace of mind that you are supporting a responsible company.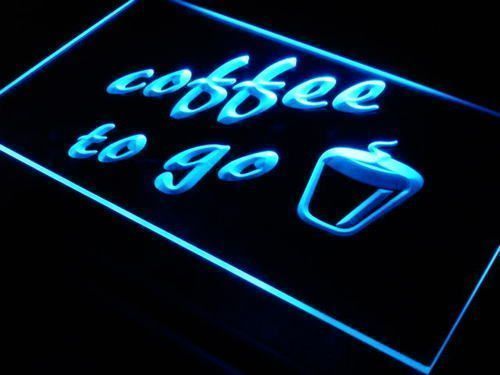 There are many ways to roast, brew, and even pour coffee. However, one small luxury remains the same… the ease of drive thru coffee. Next time you want to experience stress free coffee, try one of these great Long Beach drive thru coffee spots.