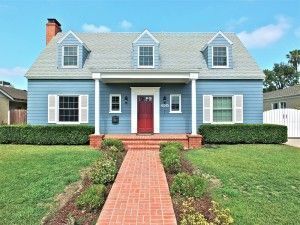 What's the first thing a potential home buyer will notice about your home? The great view from the master bedroom? Your beautiful kitchen? If your house's front exterior is lacking appropriate "curb appeal," the buyer may not even make it through the front door.
I've had plenty of buyers over the years who refused to go inside a home even though the interior had a lot to offer — simply because they didn't like what they saw on the outside.
So whether you're getting ready to sell your home or are just looking for an easy way to improve your property value, taking small steps to improve your curb appeal can be a simple, worthwhile investment.
There are many ways to add curb appeal and sometimes the lists of possibilities can be overwhelming. Before you start, stand back and take a good, long look at your home and ask yourself what would someone seeing it for the first time notice first. What kind of initial impression would your home make? If you have a hard time being neutral, take a few pictures and show them to a friend or relative who you trust to be honest with you.
Spend the most time and money on any obvious problem areas — whether that's peeling paint or overgrown flower beds. Often even some elbow grease, cleaning and touching up the exterior and front landscaping, can make a world of difference.
Here are 13 ideas to get you started in helping your home look its best:
Powerwash the exterior. Make note of areas with peeling or cracking paint.
Clean out your gutters and remove any debris from the roof. If any of your gutters are rusting, have them replaced.
Wash all of your windows on both the outside and inside. Remove any cobwebs.
Keep your lawn mowed and edge the sidewalks.
Remove weeds or grass from cracks in your driveway or sidewalk.
Trim trees and bushes. Make sure no branches of exterior plants are touching your roof or are too close to power lines.
Rake and remove any dead vegetation. Make sure your walkways are swept.
Keep lawn and gardening equipment, bikes or other children's toys stowed away.
Keep garbage and recycling bins out of site.
Repair any broken fencing or any other areas in clear disrepair
Take a good look at your front door to make sure it is clean & fresh looking. Consider updating porch lights and planters near the door way as well to update and liven the area.
Consider lighting walkways or prominent trees as potential home buyers may drive by your property in the evening, particularly during winter months when it gets dark early. At a minimum, make sure your porch light is functioning and turned on.
Adding new plants and flowers to your front yard and porch area can add an appealing and colorful touch to your home.