For many car enthusiasts, the Long Beach Grand Prix marks the kick-off of car season. This three-day festival slated for April 7th through 9th causes the streets of downtown Long Beach to flood with spectators as they watch world-class drivers charge through the racecourse. As one of the largest events in Long Beach, the Grand Prix boasts a fun and busy weekend for all. Here's what you need to know:
Grand Prix Tickets
Ticket prices vary depending on the package you choose. On the upper end, a three day reserved seating pass costs between $95.00 and $142.00 for adults, depending upon your choice of seating row. You can also choose a Saturday-only pass with reserved seat for $67.00. Three-day general admission tickets are $90, and Fast Friday-only general admission start at only $32. For ticket options visit: http://www.gplb.com/ticket-prices/
The Races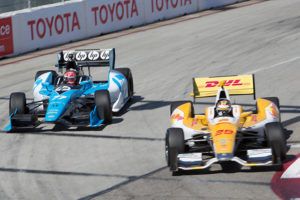 Throughout the weekend there will be six racing events, including the Verizon IndyCar Series, IMSA WeatherTech SportsCar Championship, Motegi Racing Super Drift Challenge, Pirelli World Challenge, SPEED Energy Stadium Super Truck Races, and the Can-Am Challenge. Not sure which race to make your priority? Check out the options at  http://www.gplb.com/racing/
 Need a Break from Cars?
The Grand Prix of Long Beach will host a series of family-friendly events throughout the weekend. On Friday, enjoy the Tecate Light Fiesta Friday Concert featuring Mexican supergroup Moderatto. The concert starts at 6:45 and is free to Friday race ticket holders. The outdoor stage will be at the Long Beach Convention & Entertainment Center Terrace Plaza. Space is limited and is first-come, first-serve.  Saturday ticket holders can also enjoy a free concert: SMG Presents the Kings of Chaos, starring Billy Idol, Billy Gibbons of ZZ Top and Chester Bennington of Linkin Park and Stone Temple Pilots. This concert will also be at the Plaza's outdoor stage and starts at 6 p.m. More information is available at  http://www.gplb.com/concerts/.
For the kids, there's the Family Fun Zone. There will be rock climbing walls, games, video games, racing simulators and a host of other activities to keep the little ones entertained. If you want to kick back and relax with a glass of wine, head to one of the McManis Wine Bars located throughout the circuit. If you don't want to leave the race course area to get a bite to eat, there will be food trucks and Tecate Light Sports Bars.
Explore Long Beach
If you're visiting from out of town, there's lots of other things to do near the races. Take a stroll through downtown Long Beach and check out some of the terrific shops and restaurants. Try Bo-Beau Kitchen's roof top bar and restaurant, Rock Bottom Brewery, Auld Dubliner Irish Pub, Utopia, or some of the other great local options.
Parking
You'll definitely want to reserve a space. View your options here.  http://www.gplb.com/circuit-map/. Or plan on parking elsewhere and taking public transportation. Check lbtransit.com/schedules for options for the Passport Bus or AquaLink.
Street Closures
For locals not planning to attend, stay forewarned. The city will be much more crowded than usual and certain streets will be entirely blocked off. Access to the Hyatt, Shoreline Village, and the Shoreline Marina from Ocean Blvd and Pine Ave. will be at least partially blocked throughout the weekend. If you have to travel through this area, consider taking public transportation or allow more time than usual with your car. Or better yet, avoid downtown if you're not headed to the races.