Is Long Beach bike friendly? Absolutely!
It's no surprise that Long Beach was named among the 20 best US Cities for Cylists, according to the Alliance for Biking and Walking. The city has more than 30 miles of bike path directly along the coastline and rivers, great bike facilities, and numerous bike friendly events.
The Alliance compiled a ranking of bike-friendly cities using data submitted by the 52 largest municipalities in 2014 and hilly San Francisco came in first, with Austin second and Long Beach third.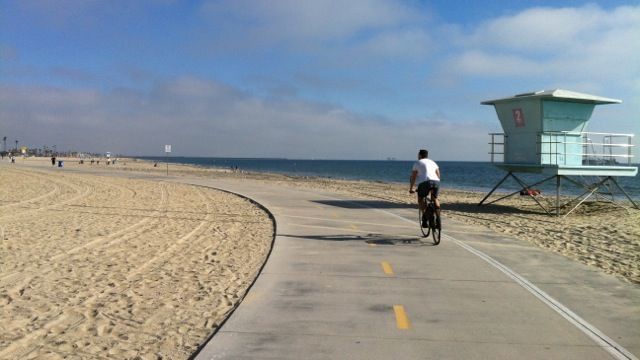 Where to Ride Your Bike
Long Beach offers numerous places to ride a bicycle — along the beach, in parks, through diverse neighborhoods, or in bike-friendly shopping areas. The city designated six key areas as bike-friendly business districts in Long Beach. To encourage visitors to shop and dine locally, bike related businesses, bike racks and corrals, bike lanes and signage were bolstered along major corridors in The East Village Arts District, Bixby Knolls Atlantic Avenue, 4th Street Retro Row, Cambodia Town on Anaheim, 2nd Street in Belmont Shore and Downtown Long Beach.
Downtown, Bikestation Long Beach was the first facility of its kind in the U.S. Strategically placed on the transit-only mall on First Street, it is convenient to light rail, buses, pedestrians, and a local shuttle that services neighborhoods and key attractions. Bikestation Long Beach offers 24-hour indoor bicycle parking (free during regular business hours), bike rentals, professional repair services, a retail bike shop, free air and more.
Bike-friendly businesses in these areas of Long Beach display special decals in their windows and are encouraged to offer special deals for patrons who ri
de their bike on "Bike Saturdays,"the largest citywide discount program for cyclists in the nation.
Classes and Tours
There are classes, workshops and neighborhood tours by bike in Long Beach as well. Cali Bike Tours offers seven specialty tours or will create a custom tour for you. The city has numerous bike shops and bike rental shops.  Additionally, the Long Beach Cyclists offer education, group rides, advocacy and more.
Ciclovia
This year, Long Beach will host its own Ciclovia, "Beach Streets Uptown," set to transform Atlantic Avenue into a beyond bicycle-friendly Open Street Event. On June 6th, Atlantic Avenue will be temporarily closed between Harding Avenue and Wardlow Road from 9 a.m. to 4 p.m. so that people can walk, bicycle, skateboard, and socialize without any threat from motorized traffic. Entertainment will be provided at several sections along the route and the City of Long Beach Department of Parks, Recreation and Marine and Health Departments will provide healthy active living activities and information throughout the course. For more information on the event, click here.  Ciclovia, a Spanish word meaning "cycleway," refers to permanent bike paths, or more commonly in the U.S., the closing of certain streets for use by cyclists and pedestrians.
Other Resources: