Long Beach Junior Lifeguard Tryouts Underway
Opportunity  for Long Beach youth to be active and learn the ways of a lifeguard
Tryouts have already begun and will continue into April. The rest of the tryout dates are:
Saturdays: April 9, and April 30 from 8:00 a.m. – 12:00 p.m. at the Belmont Plaza Pool
There is also one more tryout at Silverado Park Pool on May 7 from 8:00 a.m. to noon.
Click here for more information on tryouts, fees, and scholarships.
The Long Beach Junior Lifeguard program is no joke. Each new junior lifeguard must pass a swim test of 100 yards in under two minutes. Upon passing, the real training begins. There's a morning and afternoon session that runs Monday through Friday from June 27 to August 5. Each sessions takes place on the beach at 55th Place and Ocean Blvd.
Every day for three hours a day the JGs will receive instruction in lifeguard rescue techniques, emergency medical first aid, ocean sports, physical conditioning, and public service. This may sound very academic and pragmatic, yet the program also includes field trips, beach games, and competitions at other beaches.
The biggest completion is the state regionals. This is an all-day event where junior lifeguards from as far north as Santa Cruz and as far south as San Diego will complete in long swims, beach races, games of flags, paddle contests, and ocean rescues. The winners of these events will go on to compete in the national championships at the end of summer in Florida.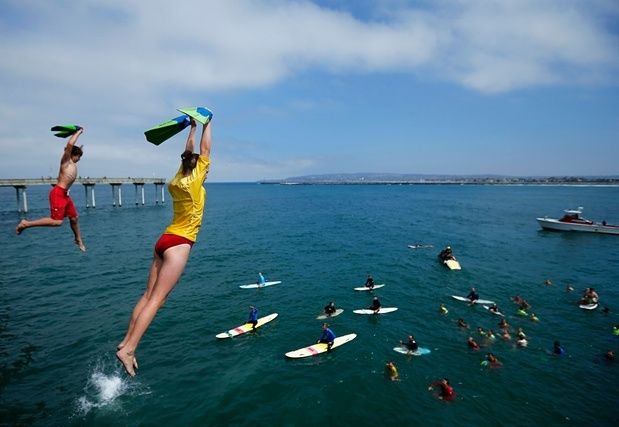 At the end of the six week program the JGs will compete in the ultimate test of strength an endurance at the Iron Guard, formally known for the past 45 years as the Stud Ironman. The name has changed, but the event is still the crown jewel of the summer. The junior guards as well as hundreds of other athletes prepare all summer to compete in this Ironman event. They will run four miles in the sand from Lifeguard Tower at 1st place to the tower at 72nd place. They will also stop to swim 15 different buoys including around the Belmont Pier, swimming a total of two miles.
There are so many rules and regulations in today's world. You never hear parents tell their kids to go outside and play, and be home in time for dinner. The junior guard program allows parents to give their children freedom to jump off piers, jetties and floats, run through the streets without shoes, get sand everywhere, and just have fun. A true coming of age experience supervised by the Long Beach Lifeguards. This program not only physically conditions the JGs it gives them the confidence they need to be in control of themselves and their environment. It also emphasizes the importance of teamwork and friendship. Again, more than a daycamp, a true gift that will last a lifetime.