Should I Save More Money For the Down Payment Before I Buy A Home?
Sometimes potential home buyers begin their search only to decide that they will hold off until they have more money for a down payment, thinking that will help them buy a nicer home or one in a better area.  The conventional wisdom was that it is always preferable to have 20% down to purchase a home. One major benefit of having a down payment of at least 20% is that you don't need to purchase private mortgage insurance, which increases the monthly payment the buyer will be responsible for.
In a recent article, Freddie Mac explained what having 20% down versus 5% down means for a $200,000 house: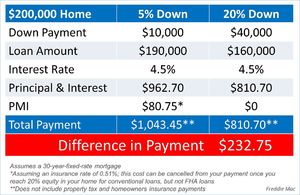 Obviously $200,000 doesn't buy you a home in most areas of Southern California, but the idea remains the same. And clearly having more money down and avoiding private mortgage insurance is great. However, we must look at other aspects of the purchase to see if it truly makes sense to wait.
Are you actually saving money by waiting?
CoreLogic has recently projected that home values will increase by 4.3% over the next 12 months. Let's compare the extra cost of PMI against the projected appreciation of that hypothetical $200,000 home:

If you decide to wait until you have saved up a 20% down payment, the money you would have saved by avoiding the PMI payment could be surpassed by the additional price you eventually pay for the home. Prices are expected to increase by more than 3% each of the next five years.
Saving will also be more difficult if you are renting, as rents are also projected to increase over the next several years. Zillow Chief Economist Dr. Svenja Gudell explained in a recent report:  "Our research found that unaffordable rents are making it hard for people to save for a down payment … There are good reasons to rent temporarily – when you move to a new city, for example – but from an affordability perspective, rents are crazy right now. If you can possibly come up with a down payment, then it's a good time to buy a home and start putting your money toward a mortgage."
Laura Kusisto of the Wall Street Journal recently agreed with Dr. Gudell: "For some renters there may be a way out: Buy a house. Mortgages remain very affordable."
Mortgage rates are expected to rise…
And the cost of waiting calculated above doesn't even factor in the difference that increased interest rates could make in your payment. Freddie Mac is projecting that mortgage interest rates will increase by almost a full percentage point over the next 12 months. That will impact your mortgage payment significantly.
Bottom Line
Sit with a real estate or mortgage professional to truly understand whether you should buy now or wait until you save the 20%. If you'd like a referral to a reputable local mortage professional, please let us know. If you'd like to schedule a time to discuss your plans, please let us know.
Search For Your Dream Home Here