Real Estate Market Road Signs Point to A Seller's Market
Homes sales were strong in Long Beach in January, with the median price of a single family home at $580,000, up 12.3% from January 2016.
Total closed sides of single family homes in Long Beach were at 257 for the month, down 9.5% from January 2016. However, this may be in part a reflection of the extremely low inventory in the area. As of January 2017, there was just a 1.7 month supply of homes for sale, down 26.1% from the previous January.
The low inventory combined with high demand means that homes have been selling quickly. In January, the median days on market was 25, down 53.7% from the same time last year.
Other local areas are also experiencing low inventory, high demand, and shorter time on market. In Lakewood, for example, January saw a 1.3 month supply of homes for sale, a median price of $552,700 (up 8.1% from January 2016), and median days on market of 38 (down 29.6% from January 2016).
If inventory remains low and demand remains strong, this spring will be an ideal time for homeowners to place their homes on the market. If you're interested in finding out what your home is worth, you can get a fast, free evaluation by clicking here.
National Real Estate Market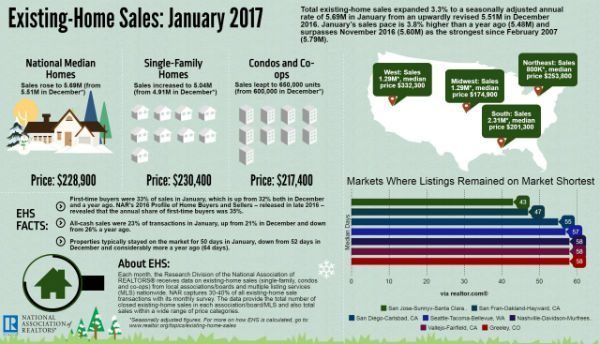 Nationally, housing inventory climbed as well, with a 2.4 percent jump to 1.69 million homes for sale – a much needed jump from the rock bottom levels seen in December 2016.
Despite those strong numbers, inventory is still 7.1 percent below January 2016 and is in the 20th consecutive month of year-over-year declines.
Lawrence Yun, Chief Economist for National Association of Realtors, said that January's existing-home sales show the resilience among consumers in the face of rising mortgage interest rates.
"Much of the country saw robust sales activity last month as strong hiring and improved consumer confidence at the end of last year appear to have sparked considerable interest in buying a home" he said. "Market challenges remain, but the housing market is off to a prosperous start as homebuyers staved off inventory levels that are far from adequate and deteriorating affordability conditions.