Warm summer days are a perfect reason to get out and enjoy everything that Downtown Long Beach has to offer. If you want to give your feet a rest from walking, flag down one of the new Free Rides that have been cruising around Downtown Long Beach since the Grand Prix this past April, or hop on the free Passport provided by Long Beach Transit.
History of Free Ride
The Free Ride originally started in 2011 up in the Hamptons. The founders had a feeling that people would really appreciate some free and easy transportation to their favorite local spots, and also an easier way to get around and try some new places too. The company has been using gas-free electric shuttles from the start and is committed to partnering with modern and forward-thinking companies and brands.
Summers in the Hamptons fills with New Yorkers, which means that finding parking isn't always easy—a struggle that you can find in most large cities, and certainly in Long Beach as well. Free Ride saw this potential in other cities as well. Their second location was in Santa Monica in 2013, Jersey Shore in 2014, San Diego in 2014, Venice and Ft. Lauderdale in 2015, and now Long Beach in 2018.  
Where it Takes You in Long Beach
In order to take a Free Ride in Long Beach, you should first download the app that's available on both iPhone and Android. You can also wave one down or hop on a Free Ride if you see on going on one of its routes. Service hours are Sunday – Wednesday from 10:00 AM – 10:00 PM, and Thursday – Saturday from 11:00 AM – 11:00 PM. Pick-up locations Downtown include Long Beach Boulevard and East Broadway, Long Beach Boulevard and Pine Avenue, Ocean Boulevard and Pine Avenue, West Broadway and Cedar Avenue, and West Seaside Way and South Chestnut Place. Learn more here.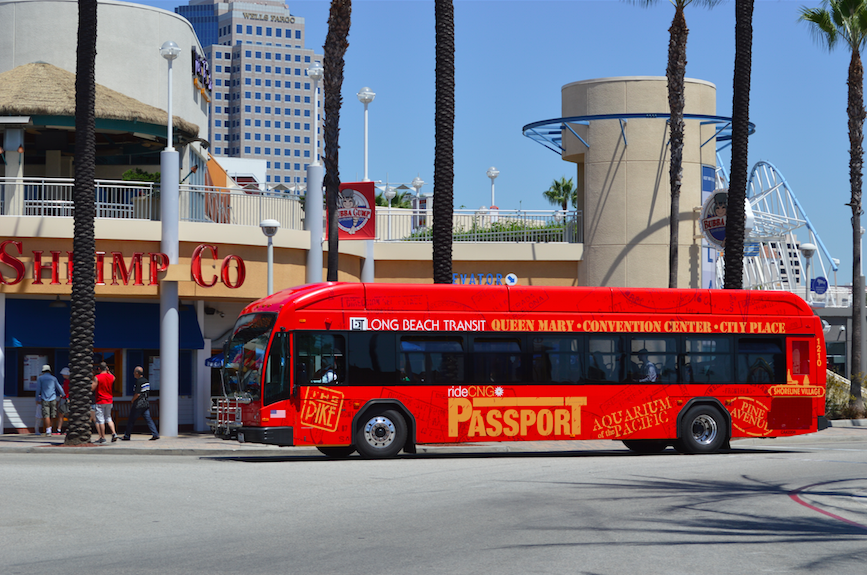 Another "Free Ride" – the Long Beach Transit Passport
The Passport is another option for free transportation to get you all around Downtown Long Beach and surrounding local attractions for free. The Passport can connect you to destinations including the Queen Mary, the Aquarium of the Pacific, Pine Avenue, City Place Mall, The Pike at Rainbow Harbor, Convention Center, Shoreline Village, and a number of other Downtown hotels, restaurants, and LBT's water taxis, the AquaLink and AquaBus. Learn more here.
Let Someone Else do the Driving in Downtown Long Beach
Both the Free Ride and Passport are great resources for tourists, but also for locals to get around the city. Take advantage of them while they're around and while they are still free! There are always so many fun events and festivals happening in and around the Downtown area, especially during the summer, so it's a perfect time to get out there and let Free Ride or Passport do the driving. You might even discover parts of the city that you never knew were there before.