The Future of Smart Homes
The concept of the "house of the future" has been in our culture since the 1950s yet the future of smart homes is already here in some ways, just  not necessarily the way we envisioned it. Popular Mechanics magazine featured illustrations of "Jetsonesque" homes that sparked the imaginations of generations for over half a century.  Westinghouse advertised "the Total Electric Home" that would allow the magic of electricity to provide every comfort and efficiency to enhance the daily happiness of your family.  In 1956, MIT researchers held research on plastic homes for easy cleaning.
Improvements in technology and systems have crept back into the limelight in regards to home and living upgrades. Some of these will eventually become standard appliances in our homes just as central heating, dishwashers and other features have become everyday essentials in our lives.
Although the Jetsons vision of the future is still not here and plastic homes haven't really panned out, you can incorporate some "smart" features into your current home.
Dynamic Lighting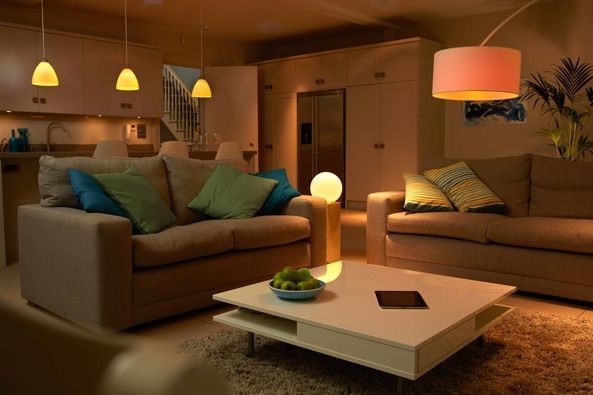 A tiny computer similar to your smart home's thermostat will be able to not only tell when you're home or not to turn the lights on and off,  it will be able to sense moods such as certain get-togethers, romantic ventures, and other daily life events.  Dynamic lighting will decrease your energy bills and help set up certain atmospheres such as slow dimming or security blinders to scare off any intruders.
Current Dynamic Lighting upgrades you can get: Philips Hue Connected Light Bulbs
Smart Toilets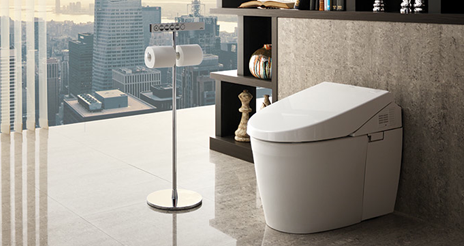 Smart toilets have actually been around for years and some hotels, especially in Japan, have been utilizing them successfully.  The many buttons, modes, and options have fascinated American tourists.  Imagine never having to use toilet paper ever again as your toilet auto-flushes, cleans and dries the appropriate area removing all evidence of the transaction that was just made. Their purpose is to help keep us healthy by making our trip to the bathroom more sanitized and by having built in sensors that can test your urine for problems such as diseases or drug use. They even have some in development that will automatically alert you if you're pregnant.
Current Smart Toilet you can get: TOTO: Neorest
Domo Arigato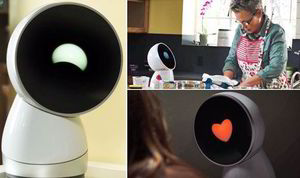 Robots are one of our biggest futuristic fascinations. Yet not many robots that have made it into our homes beyond children's toys designed for fun or the once innovative Roomba, auto-cleaning robot.  Even our phones have trouble interacting with us as we scream commands into our palms as they reply "Did you mean 123 Manly Street?" Robots have been frustrating because the manufacturers and science fiction have both raised expectations higher than technology has been able to deliver.
Yet manufactures in many countries continue to work on the development robotic companions of the future. At the moment, robots designed to help elderly people live by themselves without needing the help of a full time, and expensive nurse, are being tested in Japan and Germany.
Eventually the technology will be advanced and inexpensive enough to be a daily commodity that will help you raise your children, clean up, make sure your home is secure, give you companionship and if you ask nicely, they might even do your taxes.
Current Family Robot you can get: JIBO
Smart Everything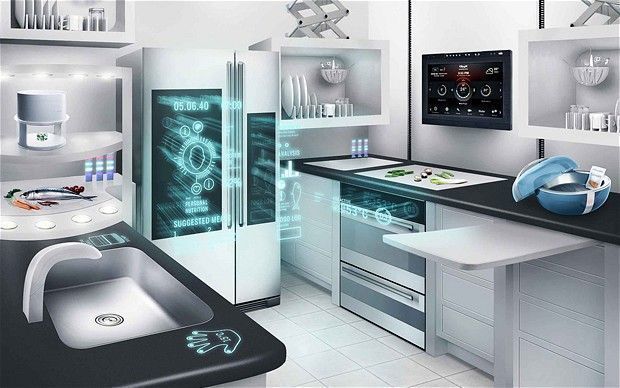 You wake up, coffee starts brewing in the kitchen. Your toaster knows just how you like it. Your calendar and to-do list are magically displayed on your mirror as you brush your teeth. In the "Internet of Things," all of our devices will theoretically be connected to the internet. Your refrigerator will able to call the manufacturer for automatic warranty replacement if a certain function no longer works.  Your appliances will be able to talk to each other, and your home's central computer to be able to be as efficient and useful as possible. The technology is already there in the form of high-tech dish washers and washing machines but it may soon be cheap enough to insert into every little device your home has.
Here are some items that you can add to your home to increase its IQ and make it a smart home.
Smart Refrigerator: LG ThinQ
Smart Scale: Body Analyzer 
Smart Thermostat: Honeywell 7-day Thermostat
Smart Heater: Holmes Smart Heater
Site that Specializes in Smart Home Technology: SmartHome.com