Biking has become more than a hobbyist activity for many in Long Beach. While parts of Southern California have been slow to adopt biking in the city streets, Long Beach has embraced it and will do so again this weekend with the Beach Streets event in Midtown. Events like this combined with decades of incorporating bikes into the daily infrastructurehave helped make Long Beach one of the best cities in America for biking.
Beach Streets
This coming weekend bicyclists will be hitting the streets during the city's Beach Streets event, an amazing opportunity for the community that occurs a couple times a year. Modeled on Cyclovias, Beach Streets is a local effort to showcase neighborhoods and businesses throughout Long Beach and to make the area more bike-friendly. A major street is closed to car traffic and bikers, skateboarders, and other pedestrians are invited to enjoy recreation and entertainment and to explore the area without the burden of parking and traffic. After all, what's stopping you from checking out that cool restaurant you've been eyeing if you can walk right up to it? The location is changed each time. Earlier this year, Beach Streets was held from Downtown to Retro Row, and this fall's event will take place in midtown,  along Anaheim Avenue between Orange and Pacific Coast Highway.
You can view the map for the coming weekend here: Beach Streets Midtown Map  and a full schedule is available here: Beach Streets Info
For those who haven't tried Long Beach by bike: this weekend is your chance! Give Midtown a shot, and see how Long Beach is helping to lead the country onto its own wheels.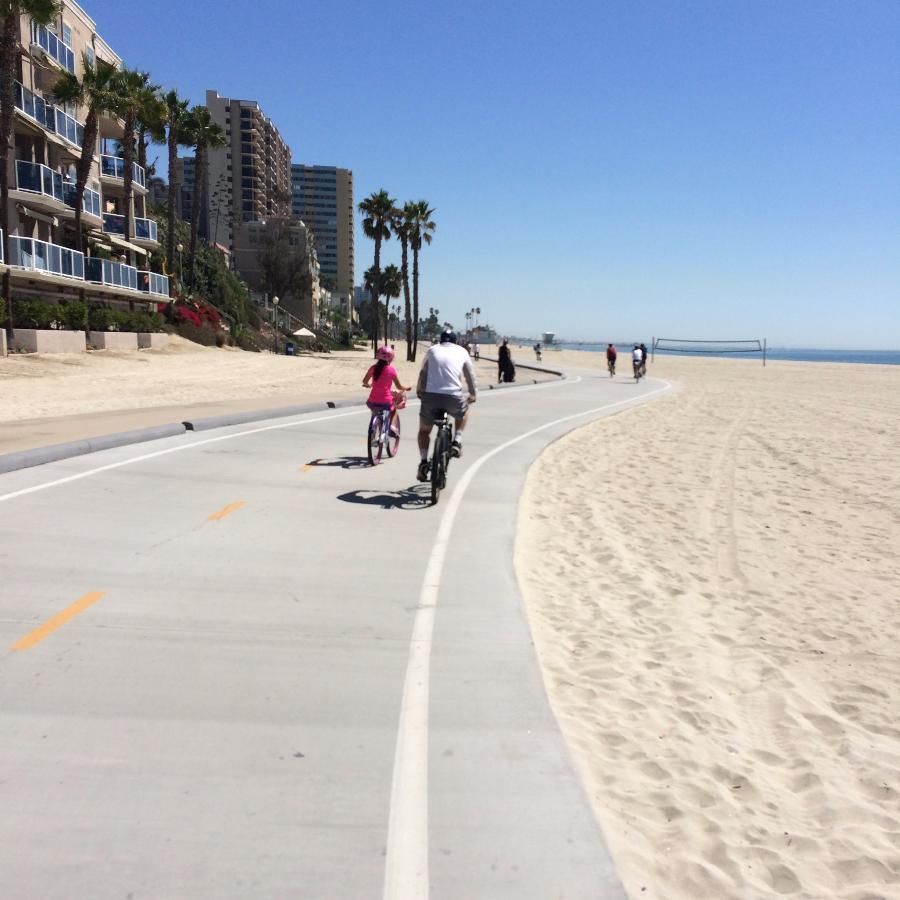 Where the Biking Culture Got Rolling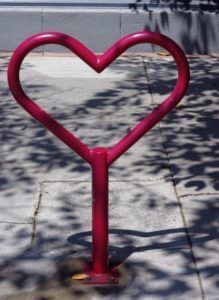 Biking has long been considered a welcome activity in Long Beach, with the Shoreline Pedestrian Bike Path as anchor of activity.  Constructed in 1988, this bike path follows the beach from Shoreline Park to Belmont Shore. While the community initially had reservations about it when the plan was first proposed in 1977, it soon became a much-loved asset.
2006 marked the completion of the southern half of the L.A. River Bike Path, stretching from all the way up in Vernon to Long Beach. This path connects to the Long Beach Bike Path, connecting at Shoreline Park and the aquarium. This makes for one of the best continuous biking paths in the greater Los Angeles area. Another great trail is the San Gabriel River Bike Path, which runs through El Dorado Park and is almost as long as the Los Angeles River's own southern path.
The fun and quirky Long Beach bike racks began surfacing later, first showing up in 2010. It has since then been an ongoing program that allows Long Beach businesses to ask for a bike rack of their own at no charge. There's also a system in place for companies that would like something more customized to draw attention to their business.
A Surprising Success
In the 1990s, Long Beach was also among the first to try bike lockers. Bikestation opened up in 1996 using public funding, acting as one of the first bike facilities in Southern California. Bikestation was something of an experiment that went right. With secured bike storage, tools for repair, and help when you needed it, Bikestation addressed commuting and safe parking for bicycles in a way no one else had yet outside of Europe. Placed on First Street in the heart of downtown, Bikestation continues to be a great resource for commuters. Thousands of bikes are parked there every month.
How Long Beach Is Improving
While having options for places to ride and lock up your bike are great, making it an easier part of your daily life is far more challenging. The city of Long Beach has been rising to that challenge with efforts like the protected bike lanes throughout areas in downtown, East Village, Belmont Heights, and Rose Park. This trend has recently also expanded up to parts of Artesia Boulevard in North Long Beach. Plans have been made to extend this from the city border of Compton to the border with Bellflower. Many of these kinds of projects are intended in Long Beach's master plan for biking.
Another great asset has been biking boulevards, which encourage through traffic that is optimized for bicycles. This is often done by including roundabouts, intersections that discourage large vehicles, or other obstacles that may divert motor traffic. Vista Street was an early adopter of this, providing 1.5 miles of road that helps bicyclists get across the city. An additional 14 miles are planned throughout the city, making for even more mobility.
Additionally, the city has installed "recharge stations" in various places around the city, including at several parks, along the coast and at City Hall. The stations feature a universal bicycle pump for riders in need of tire refills.
Long Beach Bike Share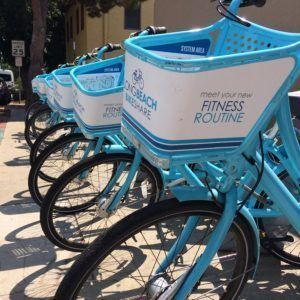 The Long Beach Bike Share debuted this year in March, with notable success. Allowing locals and visitors alike the ability to access bicycles throughout the city, Long Beach sends a message that biking is both safe and encouraged. Users can rent the bikes on an hourly basis, or sign up for monthly plans if they'd like to utilize bicycle transportation regularly for work and school. This is a great and affordable alternative to the bus for many. Tourists in Long Beach can also take advantage of this with simple rental stations. Since the program's introduction in March, more than 3,600 people have utilized the system. 35,000 miles have also been ridden by participants. At present the program is still growing, but will include 50 stations and 500 bikes by the end of its first stage of growth.
Impact of Bike-Friendliness
As Long Beach has gained more of a reputation for being a bicycle friendly community, it's gained recognition from around the country. Earlier this year, Long Beach was named the No. 10 Most Bike-Friendly city in America, according to a national survey by Zillow and featured on Active.com.
Recently the New York Post named Long Beach as the No. 4 place to live in the United States, in part for its pedestrian- and bike-friendly atmosphere. The Post noted that protected bicycle lanes have increased ridership by 50 percent since 2012, awarding Long Beach a silver designation by the League of American Bicyclists.  Walkability and bike-friendliness have become increasingly important to many people as they evaluate where they'd like to live and such factors can help enhance property values.