We Sell Homes Faster, For More Money,
And Make It Easier For You.
We offer strategy, experience, marketing & negotiation skills to help you sell your home for top dollar.
Why Should You Sell With Us?
Pricing Strategy
Market knowledge matters. With our local market expertise and connections, we're able to help you price your home competitively, so you can get the largest profit with the least amount of inconvenience.
Marketing Approach
Great marketing sells homes. Our proven approach includes targeted social media advertising, traditional print marketing, email marketing, social media marketing, and web design.
Negotiating Skills
Knowing how to negotiate is essential. Our 23 years of experience in the industry has cultivated sharp negotiation skills to help you maximize your profit and get the best deal.
Client Reviews
---
"Shannon Jones and her team guided us through the successful sale of our townhome, providing helpful pre-sale advice and great support throughout the entire sale and escrow process. She and Brad Jones were very knowledgeable about the local market and shared that information with us, while Kay in the office gave us great support with all the paperwork. Most importantly, I was laid while our condo was on the market so we were unable to move forward on purchasing our house. They graciously put everything on hold until we were financially ready to re-start the process: no pressure, no questions, no repeated contact. Just an assurance that once we were ready they would be willing to work with us. And once we were able to proceed they quickly set to work, gathering our criteria for what we were looking for, and helped us quickly find the home we're in today. I would be very comfortable recommending the Jones team to friends looking to find a reliable, effective, and trustworthy realtor."
"Shannon and Brad made the whole home-buying- and cross-country relocation process seamless and headache-free. We really felt taken care of not only through the purchase, but afterwards, when getting settled into our new home and community. They really care about making sure you're happy. We appreciate how honest and straightforward they were about everything, and were always available when we needed them--which was often. Meeting us at our new house with the keys and a bottle of champagne, and then taking us out to dinner once we got settled in were really sweet touches, as well."
"The Shannon Jones team is second to none. They are very knowledgeable, thorough and focus on customer service. They know real estate & the market inside and out. But most of all they care about you and your family making the most important purchase of your life. They listen to your needs and execute your wishes exquisitely."
"Shannon and her team have been there for me over the last 17 years. She helped me sell my home that was located just outside of Rose Park and helped me find my current home in Los Altos. Over the years, her and her staff have answered my questions about current values, the prudence of selling my home versus staying put, given me referrals for home maintenance professionals that are trustworthy, etc. Her advice is always honest and realistic. Shannon, her husband and staff have always been prompt in getting back to me and following up. They are good people! I will always use The Shannon Jones Team."
"Shannon and Brad (and the whole support team) made the process of selling my home an actual pleasure. She went above and beyond my expectations in every aspect of the process. This is my fifth home sale and the experience I had with the Shannon Jones Team was by far the best - even with my short schedule. Shannon had a marketing strategy thought out even before our first meeting! She had done her research on the historic neighborhood, understood our special tax benefits, and made sure all potential buyers knew what it meant to purchase a designated historic home. When it came time to accept offers, she prepared me for offers over asking and appraisal - and how to evaluate them. At the risk of sounding over-effusive, The Shannon Jones Team should give a master class on how to market and sell houses in Long Beach (and anywhere else). Thank you to everyone on the team for making my sale an enjoyable experience."
"Thanks to Shannon Jones and her amazing team we sold our house and bought a condo in about a month and a half. Shannon provided excellent advice in pricing for a quick sale. Her team hit the ground running to put our house on the market and professionally showcased it to sell quickly at the highest price possible. Brad Jones worked closely with us to find a new home. All of his advice and experience helped closed escrow in a few weeks. If you are looking for a professional team, that will get you results quickly, we highly recommend the Sharron Jones Team."
"I had the privilege to sell my moms home with Shannon Jones and team. I met with Shannon and she put me at ease upon meeting. She had done her research of the area and had a strategic plan. She kept me updated from day one and any questions I had she was there. I've worked with other relators in the past and working with Shannon was by far the easiest experience. Shannon Jones and team are the BEST!! I highly recommend Shannon and her team."
"From the first day I talked with Brad Jones, I knew this was the team I wanted to have to help me sell my condo. They informed me of what I needed to do to get my place ready to sell and helped me with that process. They priced it right and did a great job of advertising. The pictures were so fantastic. They kept me very well informed through the whole process. I couldn't ask for a better team."
"This is the second time we worked with the Shannon Jones team and they were great to work with again. Shannon knows her stuff, tells it to you straight, and priced our house perfectly to sell. They made our house look beautiful in the marketing. We received 5 offers in a week and sold for 75K over asking! Brad helped us get our new house, working tirelessly and persistently to land us the house we wanted, even when we hadn't sold our own house yet! We had a lot of tight timelines and they kept to all of them! The rest of the team kept us informed everyday of all the documents, escrow, updates, etc. And when some things didn't go quite right at closing on our new house (with the seller, not Shannon's team) they made it right anyway! They have lots of contacts and great recommendations and help you work through all of it, sometimes doing it for you! I highly highly recommend Shannon and Brad and the whole team- I will continue to work with them in the future!"
"There are not enough words to explain the totally positive experience of selling my property with Shannon and her team. All my parameters were adhered to and the follow through of the whole process was above and beyond. I live out of state and never had a concern that wasn't addressed. I cannot express my gratitude enough and highly recommend this great team for your real estate needs. You will not be disappointed!"
Thinking Of Selling Your Home?
---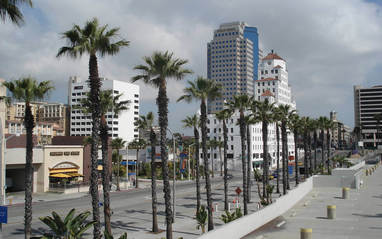 Comprehensive Real Estate
Comprehensive Real Estate
Seller's Guide
Topics Covered Include:
Expert Insights for Today's Sellers

What's Going to Happen With Home Prices this Year?

How to Price Your Home Right

Whether or Not to Update Before Selling

A Checklist for Selling Your House

And More!!
Get Your Free Report
Enter in your information below to view your full report. Don't worry, we will also email you a copy as well so you have it saved!
Thanks for requesting a free home valuation!
Please allow up to 48hrs for us to research and deliver your personal comprehensive analysis. If you have any questions in the meantime, feel free to give us a call or drop us a note.
Seller-Focused Articles
---
Why Selling Your Home in Summer Will Make a Splash Spring is one of the most traditional times to sell a home. But don't overlook summer as a time to list and sell your home in Long Beach CA or surro…
It's something all homeowners tend to do: obsessively check the estimated home value of their property on various websites. Opendoor, Zillow, and Redfin make it easy to get an idea of what to expect w…
If you've reached a point where your current home no longer meets your needs, you have a couple of options. You can either downsize, upsize, or modify your current living space. People's lives are…