You are probably aware that we are currently in a strong seller's market. While rising prices may sound like good news for home sellers looking to earn top dollar – and for the most part, it is – it does leave them in a bit of a bind when looking to buy a new home. After all, most sellers do eventually become buyers again. A seller may make out like a bandit on the sale of their home, but they will likely get knocked down a few pegs when looking to buy their new home. Inventory is extremely low right now so finding a replacement home isn't the easiest task. This leads us to the main question we've been getting asked. When it comes to buying and selling a home in a seller's market – which comes first?
There's No Easy Answer
Unfortunately, there's no easy answer when it comes to buying and selling a home in a seller's market. Homes are currently selling at record speeds and while that can be great, it's leaving sellers stranded without a replacement home. According to Redfin, nearly 60% of homes are going under contract within just two weeks. 46% are selling in less than seven days! This is why you need a game plan if you're trying to buy and sell at the same time.
Everyone's situation is different, and therefore, everyone requires a different plan. That's where the right real estate agent comes in. An agent can help you look at your situation and consider where you're moving, why you're selling, what your financial situation is, and help you come up with a personalized game plan. This is always the best solution because it's tailored to you and your life. However, if you're just in the fact-gathering phase, here are two scenarios of buying and selling a home.
1. Buying, Then Selling
Buying a new home before selling your old home is probably the most ideal situation in a seller's market. It allows you to avoid selling your home and ending up with nowhere to go. Plus, you don't have to worry about staying with family, moving your belongings into storage, etc. However, the biggest con, of course, is that this can require a lot of money. In March 2021, the median home price in Long Beach was $802,500. Therefore, most people aren't able to qualify for a new home mortgage without selling their old one. Not to mention, the strain of paying for two mortgages at once can be a huge struggle.
Plus, inventory may start to go up, but it's going to take a long time for it to catch up with demand. So you need to ask yourself how long you're okay with waiting for the right home. You know yourself best.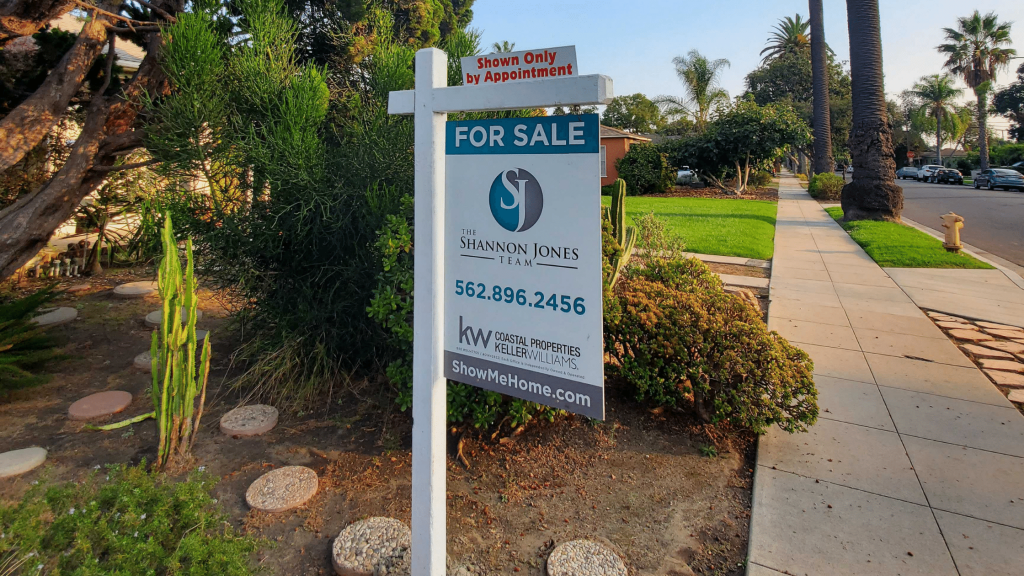 2. Selling, Then Buying
Selling a home then buying is the situation most people will find themselves in today. At first glance, this may seem like the less than ideal option, but it actually has many benefits. If you sell first, you can cash in on high prices right now. That cash can help you qualify for a new home and you can avoid any contingencies when making offers. Plus, you can invest the money from the sale of your old home, and may have even more money before you buy your next one!
However, before selling then buying, there are some things to consider. Selling then buying may require two moves. Not only can this be stressful, but it can eat into the profits from selling your home. You will also need a temporary place to stay. Again, this will require money, and depending on how long you need a temporary home, a lot of it. There is a bright spot though. The competitive housing market means buyers are more willing to negotiate. So they're more likely to be open to a leaseback after the home is sold. In some situations, we've even seen sellers get to stay in their homes for free after the closing date for a month or even two.
Again, talk to your agent. They can help you work terms into your contract that can make you feel more comfortable as you embark on the selling process.
Buying and Selling a Home in a Seller's Market
Buying and selling a home in a seller's market is not the easiest task, but it is possible. While we're hopeful new inventory is coming, that's not the case currently. Therefore, you need to have a plan in place as soon as you consider selling your home. Here at The Shannon Jones Team, we have successfully navigated a number of clients through this process. We even offer complimentary, no-pressure appointments to discuss your situation and plans. Interested? We have a number of ways to get in touch. You can fill out the form below, call us at 562.896.2456, or click this link to schedule your appointment immediately. We look forward to speaking with you.