There's no doubt that the rising inflation has affected everyone's lives in some way, shape, or form. The increasing price of food, gas, entertainment and other goods and services has been significant enough for people to start reconsidering day-to-day routines. Some are even putting their larger life plans like traveling, wedding planning, or buying a home, on hold. So, if you find yourself wondering, "Is it still a good idea to buy a home with inflation this high?", here are some things you should consider.
Homeownership Can Stabilize Your Biggest Monthly Expense
In an inflationary economy, prices rise across the board. Historically, homeownership is a great hedge against those rising costs because you can lock in what's likely your largest monthly payment (your mortgage) for the duration of your loan. When you have a fixed-rate mortgage on your home, you lock in your monthly payment for the duration of your loan, often 15 to 30 years. That helps stabilize some of your monthly expenses. Not to mention, as home prices continue to appreciate, your home's value will too.
What About the Rising Interest Rates?
Some potential home buyers are hesitant to move forward with their home search because of the current interest rates. However, we're still at historically low interest rates and there's no telling what the future holds. One of the best things you can do right now if you're thinking about buying a home is to consult with a mortgage specialist. They'll be able to tell you what you qualify for based on today's interest rates, the type of loan you're considering, your down payment, and your credit score. Then, you'll be equipped to determine if you can buy a home that meets your needs in the current market. If interest rates drop in the future, refinancing might be an option for you!
Housing is an Asset That Historically Outperforms Inflation
While it's true rising home prices and higher mortgage rates mean that buying a house today costs more than it did even a few months ago, you still have an opportunity to set yourself up for a long-term win. That's because, in inflationary times, you want to be invested in an asset that outperforms inflation and typically holds or grows in value.
The graph below shows how the average home price appreciation outperformed the average inflation rate in most decades going all the way back to the seventies – making homeownership a historically strong hedge against inflation: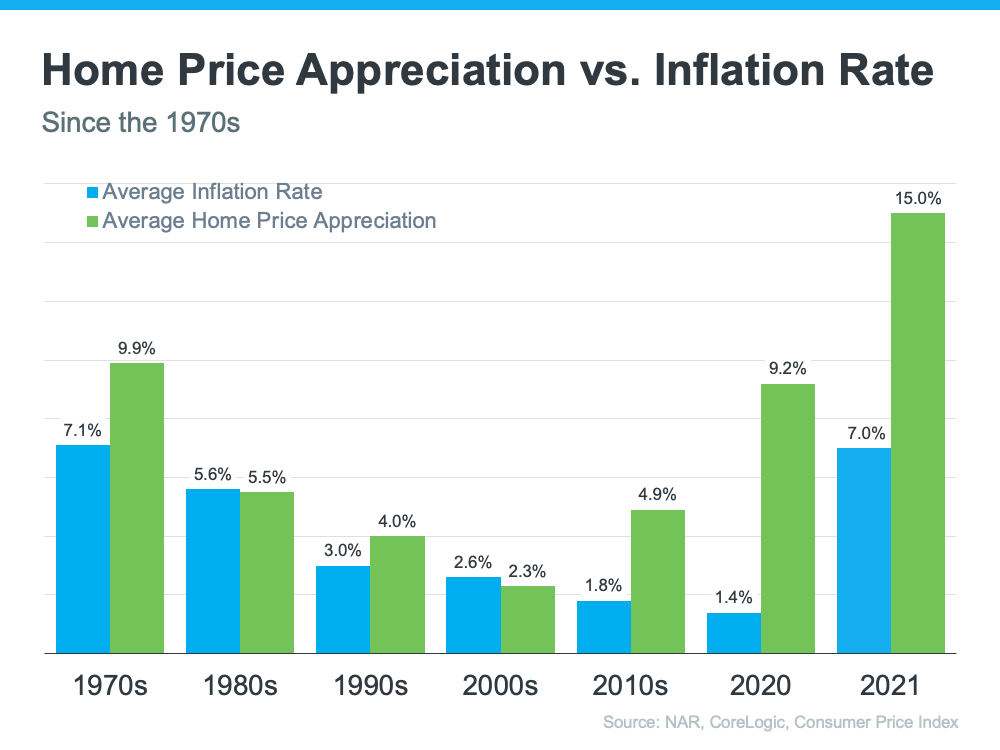 So, what does that mean for you? It means that you don't need to put your home search on the back burner because of inflation and rising mortgage rates. Homeownership can provide you with the most stability during uncertain times. While experts are forecasting that home prices will continue to rise, you can find comfort in knowing that your price is locked in and that you're gaining a substantial amount of equity in your home.
Ready to find a home that fits your needs? Give us a call at 562.896.2456 or fill out the form below and we'll reach out to you.