"I'm just going to wait to buy a house until the prices come back down." We're hearing this often, but it's not safe to assume that home prices will fall in the near future. Although buyer burnout is occurring, it could be costly to throw in the towel. Home prices are expected to increase at the same rate through next year. If you're planning to wait to buy a home, you might have to make compromises or adjust your future offer price. 
Median Sales Price in Long Beach, Lakewood, and Signal Hill
The median price of homes has increased in Long Beach $134,000 this past year, Lakewood $135,000, and Signal Hill $193,500. Home prices are expected to continue appreciating.
Why You Should Buy a House in 2021
Low-Interest Rates: Wonder why homes are selling so quickly? Mortgage interest rates are astoundingly low, which means lower monthly mortgage payments. Even though interest rates vary depending on credit score and location, the lowest rates we're seeing are around 2.75%. But these interest rates won't last forever. Mortgage rates are expected to go increase to around 3.5% within the next year. Take a look at the chart below to get a better idea of how much rising interest rates and mortgage rates could cost you.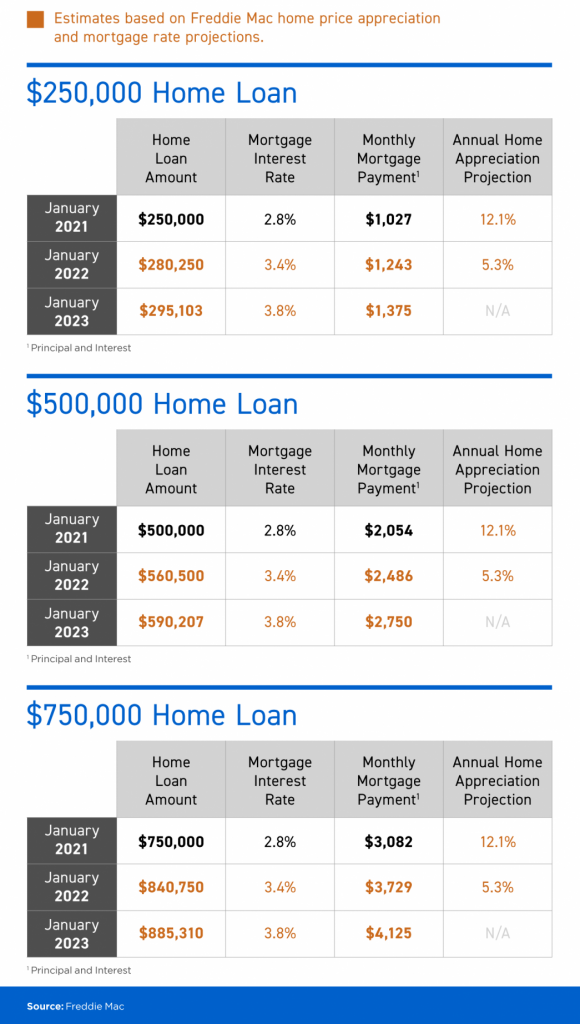 Increased Home Equity: Let's take it back to the basics. What is home equity? You'd simply subtract what you owe on your mortgage from the market value of your home.  Say you owe $200,000 on your mortgage and your home is worth $550,000, your total equity is $350,000. When home prices rise, so does home value. Right now homeowners have a huge advantage, if you buy now you can capitalize on this growth and gain some serious home equity.
Buying a home in this fast-paced market might seem scary, but it doesn't have to be. Our team is here to support you every step of the way! If you have any real estate questions or are interested in buying a home in the Long Beach area, give us a call at 562-896-2456.