First-Time Buyer "Setbacks" (And How To Prepare For Them Now)
Thanks to low mortgage rates, the number of first-time buyers is on the rise.
According to the National Association of Realtors:
"The share of first-time buyers increased in March through June—right into the heart of the pandemic period and the surge in unemployment—and is now trending higher than the 29% to 32% average in past years since 2012."
But while it may be easier to qualify for homes, many first-time buyers say the home buying process itself is a barrier for them. According to a recent survey conducted by NeighborWorksAmerica:
"Homeownership is a particular challenge for many, despite high levels of interest. Americans believe there are many benefits to homeownership and half of non-owners will seek information about the process in the next few years…a large share of non-owners say the process is too challenging and only a minority know where to find advice if they wanted it. And although many would seek the guidance of community and non-profit programs, only one in three non-owners are aware of such services."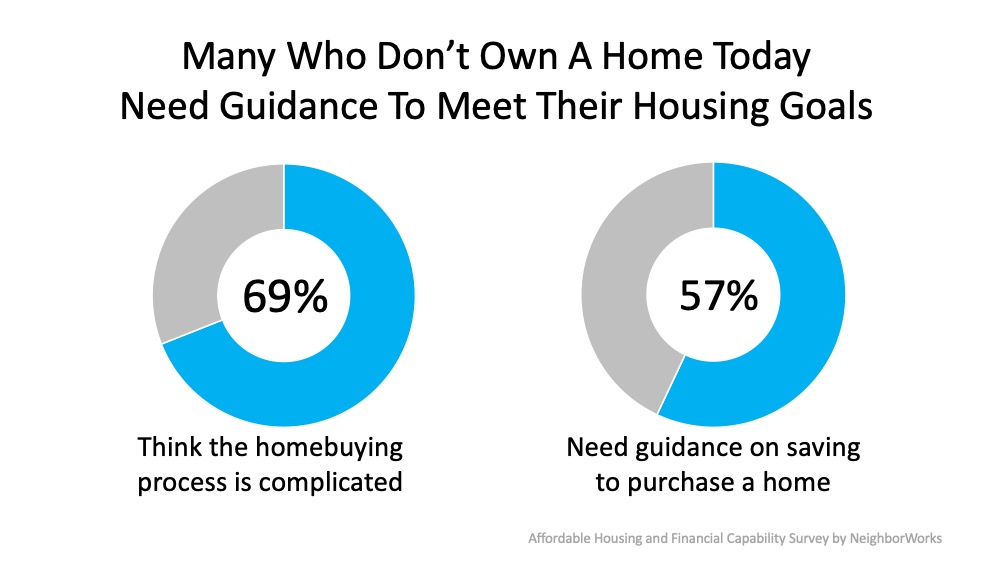 So the first thing you need to know as a first-time buyer is you're not alone! Plenty of people out there are overwhelmed by the homebuying process. After all, it is a big step! That's why it's important to work with a trusted real estate advisor throughout the process. Here are the five most common things to expect when you're a first-time seller.
---
First-Time Buyer "Setback" #1
Picking the first lender and agent that you talk to.
How to Prepare
Talk to multiple agents and lenders.
Not everyone is a good fit for each other and that's okay! But you'll never know until you talk to multiple people. Make sure the relationship feels like a good fit because you two will be talking a lot throughout the process. You want to work with someone who you trust and feel comfortable asking questions. A trusted agent can also refer you to a lender – or lenders – as well.
When you've narrowed your options to a few choices, start scheduling consultations. Be sure you're scheduling consultations with agents who specialize in the area where you want to be. This way, the person you pick will be able to walk you through the market, the process, the options for properties, the areas, and help you create a strategy to achieve your homeownership goals.
---
First-Time Buyer "Setback" #2
Not getting preapproved before beginning to look for homes.
How to Prepare
Get preapproved!
Now, more than ever, it is important to get preapproved at the very beginning of the homebuying process. Due to Coronavirus, you can't even step foot in a home for sale until you are preapproved. And although you can buy a home virtually, if you're in the area, you probably want to go inside the home first.
Getting preapproved also gives you a very clear budget for your future home. This will help your agent find places that you know you can afford and can help you avoid getting your hopes up over unrealistic homes.
---
First-Time Buyer "Setback" #3
Thinking you need to wait to buy until you can put 20% down.
How to Prepare
Look into mortgage assistance programs.
With the way prices are appreciating right now, it's hard to save at a pace that exceeds appreciation. Even if you're a good saver, it just may not be enough with how the market looks right now. We recently did a webinar with Mary Shuck at Movement Mortgage where we discussed down payment assistance programs. Watch it below.
Links Mary Mentioned:
California Housing Finance Agency
Golden State Finance Authority
---
First-Time Buyer "Setback" #4
Believing there is a "perfect" house out there.
How to Prepare
Have clear priorities and expectations for your future home.
Logically, we all know there is no such thing as the perfect home. But the home buying process can get emotional and it's easy to forget! It's important to keep reminding yourself that you will get some of the things on your wishlist, but unfortunately, you'll never get everything on it. Talk with your agent about realistic expectations and priorities. For instance, three bedrooms may be a "have-to" on your list and that's manageable. But a three-bedroom home with a fixed up kitchen and bathrooms in your price range, may not be. Your agent will be the best person to talk to about what is achievable in your budget and neighborhood.
Don't forget, this is your first time buying a home! It's a huge step by itself, so don't worry if it doesn't have shiny new appliances or a freshly manicured backyard. It's yours and that's what matters.
---
First-Time Buyer "Setback" #5
Not getting educated about the process, the market, and the neighborhoods.
How to Prepare
Start reading! (And listening, and watching, and asking, and repeat.)
Before finding "the house" that you get your heart set on, be sure you've done your research. Many Realtors will have pages on various neighborhoods they cover so you can learn about the neighborhoods you're considering. You can also find other helpful real estate information like blogs.
YouTube is another great resource. Many Realtors have YouTube channels where they talk about their area, helpful tips, share tours of their listings, and more!
Of course, nothing is the same as talking to an actual expert live. So have a list of your questions ready and don't be afraid to ask when you do start vetting agents.
---
If you're among the first-time homebuyers who feel the process is complicated, you're not alone. If you're not sure where to begin or you simply want help in figuring out how to save for a home, finding a trusted real estate advisor to work with is a critical step toward your success. A real estate professional can help you understand the process, review your current situation, and guide you with a plan to help you to feel confident when buying a home.
With The Shannon Jones Team you get 22 years of experience in the Long Beach area. We know the market, the prices, the neighborhoods, and the best places to eat! We'd love to answer any questions you have about Long Beach. To get in touch, please fill out the form below. We look forward to hearing from you!
First-time sellers, we haven't forgotten about you! Check out our blog post: Top 5 Tips For First-Time Sellers To Know. If you're wondering about whether to buy or sell first, check out this other recent blog post.