Recession talk is everywhere. Whether or not we're actually experiencing a recession remains up for debate by many economists.  According to a recent survey from the Wall Street Journal, 49% of economists believe we'll see a recession coming in the next 12 months. The idea of a recession sparks fear in many homeowners and potential home buyers because of what happened during the 2008 housing market crisis. However, historical data shows that in most recessions, home price gains have stayed strong and mortgage rates have declined. 
A Recession Doesn't Mean Falling Home Prices
While mortgage rates continue to fluctuate due to ongoing inflationary pressures, home prices are still on the rise. Historical data shows that home prices don't fall every time there's a recession. If you look at the graph below, you'll notice that home prices appreciated in four of the last six recessions. So, historically, when the economy slows down, it doesn't necessarily mean home values will fall.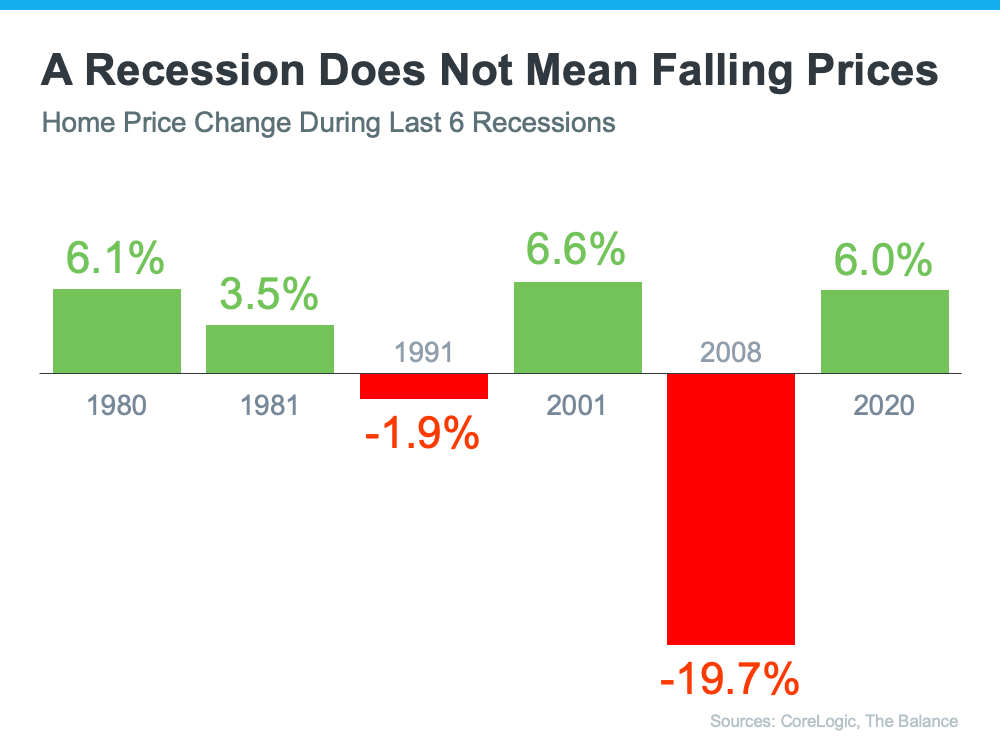 A Recession Could Lead to Lower Mortgage Rates
They say that history has a way of repeating itself. Well, in this situation you can find comfort in the fact that there are statistics that show that each time the economy slowed down, mortgage rates decreased. In fact, over the past 6 recessions, mortgage rates have dropped an average of 1.8%. Why does that happen? Well, during a recession the Federal Reserve tends to lower interest rates to stimulate the economy as it creates an incentive for people to spend money. For those potential home buyers waiting on the sidelines, a recession could be a good time to take advantage of lower interest rates.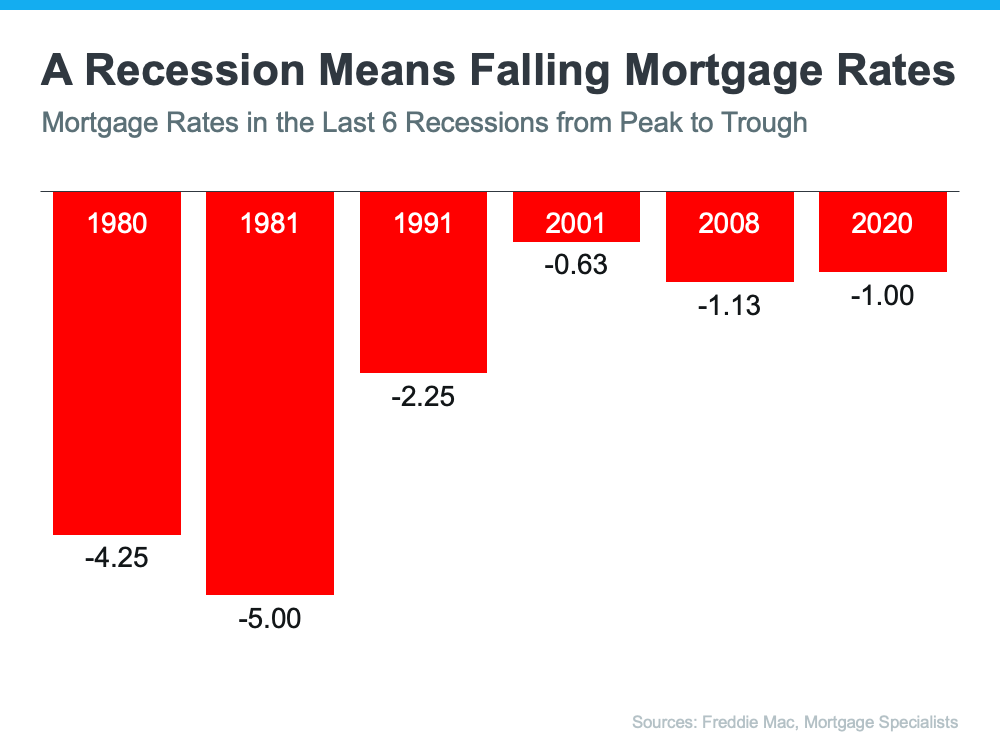 Should I Buy a Home During a Recession?
If you're thinking of buying a home, should you let a recession slow down your dreams? To make a strong decision, it helps to weigh the pros and cons of buying a home during a recession. Some pros are that there is usually less competition and lower mortgage rates. On the other hand, a recession could lead to stricter lending requirements, fewer options, and more economic uncertainty.
Should I Sell My Home During a Recession?
Whether or not you should sell your home during a recession depends on many factors. Are you buying and selling at the same time? What is your time frame for selling your home? During a recession, it's extremely important to prepare your home before putting it on the market so that it shines in its best possible light. Marketing strategy and pricing are also crucial, so teaming up with an experienced Realtor will help you achieve your home selling goals. Have more questions? Give us a call at 562.896.2456.
There's no doubt everyone remembers what happened in the housing market in 2008. But you don't need to fear the word recession if you're planning to buy or sell a home. If a move is in your future, let's connect to discuss our changing market and how it could affect your real estate needs. Fill out the form below or click here to schedule a call.