Buyer Demand Continues to Outpace the Supply of Homes for Sale
If you're on the fence about whether or not to sell your house, current market conditions and trend forecasts are a great way to get informed, weigh your options, and move forward with your real estate goals. At the moment, sellers find themselves at a great financial advantage, with an extremely low housing inventory pushing up listing prices, and a growing number of eager buyers competing for available properties.
The National Association of Realtors (NAR) Chief Economist Lawrence Yun recently commented on the inventory: "Last month's dip in closings was somewhat expected given that there was such a strong sales increase in March at 4.2 percent, and new and existing inventory is not keeping up with the fast pace homes are coming off the market. Demand is easily outstripping supply in most of the country and it's stymieing many prospective buyers from finding a home to purchase".
The current housing landscape holds long term market repercussions, with housing demand exceeding the inventory needed to sustain a normal market. The latest Existing Home Sales Report shows that there is currently a 4.2-month supply of homes for sale. This remains lower than the 6-month supply necessary for a normal market, and 4.6% lower than a year ago.
The chart below details the year-over-year inventory shortages experienced over the last 12 months: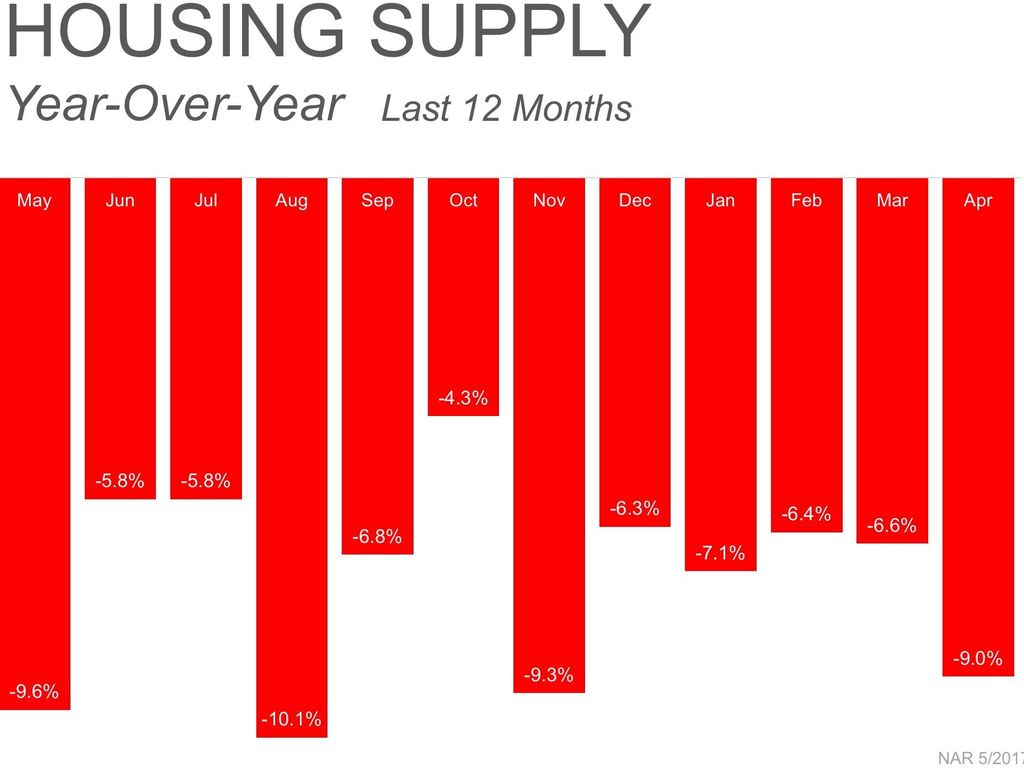 Anything less than a six-month supply is considered a "seller's market."
Bottom Line- while the current market  is sharply tipped in favor of home sellers, now is the time to act and reap the financial rewards of listing your property. Let's get together and discuss the supply conditions in your neighborhood and use our marketing resources to attract the buyers who are ready, willing and able to buy now. And if you're also looking to make a move at the time your sale, our team of experts is ready to focus in on your target neighborhoods and identify smart buys in this competitive seller's market.