For investors who want to increase their income potential without increasing their out-of-pocket taxes, 1031 tax exchanges represent a great opportunity.
A 1031 exchange, also known as a like-kind or Starker exchange, is a process that allows a property owner to sell one or more properties and transfer that equity to one or more replacement property while deferring any capital gains taxes on the profit.
The sale and purchase must be properly structured and there are very specific requirements that must be followed for the sale transaction to qualify for tax deferrment under Section 1031 of the Internal Revenue Code.   Property used primarily for personal use, like a primary residence or a second home or vacation home, doesn't qualify for a 1031 exchange, but there are other capital gains exemptions that apply to personal residences.
When completing a 1031 exchange, the proceeds are held by a third party intermediary or accommodator and then transferred to the escrow company for the purchase. Its important to know that if the investor receives cash or proceeds from a sale before the exchange is complete it may mean all the gain is taxable.
It's important for an investor to work with a Realtor who is knowledgeable about 1031 exchanges as well as a a reputable 1031 exchange accommodator who can provide guidance and make sure all the rules and timelines are carefully followed.
Exchange administrators saw a lot of investor interest last year, particularly in the residential market because of low rental inventory, said Phil Atwan, senior vice president at Exchange Resources Inc.
Many residential property investors are upgrading from condos to duplexes and from duplexes to triplexes or quadplexes, Atwan said. He expects this trend to continue in 2018 based on the number of exchanges he saw in January. "We're anticipating it's going to be a very, very good year," Atwan said.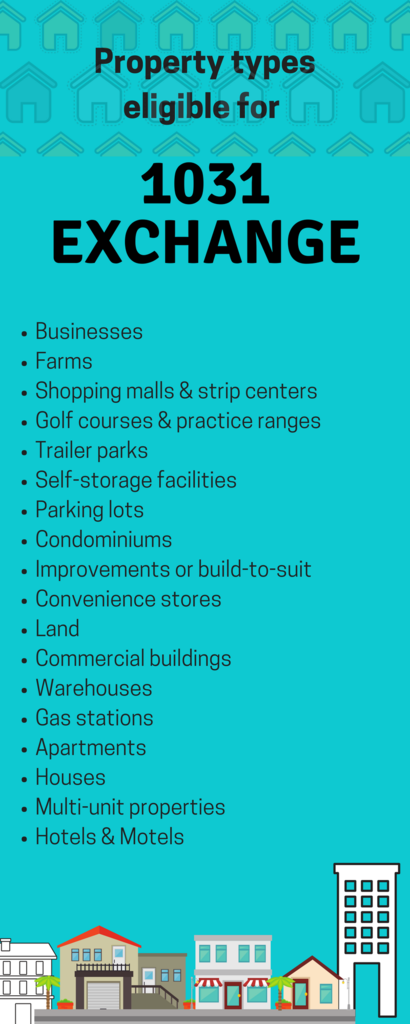 Here are some of the basic requirements for conducting a 1031 exchange:
The taxpayer who sells the property must be the taxpayer who buys the new one.
You must identify a new property within 45 calendar days of closing escrow on the first property.
Taxpayers can identify four or more properties as long as the value does not exceed 200 percent of the property sold.
The taxpayer must complete the purchase of replacement property within 180 calendar days of closing on the first property
The price of the replacement property must be equal to or greater than the old or relinquished property
In light of the highly-competitive real estate market, some investors are opting for reverse 1031 exchanges. In a reverse exchange, purchases the replacement property first. The funds generated from selling their older property can then go either to paying off a loan on the new property or replenishing the investor's funds that were used for the purchase.
A reverse exchange can be beneficial for an investor who is concerned about missing out on a great investment opportunity or who doesn't want to experience a potential time crunch that may result from a 45-day deadline to identify a replacement property in an extremely low-inventory, competitive market environment.
Keep in mind that 1031 exchanges are not exclusively used  for residential properties.
There are all kinds of commercial and industrial investments that are also eligible for tax-free transfers. See the list here in our infographic on property types eligible for 1031 exchanges.