Thanksgiving is a joyous time of year. A time to reflect on the past year and the blessings in our lives. Make sure your home is decorated for all the festivities. From simple crafts to natural decor, we have 12 festive Thanksgiving decorations for you to try this year! 
1. Cornucopia
Of course, we have to start with the classics. Cornucopias have long been a symbol of Thanksgiving and a prosperous life. What better way to celebrate the season than with a cornucopia of your own? Arrange yours with small pumpkins and gourds spilling out. Add in small acorns, corn husks, apples, and berries for a festive display.
Find out how to make your own cornucopia here!
2. Thankfulness Board
There are many ways to display thankfulness during this season. One of our favorites is with a Thankfulness Board. Use an old picture frame with a fabric-covered foam center as your board. Cut out leaves from different fall-colored papers. As family and friends arrive for Thanksgiving, have them write what they are thankful for and pin it to the board. You could even do this for the entire month, and have a continuing display of thankfulness.
Click here for DIY Thankfulness Board ideas.
3. Corn Wreath
Colorful Indian corn is easy to find, and very festive. Grab a bundle and arrange side by side to create a simple and beautiful wreath. Secure with a foam or wire backing, and hang on your front door for a festive welcome to your guests. Learn how to make your own corn wreath here.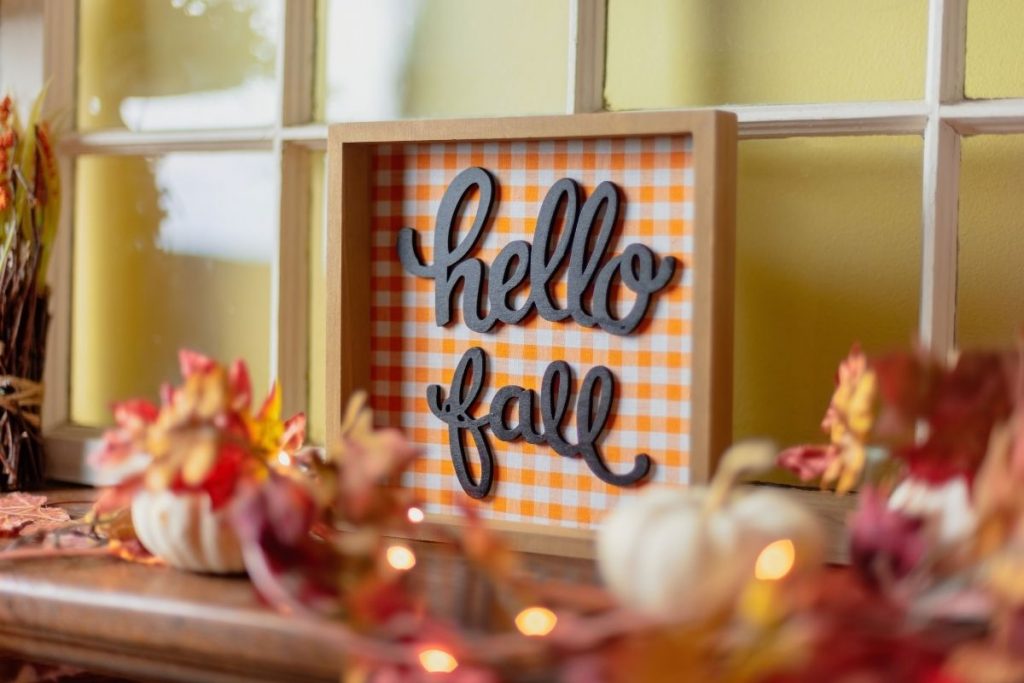 4. Pinecone Door Hanging
If wreaths aren't really your thing, have no fear! Pinecones can make a beautiful door hanging for the fall season. And what's better, is that it will hardly cost you a thing. Gather pinecones from your yard, and dip the edged in glitter or paint (if you prefer). Attach ribbons of different lengths from the tops, and secure all ribbons together with a bow. Hang from a nail on your door. Click here for more ideas! 
5. Glitter Leaves and Acorns
You're never too old to play with glitter. Creating glittery foliage is a fun way to incorporate natural touches to your decor, and easy enough for the kids to join in. Gather fall leaves and acorns from outside. Place glitter in little bowls or plates. Cover the leaves or acorns in glue, dip in the glitter, and let them shine. Give them enough time to dry before placing all over the house (unless you want glitter everywhere!).
6. Cinnamon Stick Candles
Chances are you have some boring, unscented candles lying around that rarely get used. Transform those candles with the help of cinnamon sticks. Cinnamon sticks are the perfect blend of rustic and beautiful. Not to mention that they smell amazing! Glue cinnamon sticks vertically around the candles. Wrap twine around them and secure in a bow. Simple as that! If you'd like to make your own, click here. 
7. Pumpkin Vase
Pumpkins aren't just for Halloween! This idea works best for your pumpkins that aren't already carved. Take a small to medium-sized pumpkin and hollow it out. Place a block of wet floral foam inside, and arrange a bouquet of beautiful fall florals inside. Add a few branches of bittersweet berries for an extra touch. This also works with fake flowers if you prefer. Just keep in mind, the pumpkin vase will start to go bad over time, so create it only a day or two before your celebrations to keep it looking its best.
8. Rustic Centerpiece
There's something beautiful about bringing the outdoors in around Thanksgiving. Create a charming and rustic centerpiece for your table this year using a tree branch. Find a good-sized branch or small log from outside. Drill holes in the log for tea lights to sit in, or create an entire crevice down the center. Fill the crevice or space around the log with fall-themed items like acorns, pinecones, bittersweet berries, or small twigs. Just remember the fire hazard here, and never leave this centerpiece unattended. You may consider using battery-powered tea lights for safety.
9. Mason Jar Luminaries
There is a never-ending list of crafts for mason jars, so of course, you can use them to decorate for Thanksgiving. Create simple luminaries to brighten up your decor. Find a large leaf from your yard to use as a stencil. Trace the leaf on contact paper, cut the leaves out, and place on the mason jars. Paint the entire jar, and then remove the contact paper leaf. Tie a twine ribbon around the top, and place a candle inside. For an even more natural look, skip the paint altogether, and just cover the jars with leaves using decoupage. Click here for more instruction. 
10. Give Thanks Bottles
Empty wine bottles are another great craft-making item that you most likely have around your home. Remove the labels, and then paint the bottle fall colors. Paint thoughtful words on each bottle. Lastly, fill the bottles with wheat and or leaves and place them in a line on the mantle.
11. Natural Colors
After Halloween, you might be a bit tired of orange. Luckily, orange is not the only color you can use to decorate for Thanksgiving. For pops of color, decorate your home with colors of fall foliage, like yellows and reds. White, especially white pumpkins, are classy and very festive. Also incorporate natural hues such as browns, beiges, and even touches of black to tie everything together.
12. Thanksgiving Banner
Remind friends and family what this time of year is all about with this simple banner. Cut triangles out of paper or fabric and lay in a line. Spell out "Give Thanks" using each of the triangles for one letter. Attach to a ribbon and hang from your mantle. Accentuate with pumpkins or vases on top of the mantle. Feel free to get creative with the banner, such as the color of the paper or letters, and make it your own.
We hope you have as much fun trying out these festive Thanksgiving decoration ideas!