Home Prices Up in 90815
90815 Real Estate Statistics and Information – Los Altos, Park Estates, La Marina Estates, and other 90815 Areas of Long Beach
The median home price for homes sold in 90815 was $612,000 last month, which although slightly lower than the previous month was still 9.3% higher than it was a year ago.
The number of homes that sold in 90815 was at its lowest level last month since February 2015. The 18 home sales in the area in November 2015 was 21.7% fewer than for the same time period last year.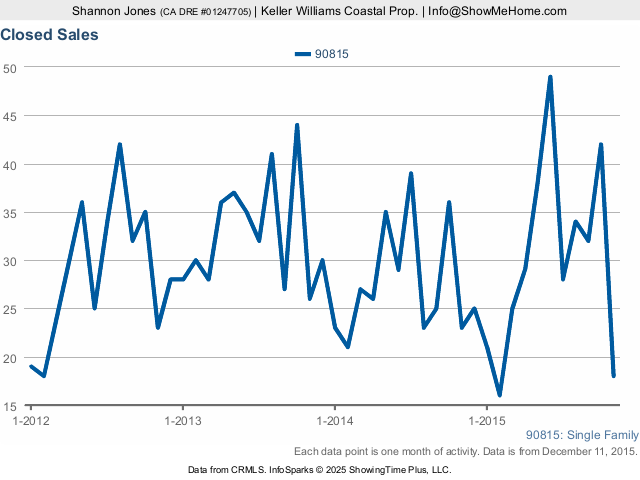 Home sales in 90815 are among the fastest in Long Beach. The median time it took to sell a home in 90815 last month was 36 days, down 32.1% from November 2014.


The inventory in 90815 is among the lowest within Long Beach, with just a 1.5 month supply of homes for sale as of last month. This is down 28.6% from last year.
Seller's Market
Anytime inventory is as low as it is right now, we experience what's called a "seller's market," meaning that sellers have the upper hand when negotiating because supply is so far below current demand. Although spring and summer are traditionally considered by many to be the best time of year to sell a home, this winter is shaping up to be an excellent opportunity for sellers. If you'd like to find out what your home is worth in today's market, fill out the form below and we'd be happy to provide you with a custom market evaluation.
Homes for Sale in 90815
Homes In Escrow in 90815
What's My Long Beach Home Worth?