full service cider tap house. While beer breweries have become prolific in their spread across California, cider and mead have always been something of an afterthought on a drink list. Long Beach itself has become an icon in the Los Angeles area for having such a wealth of craft beer. We've welcomed beer newcomers to the area at Ballast Point, Belmont Brewing Co, The Congregation, Beachwood Brewing, and Brouwerij West in recent recall. That's a lot of representation for craft beer, with small opportunity for cider.
Not so at Great Society Cider & Mead. At the time of our visit and on their online menu now, there are 20 taps dedicated to cider and mead, in a range of flavors that shouldn't be condemned to being only sweet. Great Society Cider & Mead puts emphasis on having more than just a lot of ciders; they also want them to be good. Dry ciders, with an almost white wine delicacy, are abundant as are their sour counterparts, tasting just as much like a traditional sour-style beer. There are hopped varieties for the Imperial Pale Ale fans, barrel-infused flavors, as well as the fruit varieties that you expect. This isn't your standard fruit though, with blood orange and grapefruit and other more interesting options. Meads are more than just honey, and nuanced flavors can be found across the selection.
Development of businesses like this isn't just good for your taste buds, but good for the community as well. With the revitalization of downtown areas across the country, we see more local business and more engagement in the neighborhood, overall improving our city. We're excited to welcome this new addition to the East Village Arts District, and look forward to visiting again soon.
Visiting Great Society Cider & Mead
Great Society sits on the north-east corner of Atlantic and Broadway, surrounded by a tidy hardwood fence that houses their patio. The interior of the building offers a long bar for sitting close to your barkeeper, as well as tables throughout the interior where you can order food. While the name of the place points out their ciders and mead, don't think that the food doesn't hold up by itself. Burgers, salads, fried and baked seasonal foods alike are ready to go with your ciders.
Ciders can be ordered in flights, in glasses, and in bottles depending on the varieties, and a small selection of craft beers is available for friends and family that find they need a break from the cider or just want an old faithful cold one.
Great Society also has the benefit of being in easy walking distance of Downtown and the East Village Arts District path for Second Saturdays, where you can see the open houses for galleries and take in some evening entertainment. Consider letting this be your jumping off point for your next trip to the symphony orchestra hall, or a nice close to a day down at Shoreline Park and the aquarium.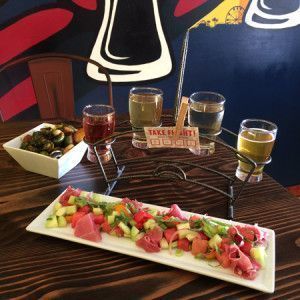 Address: 601 E. Broadway, Long Beach, CA 90802
Hours: Wednesday 4:30 to 11:00pm, Thursday – Friday 4:30 to Midnight, Saturday 11:00 am to Midnight, Sunday 11:00am to 10:00pm.  (Tuesdays coming soon.)
Parking: Street parking on surrounding streets, or use one of the lots on Broadway to the east.
Dog Friendly: Dogs are allowed on the patio where you can have both food and drinks.
Reservations: No reservations, just walk on in and order at the bar to eat on the patio if you don't see a table inside.
Website: http://www.greatsocietycider.com/