Los Angeles and Orange County home owners planning to sell in 2018 will be pleased to find that home prices are expected to continue rising this year
For home buyers, the expected price increases combined with historically low inventory and an expected rise in interest rates is translating into a sense of urgency — meaning this is a really great time to sell.
However, sales have been down. Compared to a year ago, December 2017 closed sales in the two-county region were down 10.1 percent. The median sales price during the same month was up 5.3 percent compared to a year ago. The number of listings was down 19.5 percent from a year ago.
In Long Beach, the $587,750 median sales price for a single-family home in December was essentially the same as the same month the prior year.  However, the $357,500 median sales price for a condo in December was up 20.5 percent compared to same month last year.
In the single-family home market, closed sales and new listings were both considerably down in December compared to the same time a year ago. This indicates there's a lot of competition among buyers.
For condo buyers and sellers, there was good news with December increases in the number of closed sales and new listings compared to same month a year ago.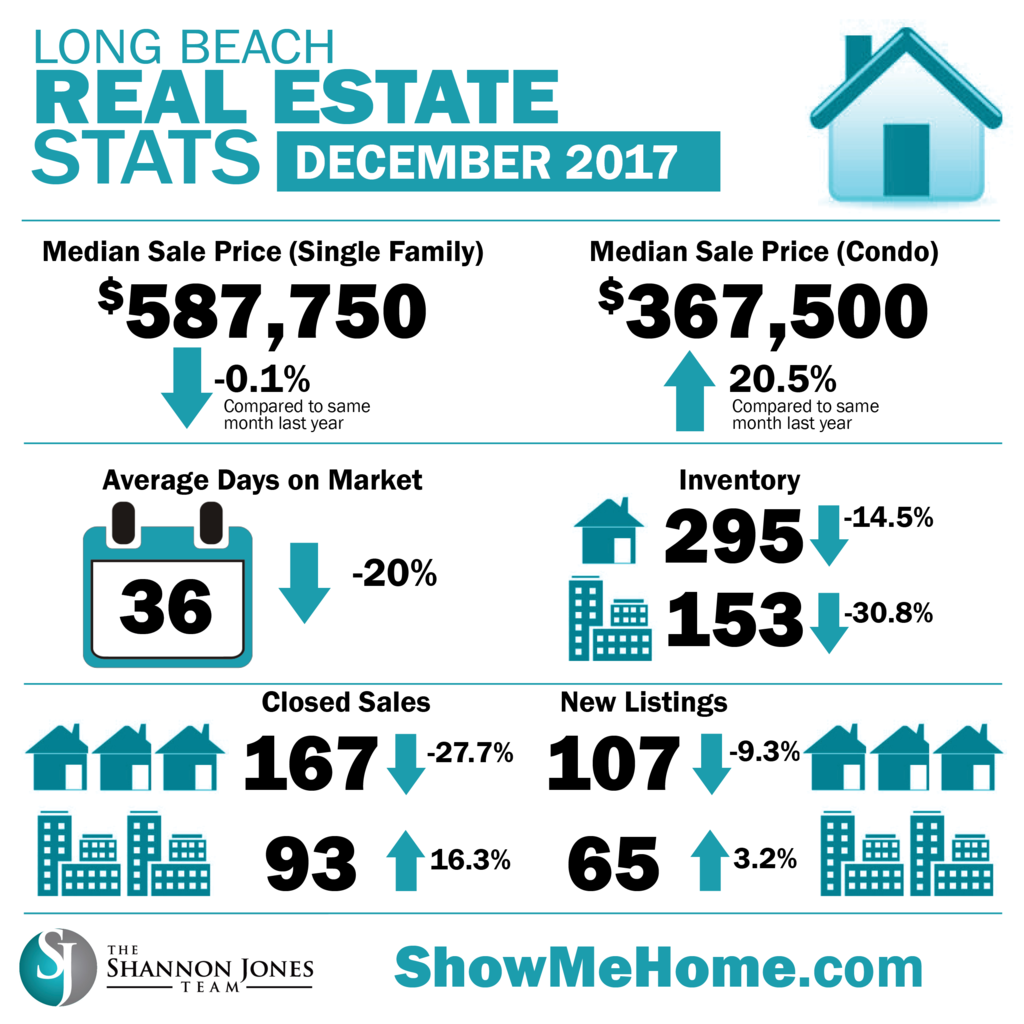 Interest rates have remained relatively low for quite some time, but many experts predict that they'll be rising this year.
At the start of 2018, the average interest rate for a 30-year fixed mortgage was 4 percent but it's slightly above that right now and many expect it to go to 4.5% or higher this year.
For home buyers, waiting to purchase until prices and interest rates have both risen will mean they'll pay more monthly for a home comparable to what they could buy today.
Interest rate hikes can have a greater impact on home buyers with low down payments or lower credit scores because they may be already stretching to get into a home. Higher interest rates can impact buyers' purchase power by tens of thousands of dollars depending on their purchase price, down payment, loan program, and other factors.
At the end of the day, rising interest rates could stand in the way of you buying into a safer, cleaner neighborhood with great schools. You may be able to get out ahead of this trend by immediately starting your home search with an experienced agent.