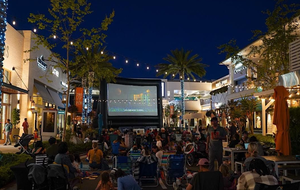 HOLIDAY MOVIE NIGHT: THE POLAR EXPRESS
Friday, December 1st, 6 PM
Bring your family and friends to our cozy venue, where you can snuggle up with blankets and hot cocoa, as we embark on a thrilling train ride to the North Pole. Immerse yourself in the heartwarming story of a young boy's extraordinary journey to rediscover the magic of Christmas. Don't miss out on this unforgettable event that will leave you filled with holiday spirit and cherished memories. 2ND & PCH, 6400 Pacific Coast Highway, Long Beach.
More Information: CLICK HERE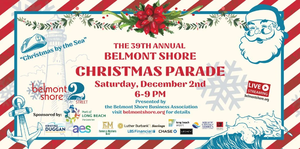 39th Annual Belmont Shore Christmas Parade
Saturday, December 2nd, 6-9 pm
A local favorite for years, the Belmont Shore Christmas Parade features over a dozen local marching bands and hundreds of floats. Second Street will close to traffic at 5 p.m.! This is a free event, no tickets are required. The parade route is along East Second Street and begins heading east from Livingston Avenue to Bayshore Avenue.
More Information: CLICK HERE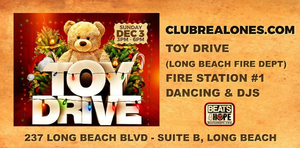 Real Ones Holiday Day Party & Toy Drive
Sunday, December 3rd, 3-6 pm
Dance the day away and bring a new unwrapped gift to the Holiday Toy Drive for children in the Long Beach area. Make this holiday season a memorable one by connecting with friends and family and making a positive impact in the community. Spread the word and invite your loved ones to the Jingle & Mingle event at Grey LB, 237 Long Beach Blvd., Long Beach. Entrance on 3rd next to Rainbow Juices.
More Information: CLICK HERE
Kayak Tours of Los Cerritos Wetlands
Sunday, December 3rd,  9:30 AM
Discover the wonders of the wetlands, connect with nature, and create memories that will last a lifetime. Paddle through the sparkling waters, feeling the thrill of the wind in your hair and the excitement in your heart. Spot colorful birds swooping overhead, playful otters splashing in the distance, and maybe even catch a glimpse of a majestic turtle basking in the sun.  Mother's Beach, 5839 E Appian Way, Long Beach.
More Information: CLICK HERE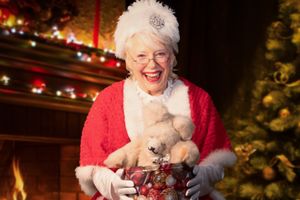 KIDS CLUB & STORY TIME WITH MRS. CLAUS
Tuesday, December 5th, 10 AM
Mrs. Claus is making a special appearance just for the little ones. This in-person event will be filled with laughter, games, and holiday cheer. Kids, get ready to meet Santa's other half and enjoy an unforgettable afternoon. Come along and make magical memories with Mrs. Claus at KIDS CLUB TIME! Located on Seaport Way, this event includes seasonal arts and crafts, story, and singing time with Mrs. Claus. Kids Club is best suited for ages 12 and under, weather permitting. 2nd & PCH, 6400 Pacific Coast Highway, Long Beach.
More Information: CLICK HERE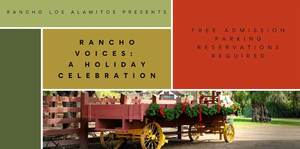 Rancho Voices: A Holiday Celebration
Thursday, December 7th through Saturday, December 9th,  4-8 pm
In the early 1900s, the Bixby family hosted the ranch's community of workers, families, and friends for a big Christmas party. And now you're invited! Bring your family and friends for a festive evening at Rancho Los Alamitos. Tour the decorated Ranch House and enjoy music and light refreshments. Free admission. Parking reservations are required. Parking is free for RLA members, and $5.00 for non-members. Rancho Los Alamitos, 6400 East Bixby Hill Road, Long Beach CA.
More Information: CLICK HERE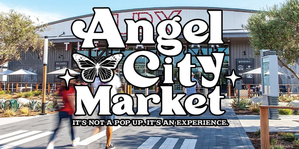 LBX Neighborhood Market: Christmas Edition
Saturday, December 9th, 11 am to 9 pm
Come and explore a wide variety of unique products, from handmade crafts to curated collections, and local treasures. Whether you're looking for a special gift or simply want to enjoy a fun day out, this is the place to be. Enjoy the good vibes with our DJ or special guest performer. Don't miss out on this exciting opportunity to support local businesses and connect with your community: the Hangar Food Hall, McGowen Street, Long Beach, CA.
More Information: CLICK HERE
DAISY LANE PARADE
Saturday & Sunday, December 9th & 10th, 5 PM
The City of Long Beach and the Office of Seventh District Councilmember Roberto Uranga proudly present the 69th Annual Daisy Lane Parade, taking place on Saturday, Dec. 9th, and a night of holiday entertainment on Sunday, Dec. 10th. The parade will start on Daisy Avenue at West Burnett Street and will travel south, loop around Pacific Coast Highway and travel back up north, ending near West Hill Street and Maine Avenue. On Sunday, Dec. 10, festive performances will be held from 7 to 9 p.m. on the Daisy Lane median at Daisy Avenue and 20th Street.
More Information: CLICK HERE
A Christmas Carol (2023)
December 9th – 23rd, 2 PM or 8 PM
In this quick-paced, highly theatrical retelling of Charles Dickens's classic tale, the ghosts of Christmases Past, Present, and Future show Ebenezer Scrooge the poverty of his material wealth and the blessings that come with generosity. Spend time with the characters you've come to love – Bob Cratchit, Tiny Tim, and of course the irascible miser himself. This production will be the Christmas party needed to set you and your loved ones on the path to holiday cheer. Playing in the Long Beach Playhouse's Mainstage Theater,5021 E. Anaheim Street Long Beach.
More Information: CLICK HERE
HOLIDAY OPEN HOUSE, RANCHO LOS CERRITOS
Sunday, December 10th, 5-8 PM
Begin your holiday season at Long Beach's historic home. Tour the decorated adobe with candlelight throughout. Converse with costumed docents. Stroll the grounds listening to holiday music while sipping hot cider. Browse the Museum Shop to find unique holiday gifts and view the current exhibition "Then & Now". 4600 Virginia Road Long Beach.
More Information: CLICK HERE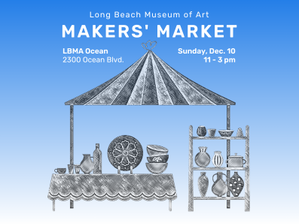 MAKERS' MARKET
Sunday, December 10th, 11 AM – 3 PM
The Long Beach Museum of Art will host this Makers' Market spotlighting local ceramicists, jewelers, and more. Don't miss your opportunity to buy incredible art and wares from local artisans who will receive 100% of sales. The Makers' Market is free to the public and located on the Museum's lawn at the Ocean Blvd. campus.
More Information: CLICK HERE
SANTACON
Sunday, December 10th, 1 PM
SantaCon is a holiday costume pub-crawl type event, at your own pace, where you create your own route to visit the various breweries, restaurants, wine bars, and shops all within walking distance of each other in Bixby Knolls, "Brewery Knolls." 4321 ATLANTIC AVE LONG BEACH.
More Information: CLICK HERE
Silent Santa
December 10th and 17th, 9 am – 11 am
This event is perfect for children or adults with sensory sensitivities. Santa wants to make sure he is at the sailboat before the stores are open and the shoppers are bustling to minimize overwhelming triggers for stress. Many kids and guests with autism and other special sensitivities never get the chance to tell Santa what they want this Holiday in person because of sensory overload but we want to do our best to accommodate our guests with special needs. 2ND & PCH, 6400 PACIFIC COAST HWY LONG BEACH.
More Information: CLICK HERE
Winter in Willmore
Saturday, December 16th, 3 PM – 7 PM
After more than a decade, this free annual holiday event is moving to the historic Bembridge House (953 N Park Cir.) and will include music and carolers, falling snow, children's activities like face painting, local vendors, food trucks, and even period Victorian actors in their holiday finery. Children will have the opportunity to meet and discuss holiday plans with Santa Claus himself. The Bembridge House 953 North Park CircleLong Beach, CA.
More Information: CLICK HERE
AQUARIUM HOLIDAYS, AQUARIUM OF THE PACIFIC
Saturdays, December 02-17, 2023
Nobody celebrates the holidays like the Aquarium of the Pacific, which celebrates in multiple and unique ways during its annual Aquarium Holidays events in December. On Saturdays, December 2 through 17 the Aquarium will have photo opportunities with Santa, and visitors can experience snowfall in the Great Hall and festive holiday decor. Throughout the month 'ol Kris Kringle turns in his usual red velvet suit for a red scuba outfit (the better to plunge into the tanks and deliver ocean gifts to the Aquarium animals, sea lions, fish, etc.). Also during Aquarium Holidays, the Aquarium will host a Kwanzaa celebration and Hanukkah storytelling.
More Information: CLICK HERE
Weekend/Holiday Long Beach Whale Watch and Dolphin Tour
Saturday, December 16th, 12 PM
Not only will you learn about these amazing marine animals and their behaviors, but you'll also have the opportunity to connect with nature and appreciate the beauty of our oceans. This tour is a perfect way to spend your weekend or holiday, creating unforgettable memories and gaining a deeper appreciation for our planet. 100 Aquarium Way, Long Beach.
More Information: CLICK HERE
Naples Island Christmas Boat Parade
Saturday, December 16th (Time TBD)
This will be the 77th time that holiday-decorated boats and watercraft will wind their way through the romantic canals of Naples Island in Long Beach. Everyone loves the boat parade because it offers excitement and festive decorations in the water below, but holiday cheer also emanates in the brightly and creatively decorated homes all along the canals. The theme for this year's boat parade and holiday decor contest is: "Christmas Around the World".  Naples Island, 5824 E. Naples Plaza Long Beach.
More Information: CLICK HERE
LONG BEACH NIGHT MARKET
Saturday, December 16th, 6 PM – 11 PM
The Long Beach Night Market returns to host the best of local food pop-ups at The Promenade at Mosaic. Taste chicken wings, hamburgers, tacos, and other eats from local chefs and explore Downtown Long Beach at night!  THE PROMENADE BETWEEN 3RD & 5TH ST, 300 THE PROMENADE NORTH LONG BEACH.
More Information: CLICK HERE
LONG BEACH BALLET: THE NUTCRACKER
December 16th to 23rd
The Long Beach Ballet's Artistic Director David Wilcox has pulled out all the stops for this 41st production of the classical tale. This production boasts a full symphony orchestra, a flying sleigh, a real live horse, on-stage pyrotechnics, and a cast of over 200. Former Disney designers Elliot Hessayon and Scott Schaffer created the enchanting scenery, Australian artist Adrian Clark designed the detailed costumes, and renowned magician Franz Harary created the special effects. 300 E OCEAN BLVD
LONG BEACH.
More Information: CLICK HERE
Long Beach Pug Meet-Up
Sunday, December 17th,  10 AM to 11:30 AM
Whether you're a proud pug parent or simply enamored by these lovable creatures, this meet-up promises to be an unforgettable experience. Connect with fellow pug lovers and share laughter, stories, and advice on all things pug-related. Watch as these squishy-faced companions frolic and play, their antics guaranteed to bring a smile to your face. Bixby Park,130 Cherry Avenue, Long Beach.
More Information: CLICK HERE
Long Beach Beach Cleanup with Local Veterans
Sunday, December 17th,  9 AM
An inspiring day of unity and gratitude at the Long Beach Beach Cleanup with local Veterans. Make a difference, one piece of litter at a time, and forge connections that will last a lifetime. Be part of this transformative event that combines community, environmental care, and heartfelt acknowledgment of our Veterans.  Belmont Veterans Memorial Pier, 35 39th Pl Long Beach.
More Information: CLICK HERE
Long Beach Museum of Art
Saturday, December 23rd, 11 AM
At this exclusive event, patrons will have the opportunity to mingle with fellow art enthusiasts and engage in meaningful conversations with talented artists. Discover the hidden gems of our permanent collection, which embraces diverse perspectives and pushes the boundaries of artistic expression. Long Beach Museum of Art, 2300 East Ocean Boulevard, Long Beach.
More Information: CLICK HERE
New Year's Eve 2023
Sunday, December 31st, 5pm
One of the favorite annual events to ring in the New Year occurs at the Waterfront Amphitheater. Free and family-friendly festivities get underway at 5 p.m. Entertainment varies from face painting and interactive games to live music and 21+ Bars. The celebration wraps up with an East Coast Countdown and fireworks set off at 9 pm. Waterfront, 330 S Pine Ave, Long Beach.
More Information:  Click Here