A Long Beach Legend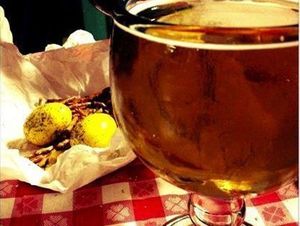 Founded in 1924, Joe Jost's is the oldest continually operated tavern west of the Mississippi River.  It is known for having the coldest beer in town, 29 degrees Fahrenheit, the "Joe's Special" sandwich, pickled eggs, and fresh roasted peanuts. Along with the menu, the pool hall and beer bar has not changed much over the past 90 years.
Walk in through the saloon style double doors to standing room only on most weekend days. During the week, other than lunch time, you might be lucky enough to get a bar stool or table. You instantly smell the steaming hot dogs, see different sporting games playing on several televisions, and hear people laughing and talking with their friends. It's like the neighborhood "Cheers." You expect Norm to be sitting at the end of the bar. However, you can always spot a local fireman, high school coach, accountant, nurse, and grandpa. Even car pool moms "lunch" at Joe's.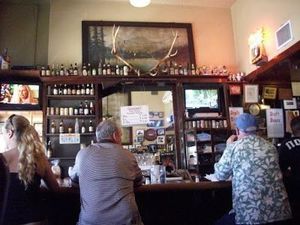 Stop at the bar for a 1-1-1- or in layman terms a frosty schooner of Busch Bavarian Beer, a "Joe's Special" sandwich, and a pickled egg. The sandwich is made on the softest rye bread, slathered with yellow mustard, a slice of Swiss cheese, and a homemade all beef sausage cut in half and stuffed with a dill pickle spear. It is wrapped in old school deli paper. This helps to keep the steam in the sandwich and melt the cheese. The pickled eggs are garnished with fresh cracked black pepper, and served with pretzels and hot yellow peppers. If the special is not your sandwich of choice, then you can order an egg, salami, liverwurst, or a simple cheese sandwich.
Just like In-N-Out there is a secret menu. The appetizer platter has cut hot dogs, sliced salami, pickles, sliced cheese, and pretzels. A Double Double has two sausages, and the taco has one slice of bread. Celebrate Oktoberfest with German Bratwursts and sauerkraut, German Potato Salad, and Spaten Beer. Once a year on St. Patrick's Day enjoy green eggs and a traditional corned beef sandwich. If you are a guest not old enough to drink, then you can have Cracker Jacks and Animal Crackers to go with an iced cold mug of root beer.
Other legends include the coveted shirts. The traditional blue shirt with the famous frosty mug of beer logo on the back can been seen on people all over the world. The Christmas shirt is released on the day before Thanksgiving, and there is also the annual St. Patrick's Day and Fourth of July shirts.  The sign outside the bar is also a legend. It reads sandwiches and root beer because that's what was sold during prohibition. However, folklore states that during the prohibition cold beer was still served in the back room along with games of pool and cards. Another tradition is the lighting of the deer antlers in the back room to signify the start of the holiday season, and buying the annual Joe Jost's calendar in January.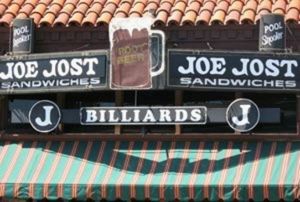 Joe Jost was born in a small town in Hungry. When he was 12 years he had to decide to become a priest or get a job. So he became his uncle's apprentice at his barber shop. He left for the United States when he was 16 years old and landed in the New York Harbor. The rest is history. He made his way west and opened Joe Jost's at 2803 East Anaheim Street, Long Beach California 90804.
Joe Jos's is a true Long Beach Legend. The building is a landmark and drinking the coldest beer in town is a rite of passage for literally millions of people. Stop by the tavern and chances are you will see Joe Jost's grandson, Ken Buck, serving beer to his customers.