Pests are an unfortunate reality of homeownership. From ants to mice, these little creatures have a tendency to make themselves at home, rent-free. Every area also has their own local nuisances that you'll likely deal with at some point. Each creature also has its own habits and problems, but all usually need to be removed. Today we'll go over the most common offenders, including ways to spot them at work.
Squirrels
As a pest, a squirrel in the wall is more than just a collection of nuts and the occasional pitter-patter of tiny feet. Squirrels are well known for creating messes and extensive damage on the inner and outer walls of your home. The key reason for this is that squirrels have to keep their teeth worn down. As a result, squirrels are born to chew on just about anything that comes across their path. This could easily be your electrical, plumbing, and insulation. The common result of this can be leaks, poorly functioning lights, and vectors of intrusion for other critters. You might find yourself needing to redo lighting, water pipes, and possibly tearing out entire walls to clean and rebuild them.
Squirrels nest in the winter, usually looking for entryways into your home from higher places. If you have attic vents, a fireplace chimney, or other openings from the top of your home, make sure that they are properly screened off. Damaged siding, roofing materials, and gaps in exterior coverings can also cause this. Do repairs to the roof and siding of the house promptly. This will keep your neighborhood squirrels from gaining access. If you do hear squirrels, or what you might suspect to be a rodent, don't wait to call pest control. The longer they live there, the more damage is happening.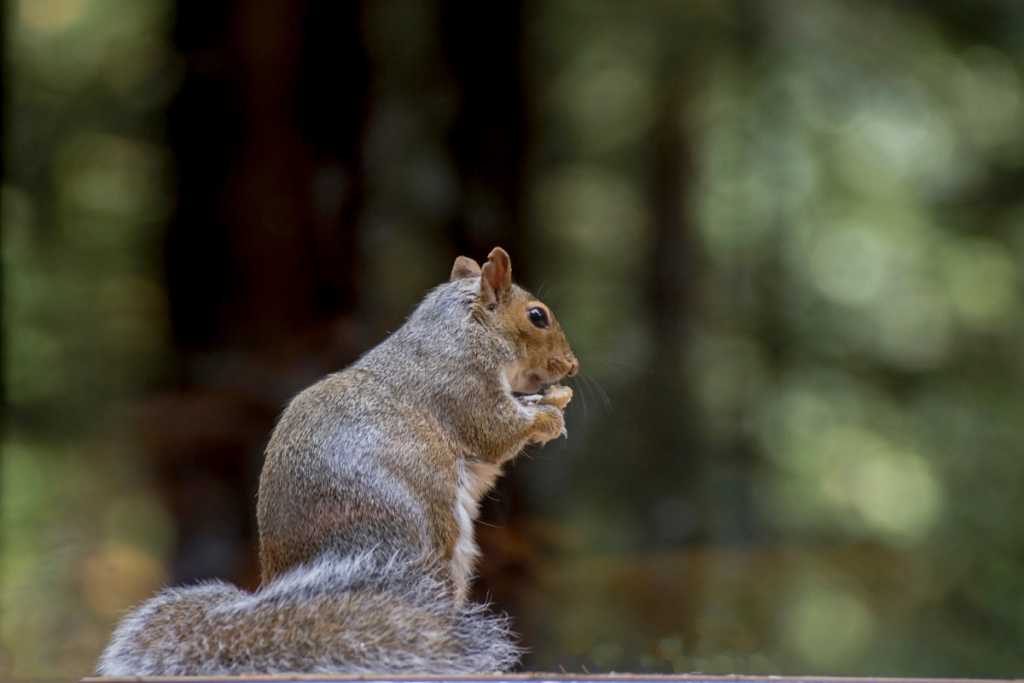 Rats and Mice
Much like squirrels, small rodents like rats and mice have a real talent for breaking into your home. While squirrels typically come in from above, rats and mice start from the ground. You'll recognize their presence by skittering noises in walls, as well as pellets scattered nearby. These rodents build nests that can cause structural damage to electrical wiring in the house as well as in vehicles that they take up residence in.
Traps and poisons are the conventional methods of removing these critters, but there are no-kill trap options too. Just be sure to release them far away from your home if you do. Keep food in and around the house sealed and secured, and pack storage tightly and tidily to avoid places that they can move into.
Bees
While some bees are less damaging than others, they should be considered a pest and treated as one. Bees enter voids in your home through holes and other small openings, typically between the siding of a house and between the structural beams of walls where there's room for them to build a hive. The bees themselves, with exception of carpenter bees, do not usually eat the materials of the house the way that termites and other pests do. However, the hive itself can destroy the moisture barrier of the wood that it comes in close contact with. This creates pockets of your home that are vulnerable to mold and moisture damage. The honeycomb also attracts moths and other creatures that feed on it.
Removing a hive should definitely be done by a professional. If you see bees entering and exiting from a wall, call for help as soon as possible. It's ideal to remove the hive within six days of the bees taking up residence. After that, damage to the house starts becoming a problem, which will mean work down the road for you.
Ants
Ants get thirsty like people do, and during times of dry weather, you may find these little bugs coming to live near and in your home. Once they've set down a path of where they know there is food and water, they'll be back many times. While most ants are harmless pests, ants that are around a half-inch in size may be carpenter ants. These ants will literally eat the wood in your house the way that termites do, and should be avoided at all costs. You might recognize them by the piles of wood shavings that they leave behind and by small holes they leave in wooden surfaces.
The best defense against these guys is cleanliness and vigilance. Keep small crumbs and other food cleaned off of the floor and counter surfaces, and don't leave trash uncovered and uncleaned for long periods of time. Water leaks should be avoided, so check outside hoses and your sinks periodically for dripping underneath cabinets. Pet food can be defended with a good spray of white vinegar around their bowls. Ants particularly dislike the smell of this inexpensive home remedy that erases their trails. Ant baits are the best long-term defense, as these encourage ants to eat poison and return to their colonies to spread it. For severe infestations that can damage your house, seek professional help. While carpenter ants don't create the kind of havoc termites do, leaving it untreated is almost as bad.
Termites
The granddaddy of house pests, termites can completely consume the structure of a house. While most of these other pests mentioned are nuisances that might inconvenience you and cost money, termites can cost you the house. It should be noted that it's not only primarily wooden houses that can experience termite infestations and damage. Termites will also eat new construction every bit as much as old.  The damage may not be visible until the infestation is very severe, regardless of species. The visible signs include maze-like designs etched into wood, as well as disintegrated beams, furniture, and home structures. Mud tunnels often cover exterior structures from where the termite pests are building structures, and cast off wings are shed near entrances.
If you are experiencing an infestation, you may need a contractor as well as an exterminator. Damaged structures in the house may be required to be replaced to keep the home safe. If you're selling your home, don't put this work off until the home inspection. In most cases, a termite inspection will be required. You can keep yourself in a good position by staying ahead of this problem before the buyers are involved.
Termites should be checked for regularly, with routine inspections in areas that are susceptible to them. If your climate is generally dry, having termite spikes around the perimeter is a good idea. Keep cracks in caulk and stucco repaired, and avoid storing wood near the walls of your home.
Look Under The House For Pests, Too
The underside of your home is a great opportunity for animals that like to hide and build dens. While many of these animals are not considered pests in the usual sense, they can be once they take up residence. This can include raccoons, opossums, and stray dogs and cats. More often than not, these animals are just looking for somewhere safe to hide in urban environments. However, they have the very real effect of damaging your property while building a home for themselves. They may also seek out sheds, garages, and other small structures. Signs of larger animal pests can include animal hair, rustling sounds under floor boards, scat, and the occasional upswing in smaller pests like fleas and ticks in the surrounding yard areas.
Keep your crawlspaces and vents covered. If your home has siding that covers a raised foundation, check to see if there are any visible holes and openings. These make for very promising opportunities for your would-be pests. If you do know that pests are living in or around your house, it's best to call animal control and have them removed. Even if they mean well and you do too, it's not a healthy environment for either party to be in.
Inevitably, all of these small pests are inconvenient, but ultimately can mean bad things for your home if left unchecked. Keeping an eye open for pests can keep you from paying more down the road. It also can preserve things about your home that you love that you might not be able to simply replace, like original fixtures and built-ins from older homes. Don't hesitate to evict these unusual house guests if they come to visit, and keep things in ship shape to not become a good habitat for them.
If you're dealing with pests in your Long Beach home and would like a recommendation for a pest-control company, fill out the form below!