Best Hand Crafted Ice Cream in Long Beach
Long Beach Creamery was inspired by Dina Amadril's curious and adventurous palate, created by her keen mind. Made daily by her two hands, Long Beach Creamy serves the best hand crafted ice cream in the city. Originally from Rhode Island, Dina graduated college and opened a Mexican Restaurant. It closed after two years. Dina was left with only her truck, $150 in her pocket, and feelings of discouragement. She decided to drive west to California and brought her brother with her.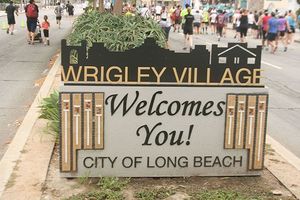 Dina worked in the corporate world of marketing for several years, bought a house in the Wrigley neighborhood, and made Long Beach her home. Three years ago while having dinner with friend and neighbor, Sasha Kanno, Founder of Long Beach Local, a new business venture was sparked. Sasha made a homemade peanut ice cream for dessert, and Dina said, "I can do that." A friendly ice cream competition began, and Dina started experimenting with ice cream flavors.
Before she knew it she was scooping ice cream at community socials at Farm Lot 59. She was selling ice cream every Saturday either at the farm, Made Long Beach, or Stateside Crafts. She was even selling ice cream out of her house until the city shut it down. That did not stop Dina. She continued to sell ice cream toppings, jellies, and jams. She even had her own ice cream ambassador, Melissa Kobus telling everyone about the fantastic ice cream.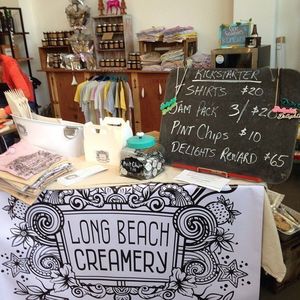 Long Beach Creamery had its own following of tasters, but not a home. Dina decide to liquidate some of her personal assets and build her own ice cream shop, but she need a dedicated "clean" space to spin ice cream. With the help from Kobus, family, and friends, a Kickstarter fund was started to help finance a dairy room inside the shop.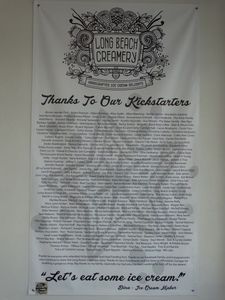 The Kickstarter fund raised $26,000 and special tribute hangs on the wall of the shop thanking every person that made Dina's dream possible.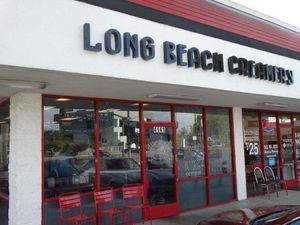 Walk through the doors of Long Beach Creamery's two month old brick and mortar store front located at 4141 Long Beach Blvd. in the electric business district of Bixby Knolls, and you feel as though you have been transported to a sleek culinary arts institute. The space is light, bright, and full of creative energy.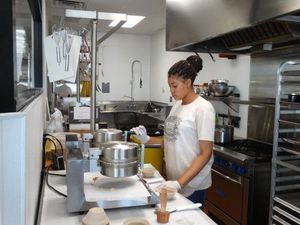 The open kitchen allows Dina and her staff to make ice cream all day while scooping and serving the most delicious ice cream to their customers. All of your senses are intrigued while at the Long Beach Creamery. You will see chemistry take place like magic before your eyes. Hear the crackle, pop, and sizzle of several types of sugar boiling and slowly turn into a smoky burnt caramel. Smells of vanilla waffles baking in shiny chrome irons float through the air. These delicate vessels will become edible bowls to hold your favorite flavor of ice cream. There is a dedicated Dairy Room or "white room" where the real magic takes place. The flavor meets the ice cream base when the flavors are spun together. Dina buys the base from Straus Creamery in northern California. It is a family owned and operated organic dairy.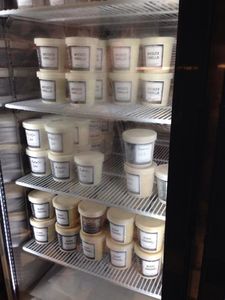 A large pint freezer is packed with pints of ice cream to go. Tall baking racks hold trays of cookies, candied bacon, and jars of homemade jams and jellies.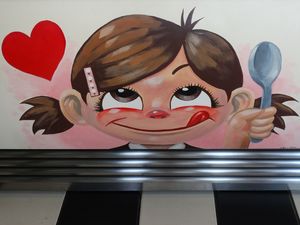 Last but not least the scooping freezer. It holds all the ice cream ready to be scooped that day. Staring back at you is Cara Mel. A mural of a little girl enjoying ice cream painted on the front of the case. Local artist Mike R Baker painted it and the community named her.
Ask Dina what is the most important part of making excellent ice cream, and she does not even think. She immediately says, "It is all about the flavor."  She starts with Strous ice cream base that is more like a French custard ice cream than the traditional American icy "Philadelphia" style ice cream.  All flavors infused into the ice cream base are made in house. Almost all ingredients, about 80%, are locally sourced through Farm Lot 59, Beach Greens, Black Ring Coffee, Stateside Crafts, and other local retailers.

Stateside Crafts – Beer? Yes, beer. Dina's favorite flavor is Black Stout ice cream made with beer brewed by Allagash brewery in Portland Maine. However, the most popular flavor is burnt caramel. The flavors change weekly. Some in the freezer this week include Whiskey Vanilla, Midnight Oolong (chocolate), Huskaberry Finn, Blueberry/Blackberry, Mintastic Chip, Dark Peppermint, and DreamCicle ( orange sorbet and Madagascar vanilla). A flavor in the research and development stage is Jailhouse Rock, organic banana ice cream base with peanut butter cookie chunks and candied bacon. It was inspired from their original Elvis flavor.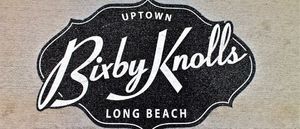 The store is located in the charming Bixby Knolls neighborhood. Their motto is, "It takes a village." Dina definitely has a village behind her. Let's start with family. She definitely has a strong connection with her family. Her father, Richard, helped construct the store and continues to work alongside his daughter. Dina's niece, Alina, and nephew Konrad also create, cook, and scoop ice cream. This strong family unit creates the warm and friendly atmosphere you immediately feel while eating your hand crafted ice cream.Dina has compassion and respect for all of the villagers she also calls friends. She lives, works, and breathes local. Her business is living proof of a successful symbiotic business relationship. She works together with Farm Lot 59, Beach Greens, Stateside Crafts, We Labs, Made Long Beach, Black Ring Coffee, Ray-Von Designs / Metal Smith/Jewelry, Mike R. Baker to name a few.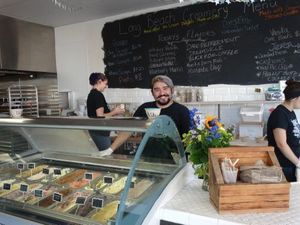 Every person at Long Beach creamery has a smile on their face.  The employees are smiling because they are part of the exciting creative process of developing new products. The customers are smiling because they are enjoying a flavor explosion that is Dina's signature trade mark.
What is in the future for Long Beach Creamery?
Future plans include another a pint freezer. Dina would like to sell ice cream on-line and make home deliveries. She would also like to start a hand crafted ice cream of the month club. Exclusive, not available at the store, ice cream that would be delivered every month to your front door. How cool would you be to serve one of kind ice cream at your next dinner party?
The best part about Long Beach Creamery is the high quality hand crafted frozen treats. The products are unique and always changing. The best part of getting to know Dina was meeting an intelligent, passionate, genuine, and superstitious business woman. She wears her "good-luck" earrings every day. You can see them in the above picture. She bought them after her grandma pasted away because her grandma liked them. While spinning ice cream one day one of her ear rings got caught in her hair net. The earring was broken, and the entire day was a disaster. She even threw away ice cream. Her niece, Alina, immediately ordered a jewelry repair kit on-line, and quickly fixed it. The ice cream returned to successful masterpieces, and Long Beach Creamery was back in business.
Long Beach Creamery: 4141 Long Beach Blvd. LB CA 90807 Phone: 562.513.3493 Hours: Mon. – Tues:  Closed;  Wed. -Fri. 9 am -9 pm; and Sat. – Sun. noon – 9 pm