Long Beach, CA Real Estate Statistics and Information
Including Statistics for Individual Zip Codes in Long Beach
Single Family Homes in Long Beach
Home prices in Long Beach climbed last month to their highest point in years. At $589,50, the median price as of March 2016 was 12.3% above the same time last year.  Spring and summer are typically the hottest time of year for buying and selling homes and this year is especially hot. The market is competitive and many homes are selling quickly with multiple offers, often above the list price. Whether you're buying or selling, now is the time to get a jump start so you can be settled in your home this summer.
While demand is up due to the extremely low interest rates, the supply of available homes for sale is limited. Inventory in Long Beach is currently at a 1.9 month supply of homes, which is 24% below what it was at this time last year. The low inventory is part of the reason that sellers are experiencing multiple offers on homes that are attractive, well located, and priced appropriately.
The median time on market for closed sales in March was 48 days, up 23.1% from a year ago but down slightly from last month.
Condos in Long Beach
The median price of condominiums in Long Beach in March 2016 was $309,000, which is down slightly from February 2016 but up 13.4% from a year ago.
Like single family homes, the supply of condominiums for sale in Long Beach is the lowest it has been in recent years. Inventory dropped from last month and is currently at a two month supply. A four to six month supply is considered a balanced market so the market is currently very favorable for those looking to sell their home.
Condominiums stayed on the market for a median of 43 days in March 2016. The number of days a condo stays on the market in Long Beach fluctuates a lot. However, compared to a year ago, the number of days a home stayed on the market decreased 15.7% .
Bottom Line
Long Beach is currently experiencing a very strong sellers market. Home prices are high and inventory is low. While many people are looking to buy a home in Long Beach, there simply aren't enough homes for sale to meet the demand. If you have been thinking about selling your home in Long Beach, now is a great time to start talking to a knowledgeable realtor.
Real Estate Statistics For Zip Codes in Long Beach
90802 – Including the neighborhoods of Downtown, East Village, and Alamitos Beach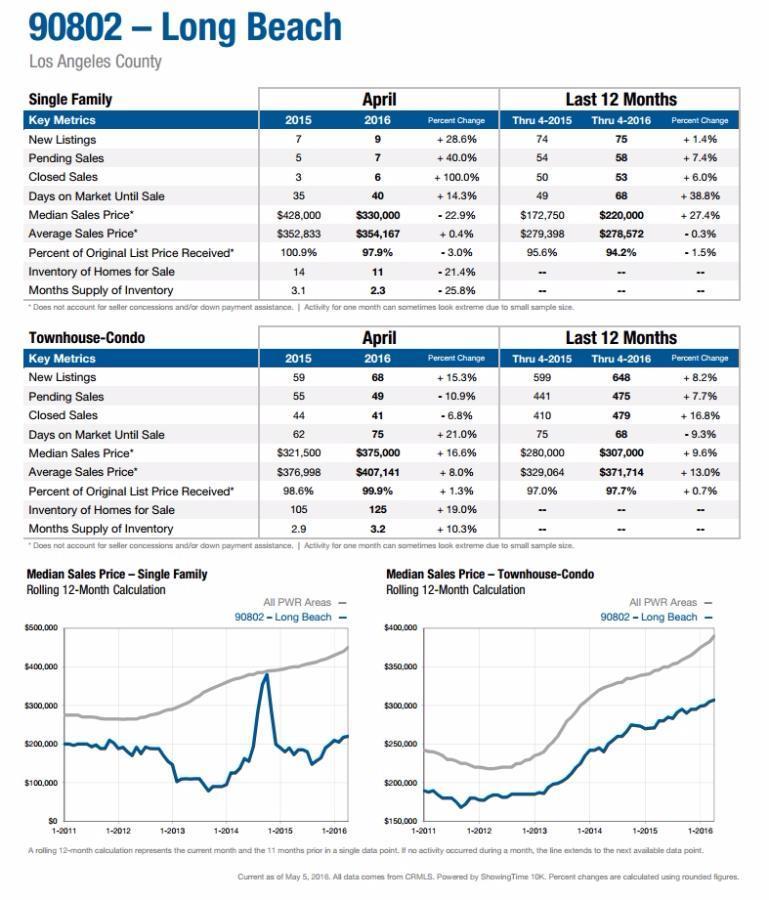 90803 – Including the neighborhoods of Belmont Shore, Belmont Park, Belmont Heights, Naples, the Peninsula, Bluff Park, Bluff Heights, Spinnaker Bay and Spinnaker Cove, University Park Estates, and Bixby Village.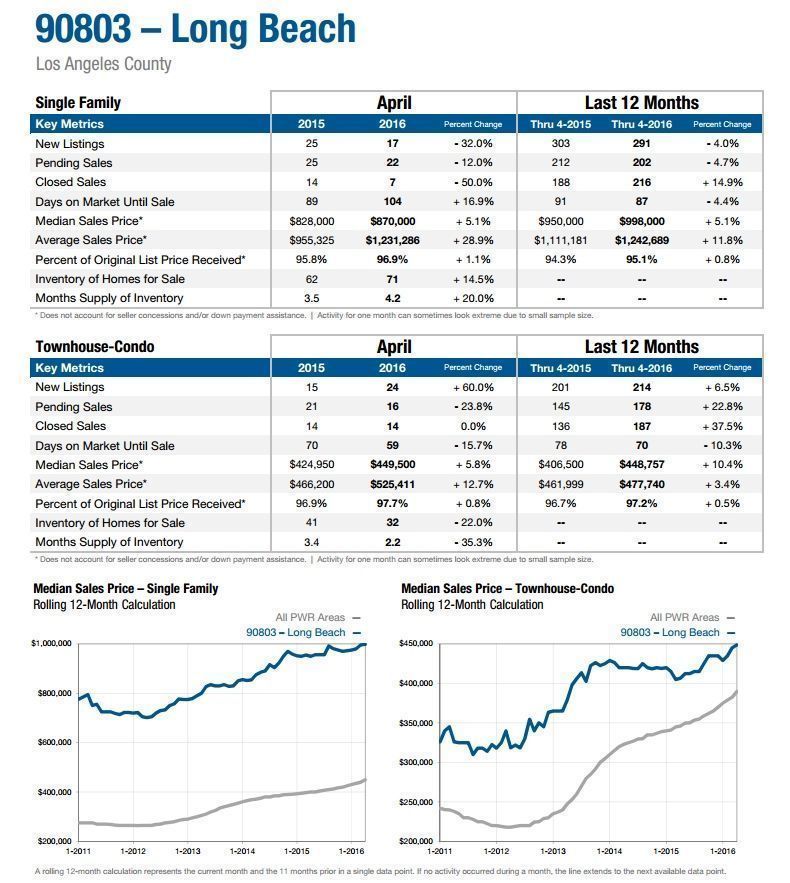 90804 – Including the neighborhoods of Rose Park and Traffic Circle Area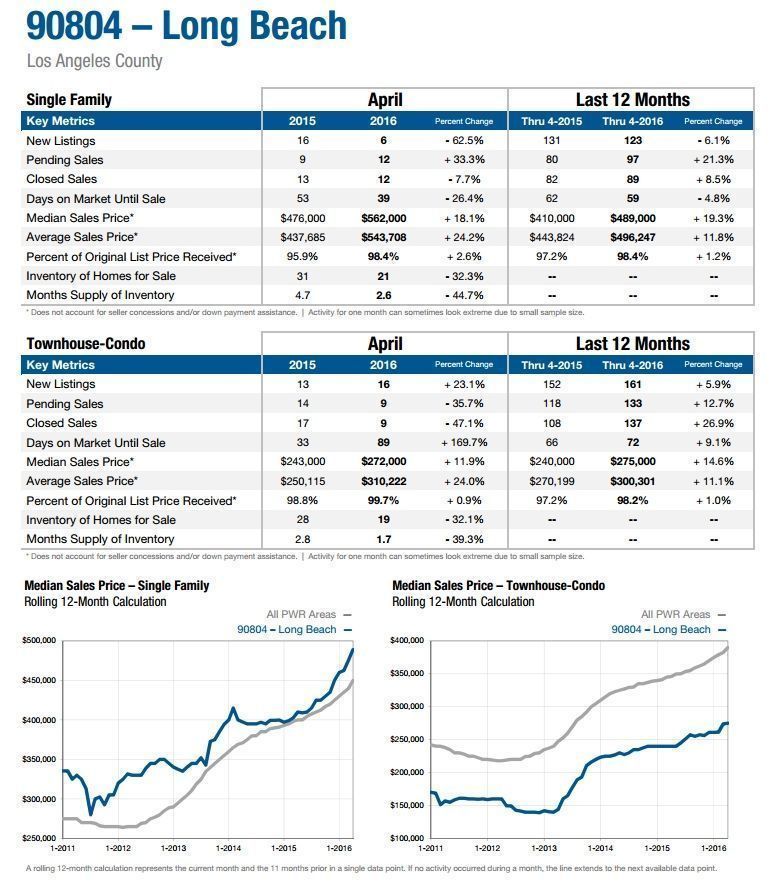 90806 – Including the neighborhoods of Wrigley and Surrounding Areas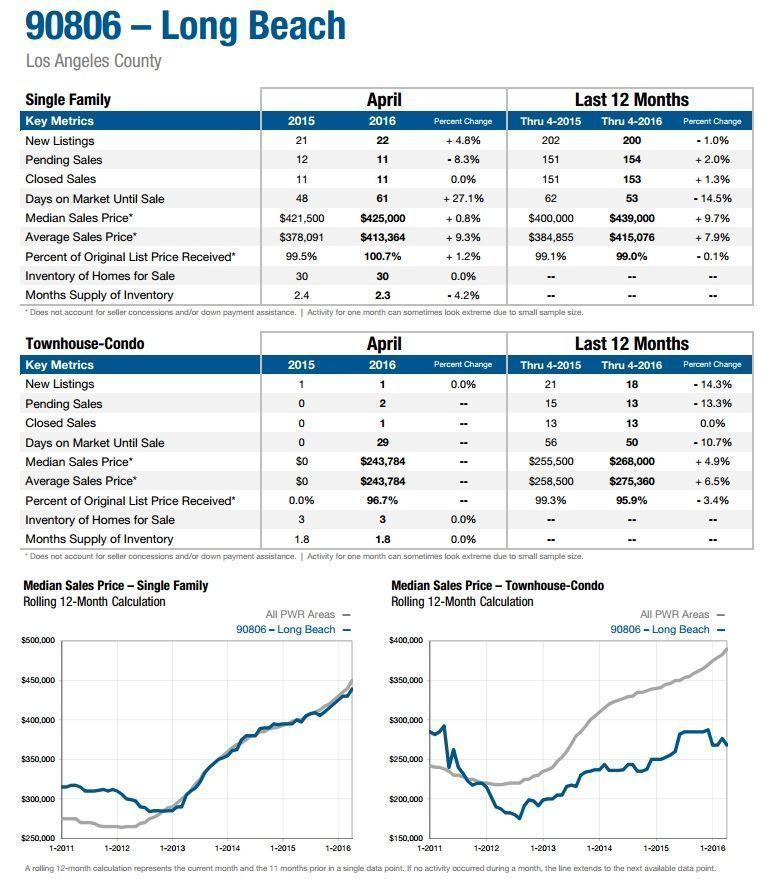 90807 – Including the neighborhoods of California Heights, Bixby Knolls, Bixby Terrace, and Virginia Country Club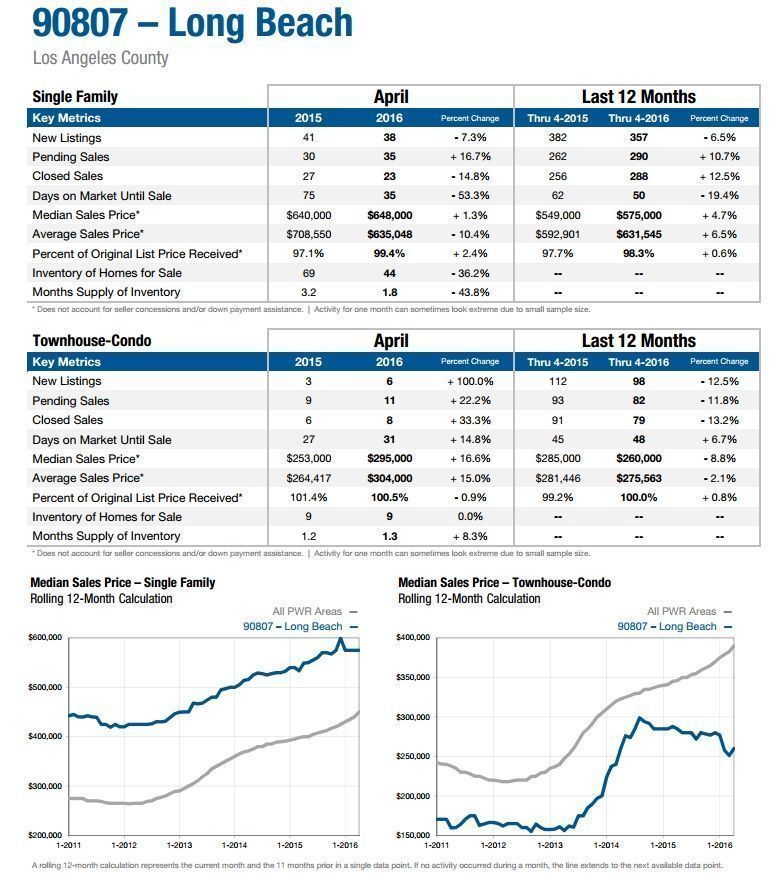 90808 – Including the neighborhoods of Carson Park, Plaza, Lakewood Village, and Old Lakewood City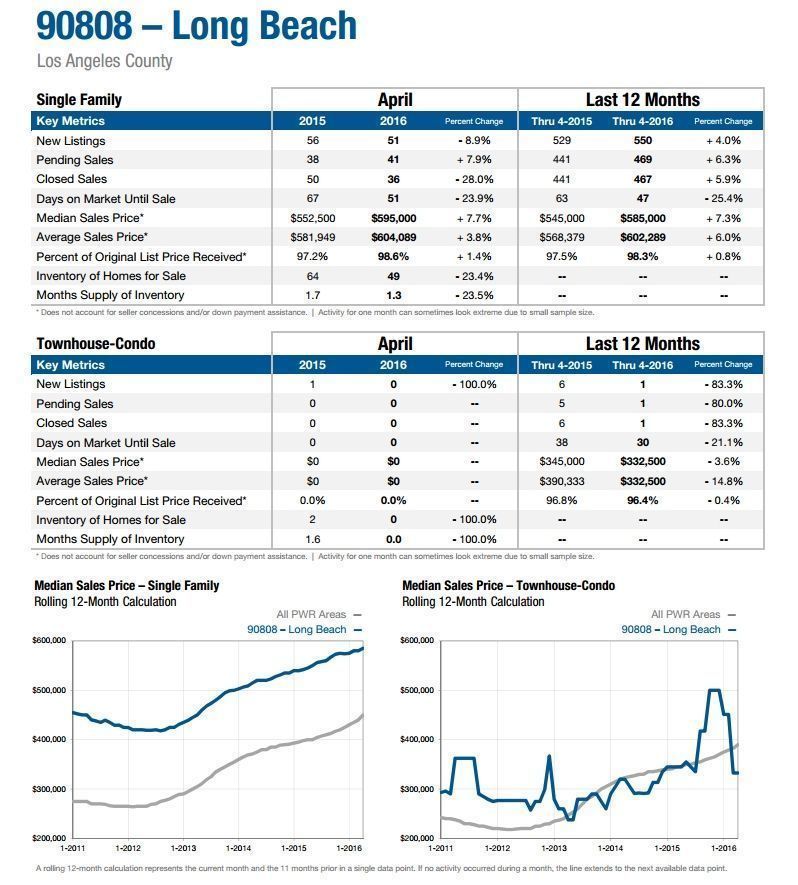 90814 – Including the neighborhoods of Carroll Park, Bluff Heights, and Rose Park South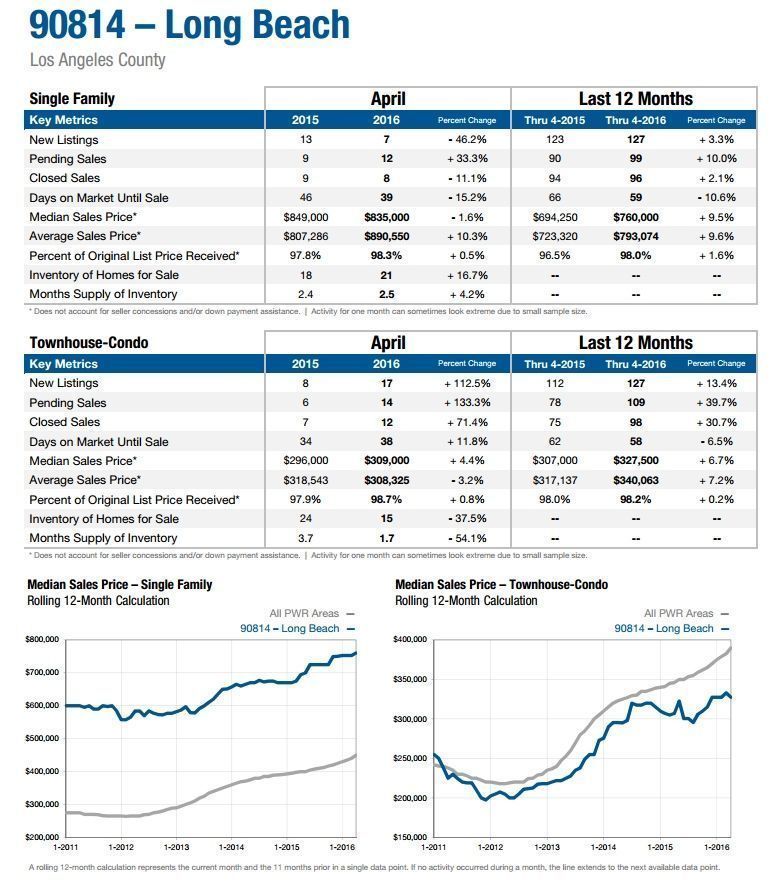 90815 – Including the neighborhoods of Los Altos, Park Estates, and La Marina Estates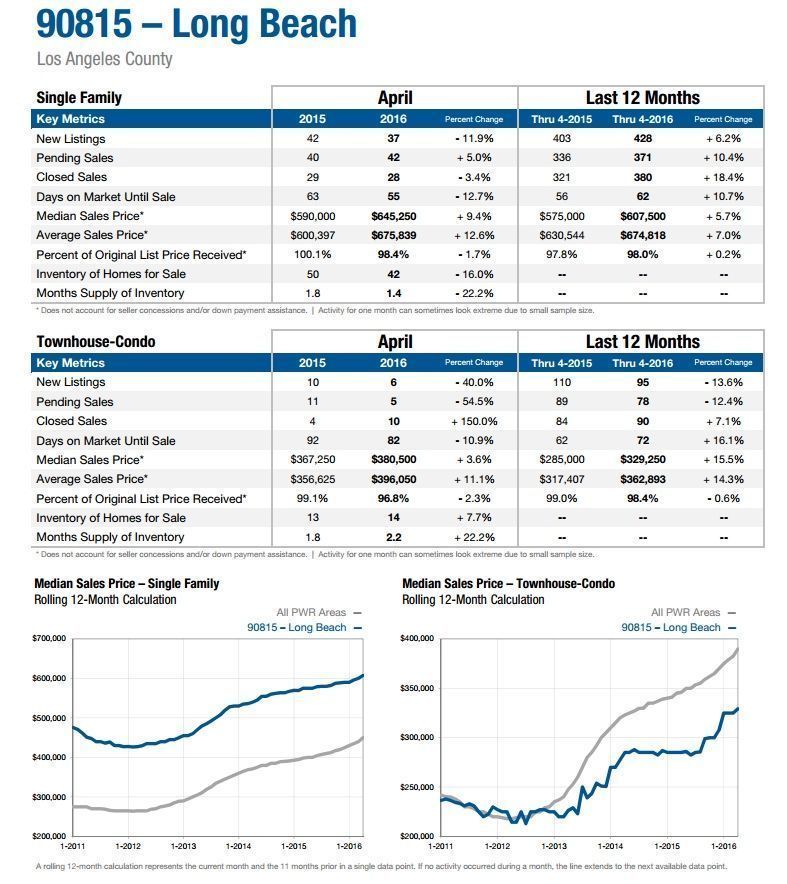 If you are interested in buying or selling a home in a neighborhood of Long Beach, call us at
562-896-2456

 and we'd be happy to answer your questions.