The start of the year ushered in a wave of good news about a hot stock market, higher wages and an active home sales environment. At the same time, housing prices have continued to rise, and the low inventory situation and affordability crunch has been particularly hard on first-time buyers struggling to get into the market. Nevertheless, buyer activity is easily outpacing seller activity in much of the country, culminating in relatively quick sales and low supply. Demand has remained strong so far this year.
Unemployment has reached pre-recession levels, and Americans remain optimistic about finding quality employment. This matters because job growth and higher paychecks fuel home purchases. Unfortunately, that won't matter for potential buyers if price appreciation outpaces income growth and if mortgage rates continue their upward trend. Many sellers are receiving multiple offers in this market. The worry for sellers then becomes that there will not be a plentiful selection of homes to choose from when they become buyers. Coordinating timing for selling and buying becomes crucial in this market environment.
Local Market Statistics for Long Beach
The median price for single family homes in Long Beach rose to $590,000 in February, up 7.3% from the same time a year ago. The inventory of homes for sale declined to a 1.9 month supply, down 13.6% from the same time last year. Not suprisingly, homes have been selling reasonably quickly as a result, with an average 52 days on the market for February closings.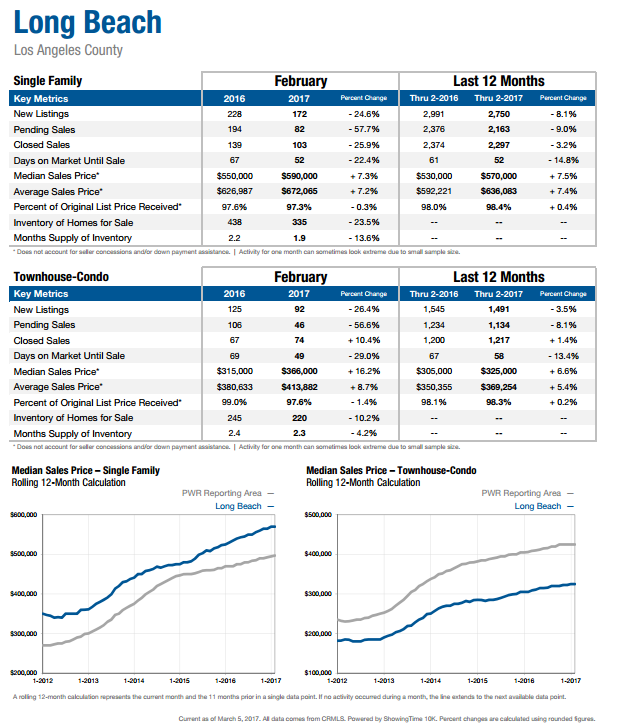 Local Market Statistics for Lakewood
The median home price in Lakewood was $534,000 in February, up 7.4% down from the same time last year. Meanwhile, inventory declined to a 1.4 month supply of homes, a decrease of 22.2% from the same month last year. Time on the market decreased as well, shortening to an average of 34 days on the market.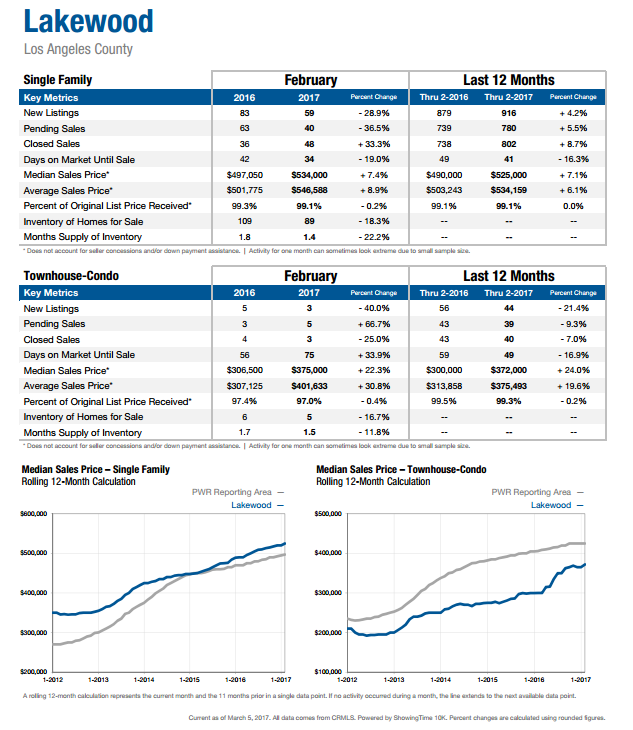 Local Market Statistics for Seal Beach
Unlike many surrounding communities, home prices in Seal Beach showed a slight decline last month, with the median price for a single family home dipping to $890,000, 6.3% below the same time last year. Closed sales were also down for Seal Beach and the time on the market lengthened 58%, from 43 days in February 2016 to 68 days last month. The inventory in the area declined,  however, by 26.3%.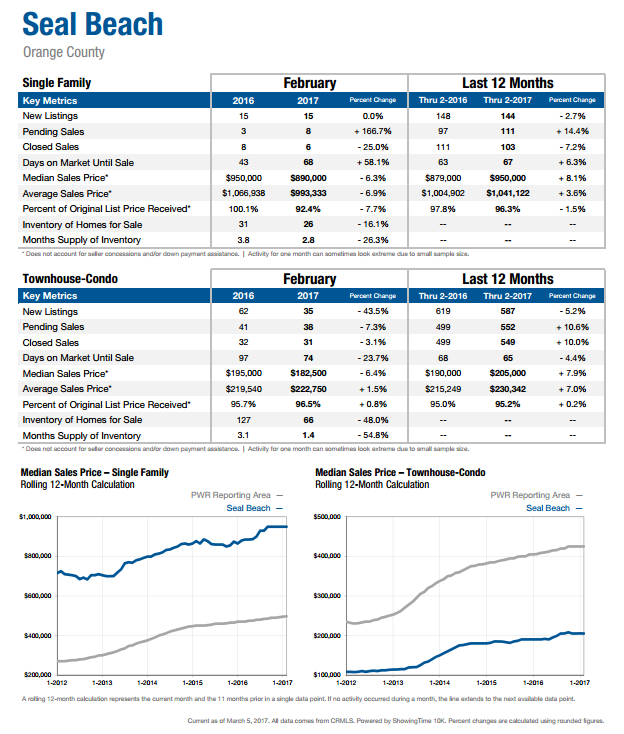 Local Market Statistics for Los Alamitos
Median home prices in Los Alamitos climbed to $632,500 in February, up 5.9% from the same time last year. And while many areas in the region are experiencing a low inventory of homes for sale, the available homes for sale in Los Alamitos as of February represented a 4 month supply, up 166.7% from the 1.5 month supply this time last year. The time to sell a home climbed from an average 27 days on the market in February 2016 to 44 days as of last month.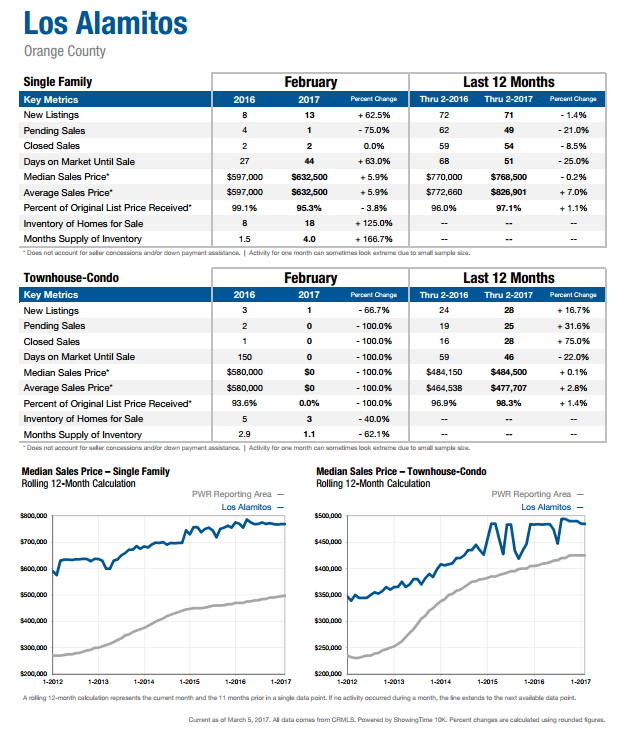 What Does This Mean For Your Home?
Individual home values are a function of condition, location, area and the supply and demand in any given neighborhood. From city to city, and from neighborhood to neighborhood, markets can vary greatly. If you'd like a current evaluation of your home, please fill out the contact form below and we'd be happy to provide you with a custom report.