Home prices have continued to rise locally and inventory has continued to decline, making this a potentially lucrative time to sell a home. Homes that show well and are priced correctly have been selling quickly, often at higher prices than asking and with multiple offers.
There is typically an increasing amount of buyer competition during the annual spring market cycle, and buyer demand has not abated, nor is it expected to in the immediate future unless something unpredictable occurs. While strong demand is generally considered to be a positive aspect of the real estate market, it creates an affordability issue for some buyers, especially first-time buyers.
Overall in the local Multiple Listing Service, new listings were down 8.2 percent for Single Family homes in April and 9.0 percent for Townhouse-Condo properties. Pending Sales decreased 44.5 percent for Single Family homes and 44.0 percent for Townhouse-Condo properties.
The Median Sales Price was up 5.6 percent to $665,000 for Single Family homes and 6.6 percent to $431,908 for Townhouse-Condo properties. Months Supply of Inventory decreased 3.3 percent for Single Family units and 12.5 percent for Townhouse-Condo units.
Long Beach Market Statistics
In Long Beach, the median sales price was $569,000 in April 2017, up 28% from the previous April. The months supply of inventory was 2.2, but in many parts of Long Beach it was even lower than that.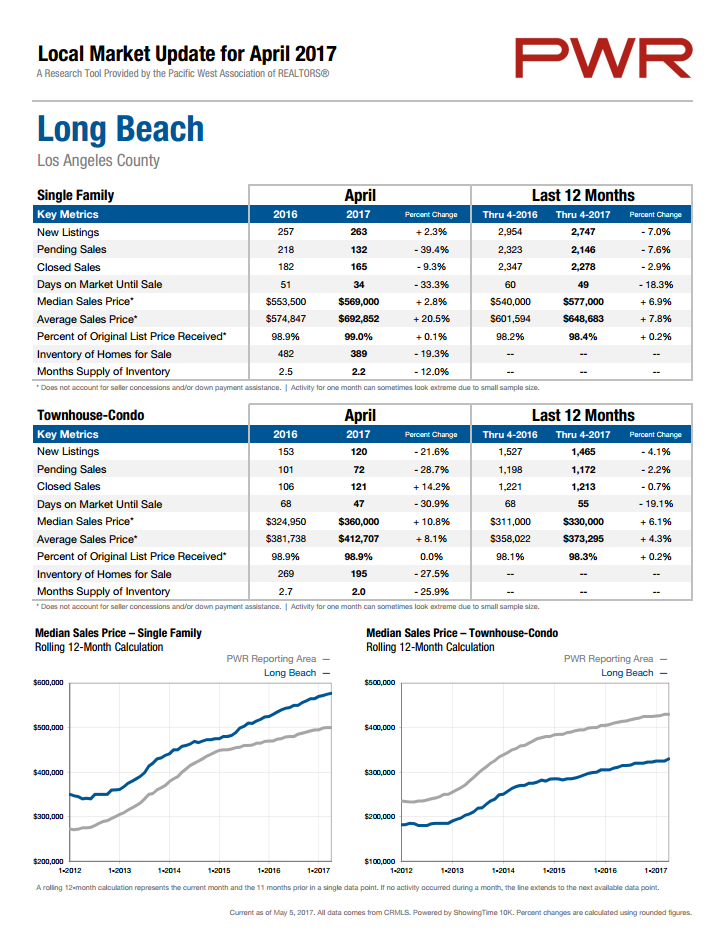 Lakewood Market Statistics
The median home price in Lakewood increased year over year by 3.8% in April, with homes selling on average for 100.1% of original list price. The inventory of homes for sale in Lakewood was lower than most areas, with just a 1.6 month supply as of April 2017.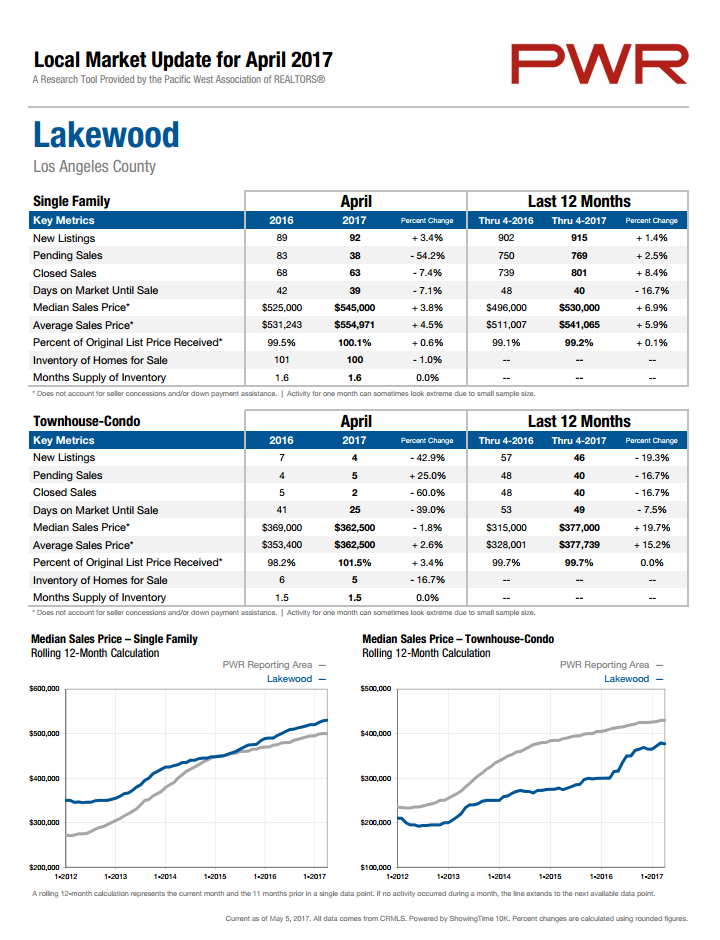 Seal Beach Market Statistics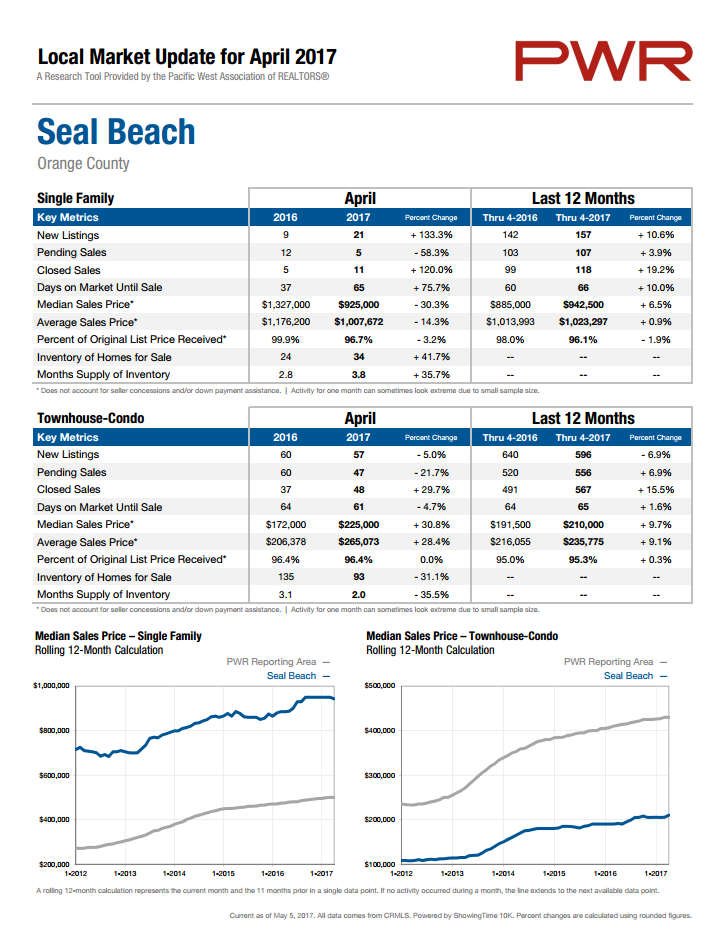 Los Alamitos Market Statistics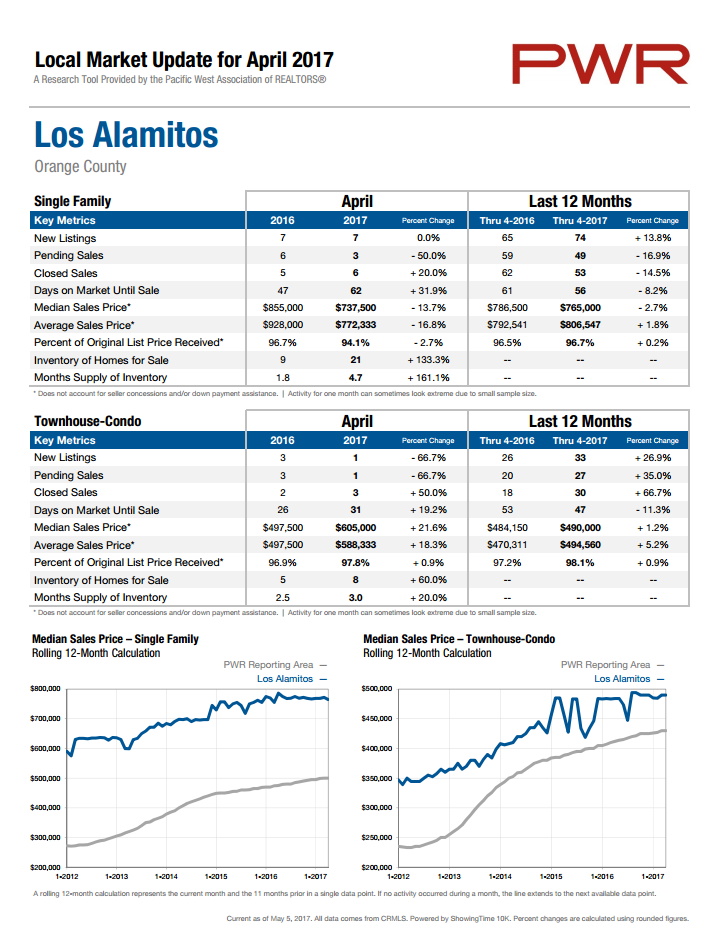 If you'd like information for another city or a particular neighborhood or zip code, simply fill out the form and we'd be happy to provide that to you.