Median home prices have soared in Southern California this summer, hitting new records in Los Angeles County. Yet while the market is quite active, sales are down, inventory remains low and bidding wars are still occurring, particularly in entry-level price ranges.
In Long Beach, the median sales price in June was $670,000, up 8.2% from the previous June. However, the number of single-family home sales in Long Beach in June was 189, down 28.1% from a year ago. The inventory of homes for sale is at a 2.7 month supply, up from last year but still well below the four to six month supply that's considered a "balanced market."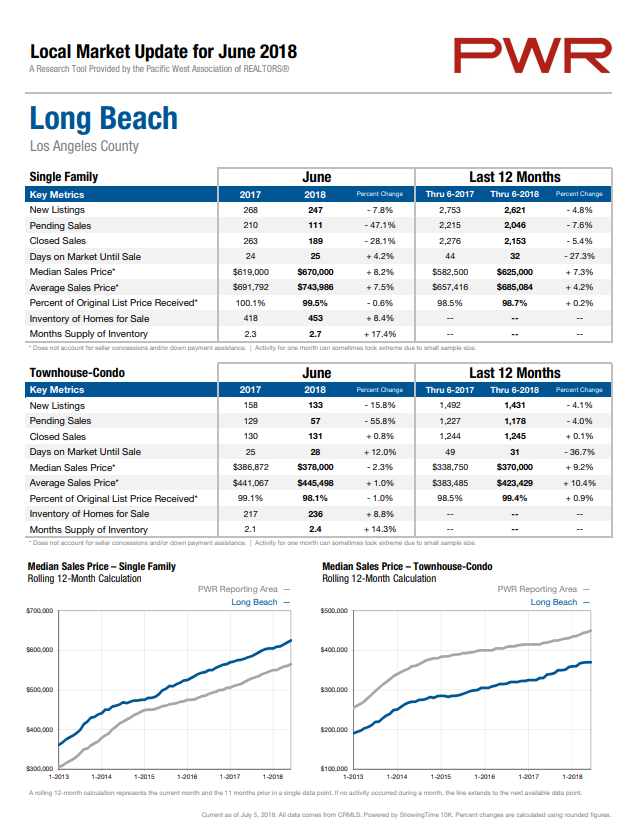 While the strength of the U.S. economy has been helping boost prices and purchase offers, the Fed recently increased the federal funds rate by 0.25%, marking the second rate hike this year and seventh since late 2016. If the Fed continues to increase interest rates, it could have an impact on future mortgage rates, which in turn could impact sales and prices. The market in Long Beach and surrounding areas varies greatly, depending on local area. For example, one zip code in Long Beach posted a median sales home price in June that was 61% above last June while other zip codes showed a decline in the median home price.
Here's a look at real statistics by zip code for Long Beach: