Long Beach has had a rash of breweries open in recent years and this year saw its first distillery open. Located in bustling downtown Long Beach, the eatery offers food and drink in an open loft-style setting with high ceilings. So far, locals have given Portuguese Bend Distilling solid reviews.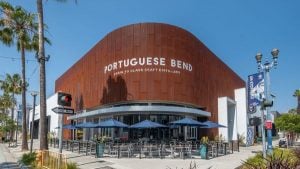 The first thing you notice is floor to ceiling windows juxtaposed with sleek metal trim and dark wood siding. Once inside, you find a hip restaurant vibe along with views of the distillation process taking place. They manufacture and sell one of a kind vodka and gin.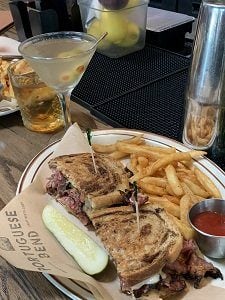 The menu is inspired by the Roaring 20's comfort food including burgers, fries, and pasta. A recent lunch special offering for $10.50 featured signature handcrafted sandwiches like Prohibition Italian Beef, Classic Pastrami on Rye, and Nashville Hot Chicken. Add a vodka or gin martini for just $ 5. Tuesday nights, a prime rib dinner is featured as a special – until it runs out. Be sure to save room for desserts like drugstore sundae, old school milkshakes, and Georgia crisp apple pie.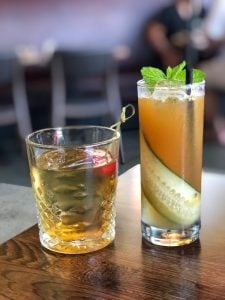 The distillery gets its name from an area in Palos Verdes where bootleggers used to smuggle alcohol during the prohibition. The history associated with the name marries well with the classic American comfort food and the setting, which features an oak bar bending around the room. The details in both the setting, food and craft cocktails are quite pleasing, from the view of red hibiscus gin on the shelves to the oversized ice cubes stamped with the distillery's logo.
The co-owners of Portuguese Bend, husband-wife team Luis Navarro, and Brenda Rivera are no strangers to the Long Beach culinary scene, successfully operating Lola's and The Social List already.
Distilling is a complex process and it takes the skills of a scientist. So it makes sense that the third owner is a rocket scientist, Simon Haxton. Together they turned their dreams into a reality. Watch for some newly created spirits this holiday season.
Address: 300 The Promenade North, Long Beach, CA 90802 – (562) 435-4411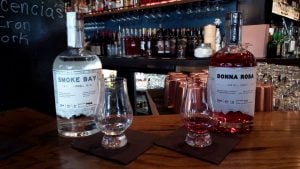 Long Beach has so much to offer. Let us help make this amazing city your home.