Flying away for a weekend trip is no problem at all for Long Beach residents. The Long Beach Airport, built in 1941, has continued to evolve with the city while still retaining its historic character. Acting as a convenient hub for residents of the surrounding neighborhoods and cities like Lakewood and Signal Hill, LGB provides easy access and a great alternative to the hassle of the behemoth LAX.
Destinations
The places you can go from Long Beach's airport are quite diverse from coast to coast. Over the years, new airlines have started serving LGB. While the flights used to be largely furnished by JetBlue and Southwest, they now offer flights with Delta Airlines, American Airlines, and Hawaiian Airlines. Breeze Airways is also scheduled to start flying in and out of LGB in Fall 2022. Multiple flights head to northern California. Whether this means traveling to Sacramento for business, or a quick trip up from Oakland to wine country for the weekend, it's a breeze to travel from Long Beach.
For the weekend party crowd, LGB offers direct flights to Las Vegas and Reno. While you can certainly make the drive to Vegas in a few hours, it can be a crapshoot on whether or not traffic will get you to Sin City in four hours or seven. Reno itself is only a short drive away from Lake Tahoe for winter sports and access to the Sierras.
If you're feeling a bit adventurous, Long Beach Airport offers a few more ambitious options. Book a nonstop ticket to Hawaii for a relaxing, tropical getaway, or schedule a backpacking trip in Denver, Colorado! For all of our country music lovers, Southwest Airlines is introducing non-stop flights to Nashville, Tennessee on November 6th, 2022.
While the world is your oyster if you're willing to connect and head on to other destinations, you can find all of the nonstop flights out of Long Beach below:
Southwest Airlines
Austin, TX
Chicago, IL
Dallas, TX
Denver, CO
Honolulu, HI
Houston, TX
Las Vegas, NV
Maui, HI
Nashville, TN
Oakland, CA
Phoenix, AZ
Reno, NV
Sacramento, CA
St. Louis, MO
San Jose, CA
American Airlines
Delta Airlines
Hawaiian Airlines
The Terminal
Long Beach Airport's north and south concourses have been improving year after year. Showcasing local businesses in Long Beach like George's Greek Cafe, Sweet Jill's Bakery, 4th Street Vine and Boathouse on the Bay gives visitors a little taste of the Long Beach community. Some other tasty dining options include Little Brass Café and Long Beach Burger Bar for a quick pre-flight bite. Another great feature is the landscaped succulent garden dividing the terminal gates.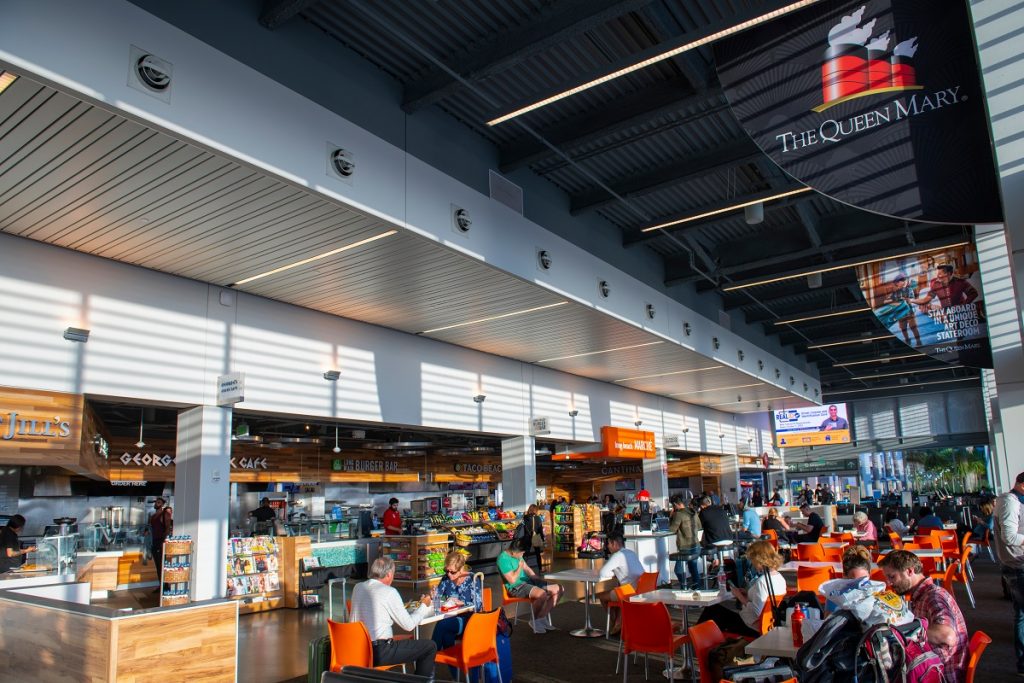 Parking at LGB
As if the Long Beach Airport couldn't get any more convenient, there is ample parking available between both of the Parking A & B structures. For parking rates and directions, click here.
Long Beach will continue to enjoy domestic flights that are easily accessible to city-dwellers and tourists alike for the time being. For more updates on Long Beach, local news, and the real estate market, sign up for our newsletter for weekly updates.