When you think Storybook House, you're likely thinking of the Tudor style. This architectural style is famously seen in multiple films and TV shows. These range from Harry Potter to Beverly Hills 90210. While you may commonly equate them with fairy tales or Europe, you can find some Tudors in California as well. In fact, Long Beach is home to many of these classically elegant homes. They reach back to the city's early history and can still be seen today. Here is some background on Tudor homes and where you can find them in Long Beach.
History of Tudor Style
Tudor originally gets its roots in England, during the rule of the House of Tudor. This earliest era of Tudor falls between 1485 and 1603. It has continued on as the quintessential British style of home. However, most of what we see in Southern California and the United States is not true Tudor, but a part of Gothic Revival.
In the late 1800s and early 1900s, Gothic Revival began as a response to a growing distaste for the Georgian and Colonial tastes of the 1800s. The Arts and Crafts movement extolled the virtue of craftsmanship. With this came a renewed interest in Gothic and medieval architectural elements, including Tudor. This mishmash of architectural elements is often referred to as Tudorbethan. Generally speaking, Tudorbethan homes in the United States are almost always just referred to as Tudor.
These homes make their way into Long Beach in the 1920s, alongside Craftsman and Victorian. The most famous of the Tudor houses in Long Beach is The Leonie Pray House.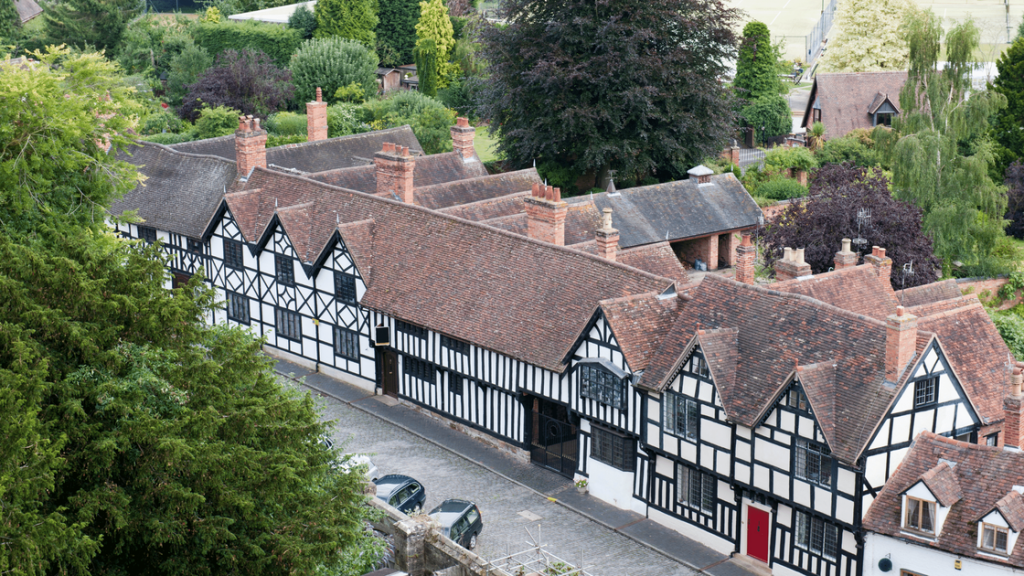 Elements of a Tudor Home
A Tudor home is commonly identified by its rustic, Old World appearance that calls back to medieval cottages. This is often recognized by the exposed timber in the exterior walls. This method is called half-timbering and differs from modern construction that uses wide wooden beams. While there are exceptions to this rule, half-timbering is the primary feature that home buyers recognize as being Tudor. Additionally, buyers may recognize Tudor homes' high gabled roofs, tall windows, and herringbone brickwork. The brickwork is interchangeable with the bright white plaster that often fills spaces between the half-timbering.
The interiors of these houses are often very different from what we expect today. Floorplans often include nooks and small interior details that set them apart. As one of the last eras of home building before World War 2 and housing methods changing, this style of home also frequently includes large amounts of skilled craft in their details. For example, hand-laid stone fireplaces, stone and marble tiling, and custom wrought-iron work.
The Leonie Pray House
The Leonie Pray House is one of Long Beach's best examples of a Tudor home. It can be found in the Los Cerritos neighborhood north of the 405 freeway and west of Bixby Knolls. It was originally built in 1927 by William Babb, a businessman in the area that went on to make his fortune in Signal Hill's oil strike. Later, the home was bought by Russell and Leonie Pray.
Russell, a graduate of the University of Michigan and veteran of World War 1, bought the house for his French wife Leonie. The two became prominent socialites in Long Beach over the years. Famous for their elaborate Christmas decorations and extravagant New Year's parties, the Leonie Pray house acted as an upper-class social gathering place until well into the 1970s. A visitor to the home would later describe their impressive annual 14 foot Christmas tree as outshining even the amazing azaleas that Leonie kept in her garden.
The house was later sold to William Dawson, who added a small addition to the back of the house. The Leonie Pray House is also a historical landmark in the city of Long Beach. It is among one of the best examples of Tudor revival architecture in California. This home has been used as a filming location for the movie Donnie Darko, sharing some silver screen fame with the neighboring house that was used in Ferris Bueller's Day Off.
Long Beach's Tudor Homes
While the Leonie Pray House is the belle of the ball, many neighborhoods in Long Beach also have the occasional Tudor home from the earliest construction in the city. Neighborhoods like Belmont Heights and Naples have a fair share of heavy Gothic architecture. Bluff Park and a casual ride down First Street also offer a great opportunity to see well-maintained and beautiful Tudor homes.
Recently, The Shannon Jones Team sold a Tudor home in the historic Wrigley neighborhood. You can "tour" that home using the video below, or CLICK HERE for more information on the home. Additionally, you can CLICK HERE to learn about The Mills Act. This program gives historic homeowners – like the owner of this Tudor home – a tax break in exchange for preserving the integrity of their historic homes.
Want to Call a Tudor Home Your Home?
Tudor homes coming onto the market are far and few between. The construction costs and switches in modern taste make it a challenge to find new developments. Furthermore, homeowners with these houses are often reluctant to give them up. If you're considering a Tudor home for yourself in Long Beach and want to know more about the neighborhoods and housing market surrounding them, please use the contact form below to begin your search. With decades of experience in Long Beach, we're confident in our ability to make your next move the best you've ever made.