Since the October opening of the new Whole Foods at 2nd & PCH, new businesses have continued to open at the updated center on the site of the old Seaport Marina Hotel. Before the end of 2019, more than 15 retailers had opened their doors. With more than 200,000 square feet of retail space to fill, we can look forward to more grand openings throughout 2020.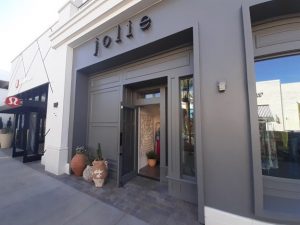 Retail Shops Now Open
Several retail shops have recently opened, including women's clothing store Jolie and a Nike store stocking sneakers for every style. Check out The Shade Store for custom shades, blinds, and draperies. Athleta is a shop specializing in women's fitness wear, and there are also several other fitness-related businesses in the center: Barry's Bootcamp, where trained instructors will guide you through a high-intensity interval workout, and the Peloton showroom, where you can test-ride those famous work-out bikes. Other retailers who've opened up shop: Holly & Hudson Nail Lounge, Lather (skin and hair care), Paper Source, and surf specialty shop Vissla.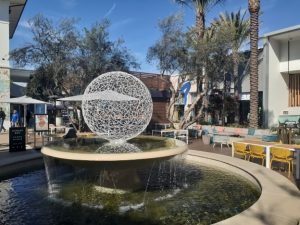 Exciting New Dining Options
Some great dining options have already opened as well. Caffe Luxxe is an artisanal coffee shop doling out espressos, single-origin coffee brews, bagged coffees, teas, pastries, and other culinary offerings. Hungry Angelina is a vegan eatery with plant-based offerings from sushi, burgers, noodle bowls and more. Meat eaters can enjoy the fare at Noble Bird, with dishes centered around their rotisserie chicken which is pasture-raised, brined for 24 hours then slow roasted. Ola Mexican Kitchen has amazing views of the marina; enjoy the views over some delicious tacos or a selection of entrees like ribeye enchiladas.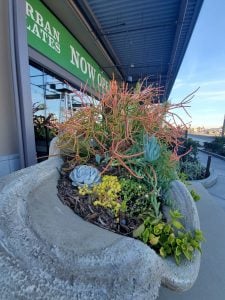 Two other restaurants that have drawn big crowds and stellar reviews since they opened are Shake Shack and Urban Plates. Urban Plates features food that is sustainably grown, ethically treated and locally sourced. They have a menu with 10 options for $10 each, all day every day, with selections like a chimichurri chicken plate, or beets and avocado plant-based bowl. If burgers and fries is more your speed, you'll love the new Shake Shack. They dish out awesome burgers, chicken nuggets, crisp and salty French fries and of course, their signature shakes. Right now, try one of the Classic Comfort Trio flavors: Cookie Butter, Malted Milk Chocolate, or Frozen Hot Chocolate.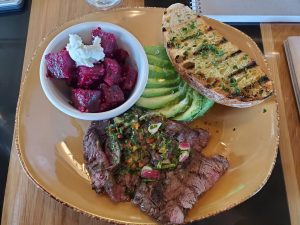 Still To Come…
Even with all those tenants already up and running, there are plenty still to come! Over the next few months, at least six new retail tenants and six new restaurants are scheduled to open. Several of the upcoming openings are fitness related. Be Fit Pilates, opening February 2020, offers 50-minute classes with full-body high-intensity low impact workouts while Boxhaus, also opening in February, serves up individual and group boxing classes. Hawt Yoga is an elevated yoga and fitness studio where light art installations are paired with sound and music to promote healing. The Solution offers biomarker testing, nutritional plans, IV hydration and more. Both are opening in March.
Urban Outfitters is another large retailer scheduled to open doors at 2nd & PCH over in February 2020. They offer a merchandise mix of women's and men's fashion apparel, footwear, beauty and accessories, activewear and gear, and housewares, as well as music, primarily vinyl records and cassettes. A branch of Chase Bank is also scheduled to open at the center in February.
The new eateries that are coming soon include Ample Hills Creamery, a deluxe ice cream shop opening its second location in California. They'll offer up scoops of delectable flavors like Boozy Breakfast (mocha stout ice cream with pieces of housemade oatmeal cookies) and The Munchies, pretzel-infused ice cream with mix-ins of Ritz crackers, potato chips, pretzels and crushed M&M's. The Huffington Post called this the "number one ice cream in America"!
Tocaya Organic, opening in March, proudly features "Modern Organic Mexican" cuisine, like tacos, salads, burritos, and bowls. Wash them down with one of their margaritas or delicious Aguas Frescas.  Also opening in March, La Palapa will offer another Mexican food option with an extensive menu and a lunchtime taco happy hour. The Italian Homemade Company will be serving up fresh pasta with homemade sauces and a variety of flatbread sandwiches. It is scheduled to open this spring along with Otosan Sushi will have a menu of fresh and succulent sushi coupled with traditional dishes and curated wine, craft beer, and sake list.
The Bungalow, a bar with current locations in Huntington Beach and Santa Monica, will open soon in a spot on the second floor with gorgeous views of the marina across the street. According to their website, you can "enjoy the SoCal experience where the margaritas are always flowing and the marina is just a sunset away."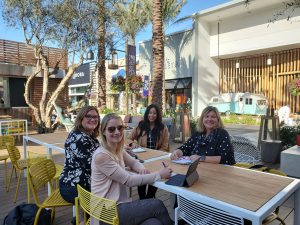 With so many great shops and restaurants already open, and more on the way, be sure to check out 2nd & PCH soon, if you haven't already. There's plenty of parking, with more than 50 new spaces along the north side of Marina Drive, along with two parking structures, one at the east end of the center and the other near 2nd Street by the Whole Foods. Access the parking structures from Marina Drive.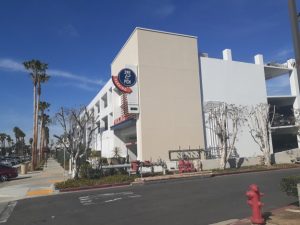 Helpful Links:
Directory Map
https://2ndandpch.com/pdfs/directoryMap.pdf
Vendor List
https://2ndandpch.com/Opening-Soon/
Have you been to PCH & 2nd? What's your favorite store or restaurant? We would love to hear from you.