In a time when so much of the world is uncertain, wealth building is extremely important. While 401k's are often mentioned when discussing future wealth, sometimes people forget that home buying is a great way to increase your wealth.
Equity and Future Wealth
In fact, in 2020, home sellers in the US realized a home price gain of $68,800 on the typical sale. This is the highest level in the country since at least 2005. According to the latest Homeowner Equity Insights Report, the average homeowner gained $17,000 in equity over the last year alone. Not to mention, prices are expected to continue going up. This will only increase homeowners' equity more. What does increased equity mean for you? When you're ready to downsize or cash in on your home, you will have more money available to you.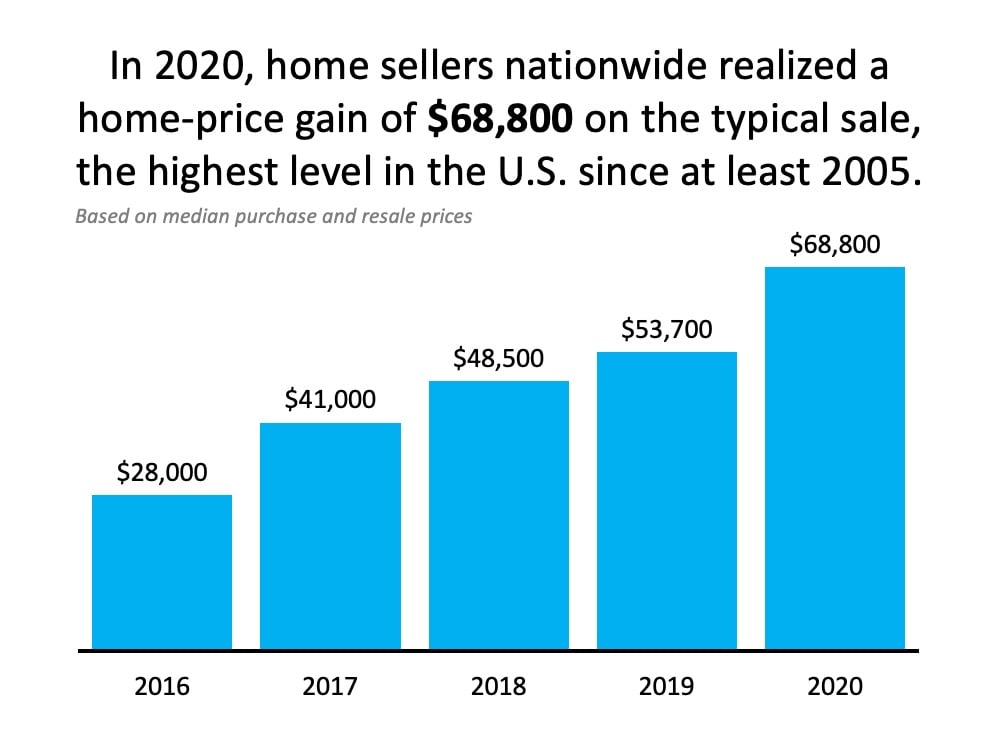 Homes and Retirement
For many, future wealth is all about planning for retirement. If this is the case for you, owning a home is a great way to build towards retirement. According to an Urban Institute study, homeowners who purchase a house before age 35 are better prepared for retirement at age 60.
The good news is, our younger generations are strong believers in homeownership.
Hear from the Experts
According to a Freddie Mac survey,
"The dream of homeownership is alive and well within "Generation Z," the demographic cohort following Millennials. Our survey…finds that Gen Z views homeownership as an important goal. They estimate that they will attain this goal by the time they turn 30 years old, three years younger than the current median homebuying age (33)."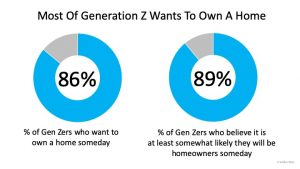 If these aspiring homeowners purchase at an early age, the Urban Institute study shows the impact it can have.
Based on this data, those who purchased their first homes when they were younger than 25 had an average of $10,000 left on their mortgage at age 60. The 50% of buyers who purchased in their mid-20s and early-30s had close to $50,000 left. However, they traditionally purchased more expensive homes.

Although the vast majority of Gen Zers want to own a home and are somewhat confident in their future, "In terms of financial awareness, 65% of Gen Z respondents report that they are not confident in their knowledge of the mortgage process."
If this is you and you're not confident on the ins and outs of the mortgage process, our YouTube series may help. We suggest you check out Home Buying 101 and our Real Estate FAQs. We also have a list of home buying myths and why you shouldn't let them hold you back from becoming a homeowner.
Need help preparing your finances for buying a home? Watch our recent video below!
Even More Reasons Owning a Home Will Contribute to Your Future Wealth
As if the reasons above aren't enough to convince you to become a homeowner, here are some more great reasons.
Paying Your Mortgage is a Means to An End

When you rent a house, that payment will never translate into any future wealth for yourself. The money is simply gone. However, when you're paying a mortgage, every payment brings you closer to owning a home. It also contributes to forced savings in the form of equity.

Homeownership is a Tax Break

It doesn't get much simpler than that! Owning a home can lead to a huge tax relief when it comes time for tax season.

Monthly Costs Are Predictable

Rent always goes up, but with a mortgage, you can make your monthly housing costs predictable. Plus, with low-interest rates, you currently have an opportunity to make that monthly payment relatively low.
Start Building Your Wealth
If you've given thought to your future wealth and want to start with buying a home, we can help. The Shannon Jones Team is extremely well versed in walking potential buyers through the home buying process. If this is your first time buying a home, we can help you every step of the way. We have a number of resources available and our agents can talk you through any concerns you may have.
If you want to buy this year but you're not sure where to start the process, let's chat. We can help you understand the best steps to take from here. Simply fill out the form below to get started. Thanks and we look forward to helping you build your wealth!