Long Beach is home to eighteen historic districts and each one features different kinds of historic homes and architecture styles. One of these styles is the Cliff May Rancho. Here is just a brief overview of the homes and where you can find them in Long Beach.
What is a Cliff May Rancho?
A Long Beach Rancho is a house designed by Cliff May. During the post-war boom, new concepts of modernism in everyday architecture rose up within new suburban developments. Cliff May took advantage of the Southern California climate and created homes in San Diego and Los Angeles that incorporated indoor and outdoor living into one. Thus, he erased the lines between the two environments. Typically, every room in a Cliff May home connects to the outdoors.
May is the father of the California Ranch House, also known as the mid-century modern home. Highlights of these homes include straight lines, simple designs, and plenty of open space. He liked to use floor-to-ceiling glass windows, sliding glass doors, and large courtyards. Usually, the yards are fenced to create a private compound. Rancho courtyards tend to have lush gardens and even elegant pools. Even though these homes have modern elements, you can still see the influences of earlier Spanish houses and Hispanic Haciendas.
May said the design was inspired by functionality and the architectural designs of Frank Lloyd Wright. In his own words, May sad his homes "are built for seclusion and comfort of their families, and for the enjoyment of relaxation in their homes." This practical philosophy is seen in every detail of the house. The kitchen is meant for cooking, the living room is open and airy, making it a perfect space for relaxing, and the patio is designed for entertaining friends.
The Cliff May Rancho is a true testament to the idea of less is more. Cliff May homes have a low profile and are designed to be built out, not up.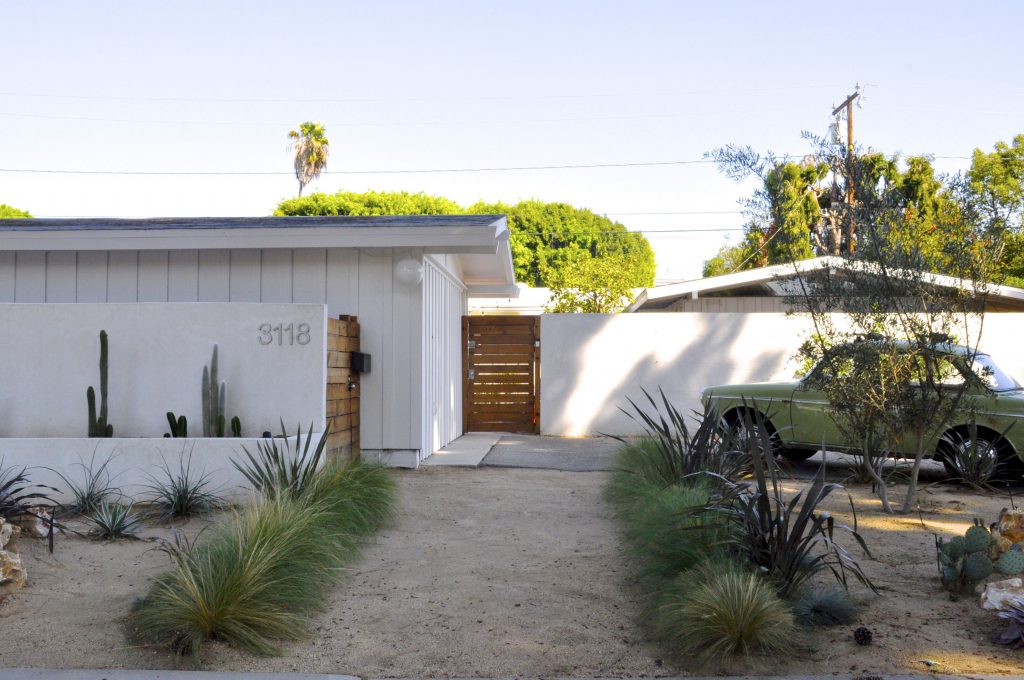 Long Beach Ranchos
There are approximately 700 mid-century Cliff May homes in Long Beach that were built between 1953 and 1954. They are all found in a neighborhood known as Rancho Estates, which is almost a perfect square! Wardlow Avenue outlines the north side of this tract, Studebaker Road is to the West, the San Gabriel River is on the East, and Spring Street is on the South.
Today, these class "Mad Men" style houses are not cheap. Buying a Cliff May Rancho will also certainly put you back at least $900,000. Many are even selling for over $1,000,000. However, if that fits your budget, these homes are stunning pieces of history. Most of them have kept their historic bones, but have modern-day updates. It's not uncommon to see beautiful master bedrooms that open right up onto the backyard. Or a stunning, modern kitchen with huge doors leading to the outside and multiple views of the backyard.
In fact, if current trends are to be believed, Cliff May Ranchos may become even more sought after post-pandemic. With more people spending time in their backyards than ever and an emphasis on fresh air throughout the home, a Rancho may be the perfect solution.
Owning Your Own Cliff May Rancho
If you are interested in purchasing one of these historic gems, just let us know. Once shunned, these homes are now experiencing a revival as of late. A renewed interest has helped pique their popularity and we're so happy to see their architecture being appreciated once again. We are happy to help you find your own Cliff May Rancho. Below is a list of Cliff May Ranchos that are currently for sale in Long Beach. If any of them interest you, please give us a call at 562.896.2456! Or, CLICK HERE to see all the homes for sale in Long Beach – Ranchos and otherwise.