As of late, there's been a lot of talk about housing affordability. Home prices are skyrocketing all over the country. However, in a place like California where prices were already high, some prices are now astronomical. One way to judge housing affordability is by using the Housing Affordability Index.
What Is The Housing Affordability Index and Why Such Highs and Lows Historically?
The Housing Affordability Index is an index of a family's ability to afford a mortgage with the median family income. This changes from year to year as the median income falls and rises as well as mortgage rates tied with the average house price. The index of course shows great affordability with the median income between 2009 and 2013. This is when the housing market was most affected by foreclosures. The combination of high inventory and tanking mortgage rates from lowered sales made for a great time for people to pick up property that was way under their traditional market value.
The Situation in California Right Now
Right now, California's lack of affordability is being driven by high demand and low inventory. In the third quarter of 2020, only 28% of Californian households could afford to purchase a median-priced home. This was down from 33% in the second quarter of 2020. Additionally, this was the lowest level since the fourth quarter of 2018. While much of the country has high demand and low inventory, California started with higher home prices than many states. This means the market situation right now has only decreased affordability.
Some people believe that California's high prices mean a crash is coming. However, we don't have any reason to believe we are currently in a housing bubble. Unlike 2008, we currently have a limited supply of homes, the demand is real, and many people have more equity in their homes. So even though prices are continuing to go up, potential buyers shouldn't panic. Now is still a great time to buy a home.
To learn more about Long Beach's Housing Inventory and the current seller's market, please CLICK HERE.
Other Key Points in the Housing Affordability Index
According to the Housing Affordability Index…
Right now in Los Angeles County, $124,000 is the minimum qualifying income to purchase a home. In Orange County, that number is currently $168,400.
Yes, homes are less affordable than they have been in the past, but the levels have been even lower before! From 2006-2008 the percentage of households that could buy a median-priced home in California was lower than 20%.
Mono County is the least affordable county in California right now. Only 11% of households could afford a median-priced home there.
More on Affordability in Long Beach
In a recent video, we discussed the cost of living in Long Beach. While we discussed housing, we also go into healthcare costs, childcare, food, and more. You can watch that video below.
Mortgage Rates and Affordability
In addition to the Housing Affordability Index, another important index is The Mortgage Credit Availability Index. This index determines how easy is to get a mortgage. the higher the index, the more available mortgage credit is. The image below shows the difference between the index before the housing crash of 2008 and today. You can clearly see that it is much more difficult to purchase a home today than it was pre-2008. The demand for homes today is real. However, not everyone can afford a home right now.
Fear of a housing bubble is discouraging some potential homeowners from jumping into the market. However, the lack of affordability is a simple supply and demand situation. The demand for homes is high and supply is low. Therefore the jump in costs is just economics and not a repeat of 2008.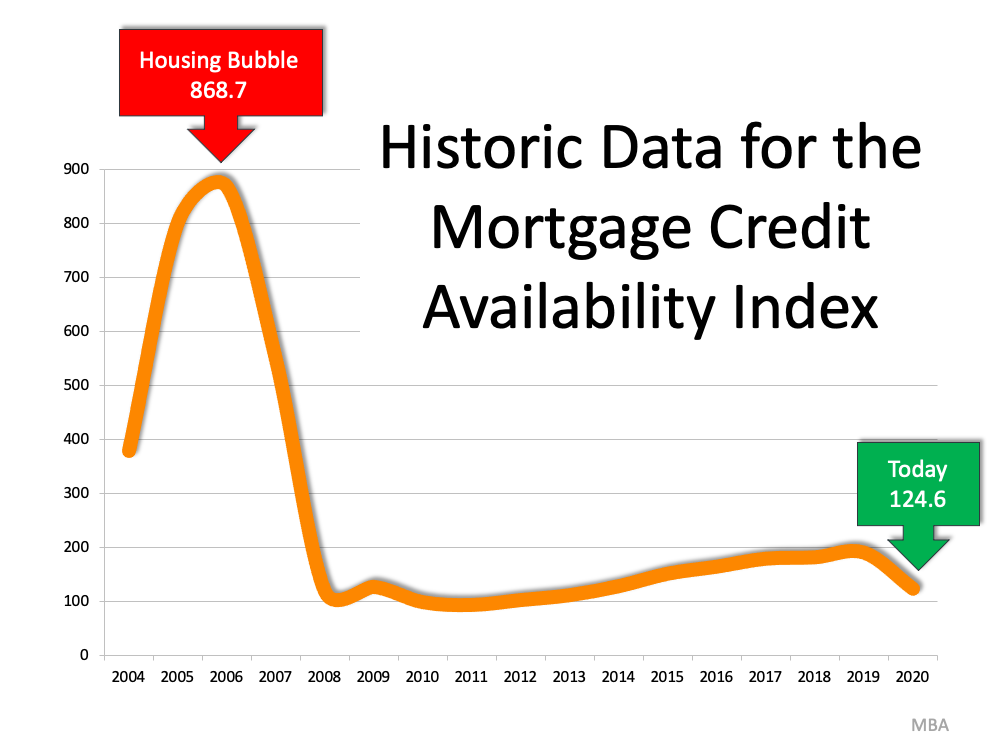 The Future of Real Estate and Housing Affordability
Unfortunately, we don't have a crystal ball and there are no guarantees in real estate. However, there are some predictions from experts on what's to come. At the beginning of the year, we posted a video on our 2021 real estate predictions and so far, we haven't seen any changes to that. Even though we can't know what will happen for sure, we can tell you what's happening right now. Right now, we don't expect home prices to come down any time soon. Therefore, if you're waiting to buy a home because you expect affordability to increase, we don't suggest waiting around.
While the market can be challenging for buyers right now, you can still get your offer accepted! We have recently helped a number of buyers purchase homes. So if you still need the right expert by your side, let us know! We'd love to help you navigate the market. We can also refer you to the right lender who can help you determine your budget and make sure you're buying a home that's affordable for you. If this is something you're interested in, please fill out the form below. We can't wait to speak with you!
You can find more about the Housing Affordability Index on the California Association of Realtors website.