When potential buyers first check out a property,  a great kitchen is usually one of the top features they're looking for. It's also no surprise that most homeowners also look to the kitchen when planning their wish list of home improvements or remodels. What can get tricky is bridging the gap between investing in your individual kitchen remodel wants vs. creating a kitchen with serious resale value for buyers.
Don't Overdo It
Remember that remodeling with an eye for resale value also means choosing appliances and materials that will appeal to a mass audience. So while your inner chef may want to splurge on that top of the line Viking range with hood, convection oven, and searing station, there's a good chance that the next buyer might not see the value in taking your kitchen theatricality to the next level. It's a better bet to stick with user friendly high quality stainless steel appliances rather than going professional grade.
Remodel Smart and Strategically
The same rule applies when looking at the bones of your kitchen. Are your cabinets outdated? Maybe– but is it something that a new color scheme and a simple investment in contemporary hardware could fix? Don't gut your kitchen just for the sake of newness– a total makeover will add up fast and most likely won't create the return on value you want for prospective buyers.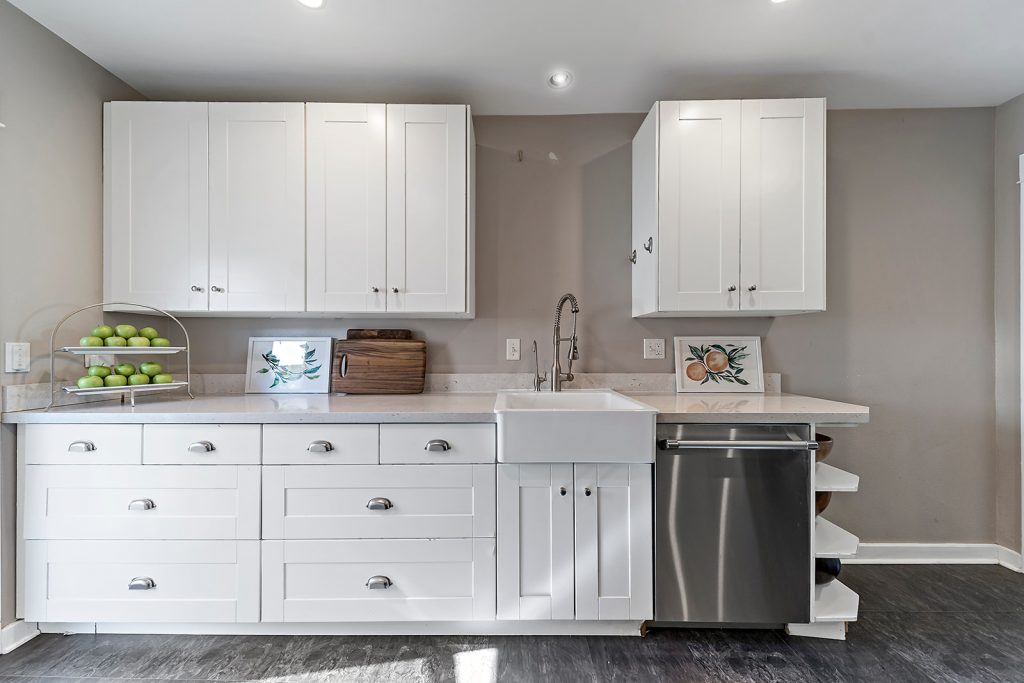 Make Your Wow Factors Wise
This isn't to say that you should avoid adding a few wow factors to your renovation. Think impact and convenience when planning your additions. If your home still has tile or other dated countertop materials, consider adding contemporary standards like granite or pulverized quartz to elevate the overall feel of the kitchen. Keep in mind that you don't have to break the bank with obscure slab materials– just find a pattern or stone grain that's inviting and fits nicely in your kitchen space. Pull out drawers and pantry shelving are also a big plus with buyers that won't cost a lot in materials.
Elevate, Don't Overwhelm
At the same time, don't let your wow factor overwhelm potential buyers. Backsplashes have become a kitchen design favorite in recent years, and while there's no denying their impact on the overall look of a space, if done wrong, they can make everything look wrong. There's a healthy medium between indulging your love of exotic stone and tile designs and giving your kitchen the simple, universally appealing boost it needs to attract a potential buyer.
If you have questions about what renovations will hurt or help your resale value, give us a call at 562.896.2456!