Summer is here, and what better way to get out and enjoy the season than by spending some time on the water. We are in Long Beach, after all! There are dozens of water sports and activities for you to take advantage of all summer long. We've compiled them all here (listed in alphabetical order), so what are you waiting for? Time to get out and enjoy all the aquatic fun that Long Beach has to offer.
Activities
Boat Rentals
If you are not one of the Southern California residents who already own their own boat, don't worry! You can still enjoy time out on the water with daily boat rentals. Long Beach Boat Rentals in Shoreline Village or London Boat Rentals in Alamitos Bay offer numerous options for boat rentals. Choose a slow-moving Duffy electric boat or pontoon for a relaxing day in the harbor. Or, choose from one of several powerboat models or jet skis for a bit more speed. Just keep in mind, rental boats are only allowed in the Long Beach harbor and Alamitos Bay areas and are not allowed past the breakwater. If you are looking for something a little different, Harbor Yacht Club or Pacific Sailing offer charter sailboat rentals – some of which can even be chartered for an overnight trip to Catalina.
Catalina Ski Race (71st Annual)
The 71st Annual Catalina Ski Race will be held this year on Saturday, July 20th. The Catalina Ski Race is a water ski race, where participants travel 62 miles across open ocean from the Queen Mary to Avalon and back. The CSR, with its rich history, the challenge of the open ocean, and stiff competition has become known worldwide. It is also the only water ski race to be regularly scheduled anywhere in the world. Water skiers come from all over the world to participate in the race. There are 20 different classes for participants, from Novice to Expert. There are also two different starting categories based on the size of the boats. Boats that are 24 ft. and under start the race 7 minutes before the larger boats. Spectators can watch the race from the decks of the Queen Mary, which provide ideal views of the start and finish. The Hotel Maya is the race headquarters and will be hosting events and activities from Friday evening to Saturday evening. Race entries are still being accepted at  www.catalinaskirace.net.
Family-friendly beaches
Long Beach has earned its name for a reason. The city is proudly made up of 12 beaches in total. Each family-friendly beach has its own unique characteristics. Belmont Shore is the city's most tourist-friendly beach with its close proximity to shops and restaurants, while the Long Beach City Beach is one of the more secluded. Alamitos Bay is calm and protected and is popular for water sports, while Alamitos Beach has the ocean views. Mothers Beach, as the name may imply, is very popular with families, and Rosie's Dog Beach is perfect for your furry friends. Wherever you choose, you'll have the perfect beach to spend your day in the sun.
Harbor Cruise
Experience Long Beach from an ocean point-of-view. Harbor Breeze, located at the Pike in downtown Long Beach, offers daily 45-minute harbor tours. During the harbor tour, you will learn about the history and marine life of Long Beach, as well as the chance to see the city from a new perspective.
Hydrobikes
Hydrobikes are basically water-bicycles. They let you ride high above the water while pedaling like a bicycle. Compared to all other human-powered water vehicles (kayaks, SUPs, etc), hydro bikes keep you mostly dry. So if you are looking to be out on the water, but don't necessarily want to get wet, this is the thing for you. Long Beach Hydrobikes is located on the dock in front of Khoury's restaurant in the Alamitos Bay Marina. This ideal location allows you to pedal around the marina, Naples Island, or even stop for a beach picnic or a waterfront restaurant meal. Day rentals and night Glow tours are available. And as a fun fact, Long Beach boasts the nation's largest hydro bike rental fleet! So there's no better place to try hydro biking than right here.
Jet-boarding
You've probably seen someone jet-boarding before: a person wearing a funny contraption on their back while water shoots from underneath them, propelling them high above the sea. Well, now is your turn to try it out! In jet-boarding, the water shoots out from underneath your feet – not to be confused with a jetpack, where water is shooting out from a backpack. These water jets allow you to be propelled almost 30 feet in the air! Fly Jet, in Alamitos Bay, offers lessons and test runs starting at 15 minutes.
Jet Skis
Wave runners, commonly known by the brand name of Jet Ski, are a popular water activity for those who enjoy speed and excitement. Jet skis allow you to go further, faster than other watercraft such as kayaks and hydro bikes, but with a lot less effort. Single and double jet skis are available to rent from Long Beach Boat Rentals in Shoreline Village.
Jet Ski 2 Catalina
JetSki2Catalina is a company that offers just what the name states: a full-day tour jet skiing to and from Catalina Island! It is a day tour unlike any other in Long Beach. The tour departs from Long Beach at 8 am, where an experienced guide will lead the way across the 27 miles of ocean to Catalina Island. Some call this the "Ocean Safari" as it is common to see dolphins, whales, and sea lions along the way. Upon arrival at Catalina, the guides take you to the famous Blue Caverns for snorkeling and cliff jumping. Then, the guides lead you to the town of Two Harbors, where you are free to enjoy the next few hours as you please. The journey back to Long Beach begins at 2:30 and arriving around 4:30. JetSki provides everything for the day including the jet ski, wetsuit, safety equipment, fuel, snorkel, and guides. You are only responsible for buying your own lunch or souvenirs on the island. If there are members of your party who wish to join but don't want to jet ski, a charter boat is available to rent and can accommodate up to 6 passengers.

Kayak Rentals
Kayaking is a very common water activity in Long Beach. Many kayaking is done within the protected waters of Alamitos Bay and around Naples, which is perfect for all skill levels. Kayaks on the Water offers kayak rentals in this area, as does Leeway Sailing Center. If you want to try out ocean kayaking, Alfredo's Beach Club rents kayaks at their Alamitos Beach and Belmont Pier locations.
Kids Fishing Rodeo (66th Annual)
The 66th Annual Kids Fishing Rodeo will be held this year on Saturday, August 3rd, from 8 am – 12 pm. Sponsored by Alfredo's Beach Club, the fishing rodeo will be held at the Belmont Veterans Memorial Pier. This is a free event for children 16 and under. Kids under the age of 12 must be supervised by an adult. Participants must provide their own fishing gear and tackle, and food and beverages will be for sale.
Kite Surfing
Kite surfing, or kiteboarding, is basically surfing with a modified hang-gliding parachute. And what may be surprising to some, is that kite surfing is mostly dependent on how you control the kite in the wind, not on having waves to surf on. Long Beach happens to be one of the best locations in Southern California to learn kite surfing. In fact, the "Kite Zone" in Belmont Shore is the only area in LA and Orange Counties that is approved for kite surfing lessons. Lessons begin by learning the technique of controlling the kite, on the sand, before trying it out in the water. Several companies including SoCal Kitesurfing, Off the Hook Kitesurfing, and Captain Kirks offer lessons of various lengths and skill levels.
LB Junior Lifeguards (June – August)
The Long Beach Junior Lifeguards is a program that happens every summer, for children ages 9-17. The program offers instruction in lifeguarding techniques, first aid, rescue techniques, physical conditioning, ocean sports, and marine ecology. Participants also have the opportunity to become CPR certified. Junior Lifeguards are split by age groups and can choose either the morning or afternoon sessions for the summer. The 6-week course is filled with field trips and competitions and is presented in a way that each junior lifeguard can participate to the best of their abilities while learning new skills. At the end of the summer, junior lifeguards participate in the annual Ironguard competition, a 4-mile beach run and 2-mile ocean swim, that shows the progress they have made throughout the summer. This year, the LB Junior Lifeguards program will run from June 24th – August 2nd.
*Note – Registration for LB Junior Lifeguards has already closed.
Long Beach Sport Fishing
Fisherman, rejoice! Sportfishing Tours are offered daily out of Long Beach. Pierpoint Landing, Long Beach Sport Fishing, and Long Beach Marina Sport Fishing offer a variety of sport fishing excursions and experiences. Some of the common fish you may catch include yellowtail, rockfish, sculpin, whitefish, calico bass, and barracuda. Just be sure to check with the sportfishing companies, as many are all-day tours and do not accept walk-ins.
Naples Canal Gondolas
For a romantic outing, look no further than the Naples Canals. The Venetian style gondolas, operated by Gondola Getaway, will take you through the winding canals of Naples Island. During the one-hour ride, you will get a close up look at the luxury mansions, yachts, and arching bridges over the canals. The small gondolas hold 2-6 passengers, while the larger "Carolina" can be booked for special occasions – holding up to 15 people. You can bring your own appetizers and wine to enjoy on the gondola ride (they provide glasses and an ice bucket) or you can book the Brunch or Pizza cruise. And if you're lucky, you may even get serenaded by your gondolier!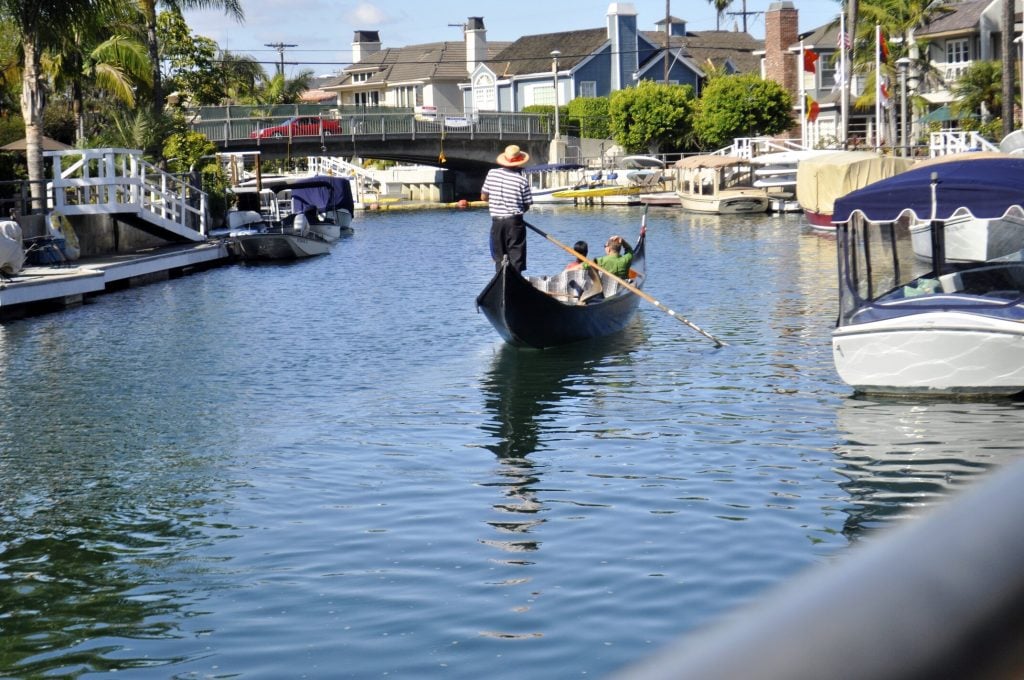 Naples Open Water Swim and SUP Event (August)
The Naples Island Swim & SUP is an open water swimming and paddleboarding competition featuring races of various lengths. This annual event is held in Alamitos Bay and around Naples Island and will happen this year on August 18. Registration for this event is now open, and you must register in advance, as no race-day entries will be accepted. Check-in opens at 8 am, and race times and lengths are as follows:

SWIM EVENTS
1 Mile Swim: 9 am
3 Mile Swim: 9:20 am
1000 Yard Swim: 9:40 am
500 Yard Swim: 10 am
200 Yard Swim: 10:20 am

SUP EVENTS
6 Mile SUP: 10:30 am
3 Mile Fun Paddle: 10:45 am
Pedal Boats on Rainbow Lagoon
Rainbow Lagoon, the large pond next to the Hyatt across from Shoreline Village, is a popular destination for those who want to try a simple water activity. Pedal boats are easy to use and are confined to the protection of the lagoon, rather than being out in the open marina or the harbor. You can rent pedal boats in this location from Alfredo's Beach Club.
Rosie's Dog Beach
Long Beach's water playground isn't just for humans – your furry friends can join in the fun too! Rosie's Dog Beach, located in Belmont Shore, is the only dog-friendly beach in the city. It has been open since 2003 and is very popular among dog owners and dog lovers. As a fun fact, this area is actually more of a "Dog Zone" than a dog beach, because it is not fenced off. Rosie's Dog Beach is open daily from 6 am – 8 pm. Dogs are not permitted outside the scheduled times, or in any place other than the permitted areas and access paths.
Sailing
Sailing has been a popular water activity for ages. It is also very striking, with the tall masts and white sails against the blue sea. Luckily, there are several locations in Long Beach, such as Harborlight Yacht Club and Leeway Sailing Center, where you can take sailing lessons. If you already know how to sail, Pacific Sailing and Harbor Yacht Club offer charter sailboat rentals – some of which can even be chartered for an overnight trip to Catalina.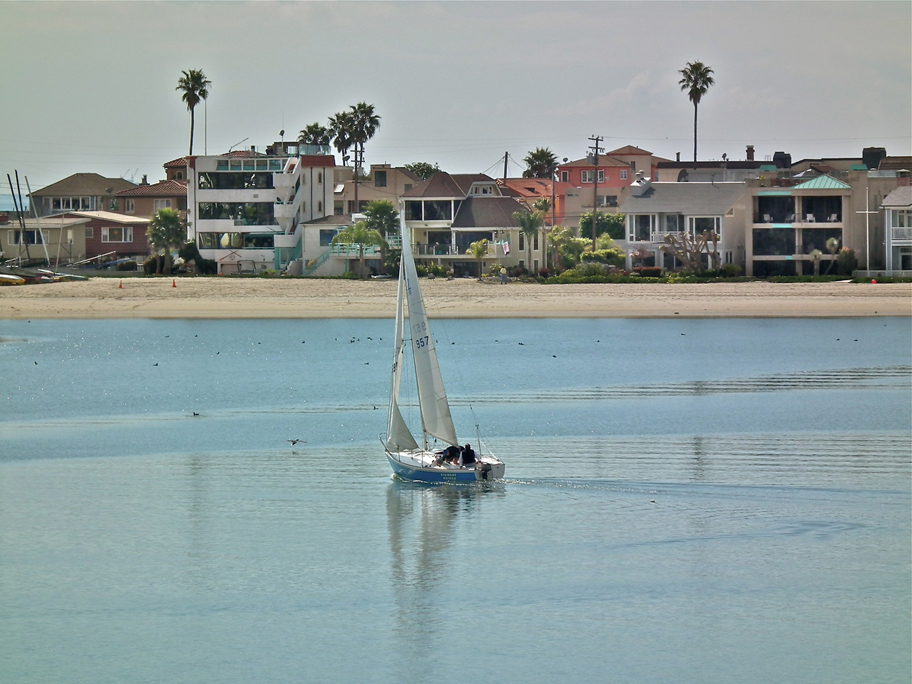 Scuba Diving
Long beach is a popular departure point for dive boats, as it is close to many diving sites from local shipwrecks to Catalina Island. If you are already scuba certified, you can join a scheduled dive or book a private charter for your group. Check out Sundiver Charters, Deep Blue Scuba & Swim Center, or Cee Ray Dive Boat/Southern California Dive Adventures for their diving destinations.
SUP Rentals
SUP, or Stand Up Paddleboarding, is another popular, leisurely water activity. Most paddleboarding is done in the Alamitos Bay/Naples area, due to the calm, protected waters, although ocean paddleboarding is common as well. Rentals and lessons are available at Kayaks on the Water in Alamitos Bay. Equipment rentals with delivery to the beach are available at Aloha SUP Rentals. Alfredo's Beach Club offers rentals at their Alamitos Beach location but does not offer lessons. Also, Wheel Fun Rentals offers rentals in Rainbow Harbor.
Whale Tours
Whales are the biggest animals on our planet, and lucky for us, they are right in our backyard! Harbor Breeze, operating from the Pike in Downtown Long Beach, offers 3-hour whale watching cruises all year round. Gray whales are most common December – April, while blue whales are seen June – October. In addition, porpoises, Common and Bottlenose dolphins, sea lions, seals, and marine birds can be seen year-round.
Wind Surfing
Not to be confused with kite surfing, windsurfing combines the sports of surfing and sailing. You stand on board and control the sail, while you are moved forward by the wind. While Cabrillo Beach in San Pedro is the main area for windsurfing in our region, you can still find windsurfers in the Long Beach harbor and Alamitos Bay. Look to rent equipment and take lessons from Long Beach Windsurf Center.
Long Beach Aquatic Facts
Still can't get enough of Long Beach's water playground? Here are some fun facts that you may or may not know about our city's aquatic history.
Long Beach Stats
Long Beach has 11 miles of sandy shoreline (including the bays, etc).

There are 4 miles of oceanfront beach from Long Beach Harbor to the tip of Alamitos Bay.

Long Beach has 12 designated beaches in total.

The Shoreline Pedestrian Bike Path is a 3.1-mile-long path that runs through the sand from Shoreline Village to Alamitos Bay. There are actually three paths here: two 6-foot wide paths for bike traffic and one 5-foot wide path for pedestrians.

Long Beach sea water temperatures are warmest around early to mid-August and are at their coldest around the beginning of March. The temperature range is from 2°C – 24°C (36°F – 75°F).
Long Beach Sports and Records
50-year old Long Beach native, Hank Wise, has set the record for the most, and the fastest male swims from Catalina Island to Long Beach. He completed his 7th swim on Oct 15, 2018, with a time of 7:55:46. This 20-mile swim crosses the open ocean, making it an extreme challenge. His first swim was in 2010.

The city's geographic location has made it an ideal location for water and land-based athletics. Wilson High School has produced more Olympians than any other American high school.

In 2010, Marine Stadium hosted both the USA Swimming Open Water National Championships and the Pan Pacific Championships open water competition. It is now the training ground for many local athletes.

The US Olympic Sailing Team practiced in Long Beach to prepare for the 2016 Rio Olympics due to the similar wind and wave patterns.

In 1984, Long Beach was the site for four Olympic events during the Los Angeles Olympics, including yachting.

Jody Campbell, a Long Beach native, and Wilson High School graduate was a four-time All American water polo player at Stanford. He then went on to compete on three US Olympic Water Polo teams (1980, 1984, 1988) and won two silver medals (1984, 1988). He was elected into the USA Water Polo Hall of Fame as well as the Long Beach Century Club's Hall of Fame. Today, despite a serious water skiing accident several years ago, he still drives the boats in water skiing competitions.

Long Beach native Pat McCormick is one of the best women's divers in Olympic history. She won four gold medals in 1952 and 1956 and was the Associated Press Athlete of the Year in 1956.

Four Long Beach State men's swimmers have gone on to become Olympians, but three of the four represented, and won, for different countries (Germany, Sweden, and Australia).

In 1972, Susie Atwood represented the US on the women's swim team as a 15-year old Millikan High School student. She won a silver and a bronze medal.

Long Beach's best sport at an international level is water polo. Since 1900, only one American water polo team has failed to carry a local athlete.
Long Beach's Breakwater
The Long Beach breakwater was constructed in the 1940s, in the midst of World War II, by the U.S. Navy as part of a deepwater port project. 

Prior to the breakwater, Long Beach was actually known as the "Waikiki of Southern California." There were plenty of waves for surfers to enjoy and even held a large surfing contest in 1939.

The Surfrider Foundation has been working for 22 years to get the breakwater removed.

In September 2018, the city unveiled six possible options to improve the ecosystem along the coast, of which two would include removing parts of the breakwater and restoring waves to Long Beach's coastline.
Want to Live Next to the Water?
The Shannon Jones Team may be biased, but we think there's no better place to live than Long Beach! If we can help you find your dream home here, please fill out the form below. We'd be happy to help!