On Naples Island, the Christmas season is the brightest time of the year! Starting on December 1st, and occasionally beforehand, Naples residents start stringing up their Christmas lights. These aren't your ordinary Christmas decorations though. The Naples Christmas lights are a time-honored tradition that many people partake in every December. Many, if not, most of the homes go all out decorating their homes for the holidays with lights, displays, and other decorations to spread holiday cheer. The Naples Island canals are open to the public and to see the best view of the Christmas lights, we recommend waiting until December to walk around. 
Walk or Boat 
Long Beachians enjoy strolling through the canals on foot with hot chocolate and admiring the homes and their holiday spirit. For a different view, you can also rent a boat and see the lights from the water. If you want to enjoy dinner with the lights, this is the perfect option for you! 
Of course, the most romantic option is to call Gondola Getaway and have one of their gondoliers take you around the island. Not only will you get to admire Naples' lights, but you can check out the Christmas trees on the water – another one of Long Beach's great traditions. Gondola Getaway offers packages with food and drinks and are running their 2022 holiday special now!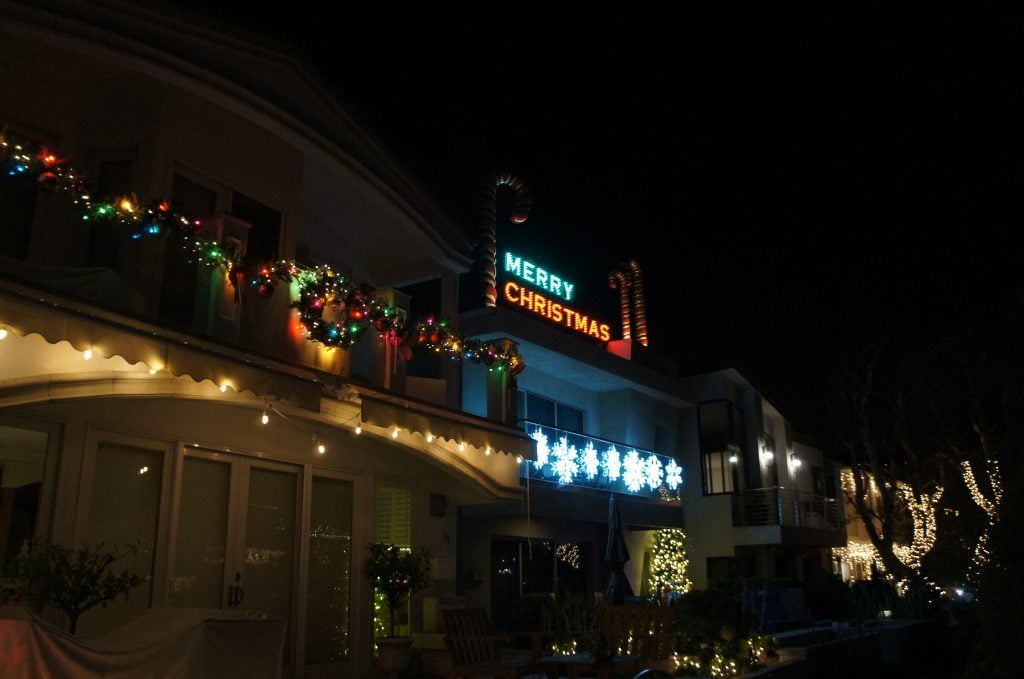 Where to Start? 
Located between Belmont Shore and the Long Beach Marina are the lovely islands that make Naples. To catch the best view of the lights, walk (or boat) along the island canals. There are three entrances to the canals. Two of them stem from the street called E The Toledo, and the third N Ravenna Drive. Map out your route by viewing the map below! 
Click here for a map of Naples Island!
Dine on Naples 
Start your festive evening early and visit one of the delicious restaurants located on 2nd Street for dinner, cocktails, or both! Here's a fun fact: Naples was originally built to replicate a village in Italy. So, while you're there, you might as well enjoy some Italian food! Michaels on Naples Ristorante has a beautiful rooftop terrace and serves authentic Italian cuisine with top notch ingredients. Another great dining option is Nico's, a boutique Italian restaurant with a California flair. Check out the menu here! 
There are so many spots to admire Christmas lights throughout Long Beach, but our top choice is right down the street from us on Naples Island. Whether you're looking for a fun family outing, or simply want to get started embracing the holidays, the Naples Christmas lights are a must-see!
Want to learn more about the Naples Neighborhood? Read our blog here or watch the video below!