Inventory is arguably the biggest challenge for buyers in today's housing market in Long Beach CA and in many other areas, making this an extremely strong "seller's market."
Bidding wars have become more and more common, and home sare selling quickly. Why is that? There are simply more buyers actively looking for homes to purchase than there are sellers selling them.
In Long Beach, the inventory of available homes is lower than it was last summer and homes are selling more quickly. That's true nationwide as well.
According to the latest Existing Home Sales Report from the National Association of Realtors (NAR), total housing inventory is down 18.8% from one year ago. Houses that do come to the market are selling very quickly.
Sam Khater, Chief Economist at Freddie Mac notes: "Simply put, new housing supply is not keeping up with rising demand. We estimate that the housing market is undersupplied by 3.3 million units, and the shortage is rising by about 300,000 units a year. More than half of all states have a housing shortage."
Why is Inventory So Low?
It's hard to find a home today because of an undersupply of newly constructed homes and sellers pressing pause on their moving plans due to the pandemic. Another key factor is the amount of time current homeowners are staying in their homes. People are staying in their homes longer, and it's contributing to the shortage of houses for sale.
In the 2019 Profile of Home Buyers and Sellers, NAR explained:  "In 2019, the median tenure for sellers was 10 years…After 2008, the median tenure in the home began to increase by one year each year. By 2011, the median tenure reached nine years, where it remained for three consecutive years, and jumped up again in 2014 to 10 years."
As shown in the graph below, historical data indicates that staying in a home for 5-7 years used to be the norm. Then the housing bubble burst. Since 2010, that length of time has trended upward, toward 9-10 years. This is largely due to homeowners aiming to recoup their equity.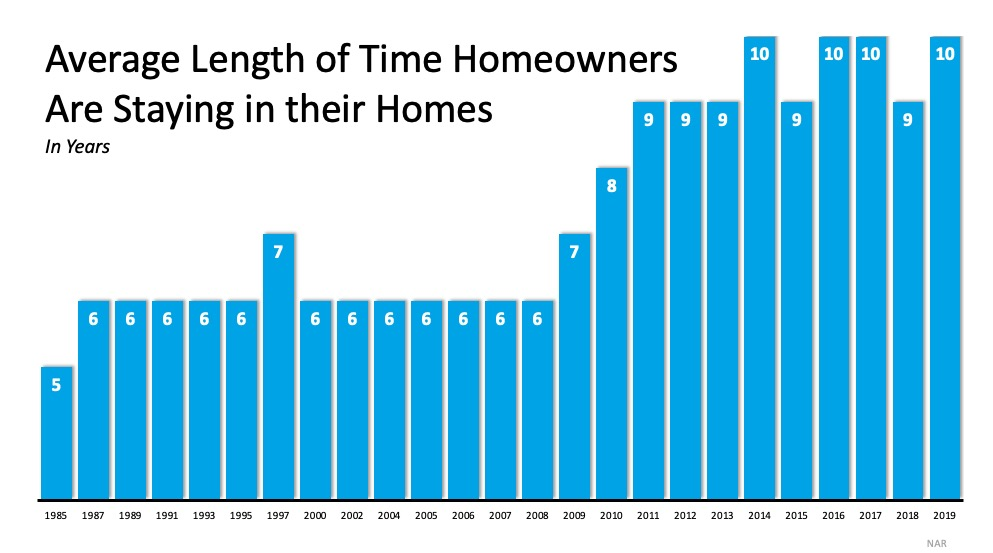 Pros of Selling Right Now
With the strength the market has gained over the last 10 years, today's homeowners are in a much better equity position. Now is a fantastic time for homeowners who are ready to make a move to break the 10-year trend and sell their houses. This is especially true right now while buyer demand is so high and inventory is so low. It's a prime time to sell.
With today's historically low-interest rates, there's an opportunity for sellers to maintain a low monthly payment while getting more house for their money. Think move-up opportunity, more square footage, or finding the features you're looking for rather than doing costly renovations. With more new homes poised to enter the market this year, homeowners ready to make a move may have a golden opportunity to do so right now.
But Is Now the Right Time for Me to Sell?
But even if the market is great, many potential sellers are reluctant to move forward because they're concerned about their ability to find another home and get an offer accepted in a strong seller's market.  They wonder whether they'd be able to find another home they love and whether it would be possible to buy a home before selling?  Many real estate agents will tell you that NOW is the right time to sell your home. But in reality, you are the only one who can make that choice. Here's are some common questions and thoughts you might be having.
What if my home ends up being worth more a year after I sell it?
Markets are about timing — yours could be on an upswing and selling could mean you're missing out on receiving more for your home later. However, markets can also just as dramatically swing the other way, just like they did in 2008. The lesson? You can't really time the market. Instead, focus on easy (and inexpensive) tasks in your control that can help your home sell for more whenever the time is right. Decluttering, painting your rooms neutral colors, and even cleaning up your yard can sometimes bring a home's value up regardless of what the market is doing.
I don't qualify for a different home.
If your credit has gotten worse, you've spent all your savings on the home you're currently in, or you're at risk or have lost your job during this time, it might be a mistake to sell your home right now. You know your budget and you've probably even looked up what homes have been selling for in your neighborhood. If you research and you discover you just won't qualify for a new mortgage right now, you might need to reconsider selling. Or, you'd have to be okay with going back to renting if you did sell.
My friend who is a real estate agent told me I should sell now.
Take time to think hard about who you're hiring to sell your home. If your friend or family member feels like the best decision for you, go for it. That said, treat this decision like you would for anyone else providing a service for you and take the time to interview other prospective agents.
Interviewing helps you screen agents that may not be the best fit for your personality or your home – especially if you have a unique property like a vintage home. Focus your questions on their past experiences selling in your area and how long they've worked in your market. You should also ask about how well they know your neighborhood and if they have worked with homes similarly valued to yours. After speaking with several real estate agents, you'll get a sense of how they communicate and if you'll "click" during what can be a stressful process no matter who helps you.
I don't want to lose all the equity I have in my home.
Having a lot of equity in your home is actually a good thing when it comes to selling. Equity is a form of forced savings. So as average homeowner tenure lengthens and home prices rise, you can apply your equity towards the purchase of a new home. CoreLogic explains: "Over the past 10 years, the equity position of homeowners has positively changed as a result of more than eight years of rising home prices. As the economy climbed out of the recession in the first quarter of 2010, 25.9% or 12.1 million homes were still underwater, compared to the first quarter of 2020 when the negative equity share was at 3.4%, or 1.8 million properties. Borrowers have seen an aggregate increase of $6.2 trillion in home equity since the first quarter of 2010 and the average homeowner has gained about $106,100 in equity."
Increasing equity is enabling many homeowners to sell their current houses for an increased profit. This profit can then be reinvested in a new home. According to the Q2 2020 U.S. Home Sales Report from ATTOM Data Solutions: "Home sellers nationwide realized a gain of $75,971 on the typical sale, up from the $66,500 in the first quarter of 2020 and from $65,250 in the second quarter of last year. The latest figure, based on median purchase and resale prices, marked yet another peak level of raw profits in the United States since the housing market began recovering from the Great Recession in 2012."
Determining your equity position is a great place to start when you're thinking about selling your home. Understanding how much equity you've earned over time can be a key factor in helping you realize the potential profits in your real estate investment and move toward your next homeownership goal.
I'll have to make a lot of costly repairs to sell my home for as much as I'd like.
Your agent may suggest making a few repairs in order to command the highest price. The extent of repairs needed often has to do with the comparable homes in your area for sale. For example, if there's a home exactly like yours on the market but it has a brand new roof, the agent may suggest replacing yours. However, you don't necessarily have to make expensive repairs. You can always sell your home as-is. Or, Keller Williams has come up with a great solution for you – KW Concierge. It allows you to renovate, but not pay for it until after you sell your home.
Bottom Line
There are simply not enough houses for sale today. If you're ready to leverage your equity and sell your house, let's connect today. It's a great time to move while the demand for homes to buy is extremely high. But if you're not sure whether or not now is the right time for you to sell, we'd still love to chat! We can advise you based on your personal situation, your home's value, and your future plans. To get started, please fill out the contact form below. We can't wait to hear from you!