When it comes to staging your outdoor space, you may be surprised at how simple it can be. Outdoor living is one of the simple joys of life in Southern California. We celebrate, entertain, relax, and recharge in our outdoor spaces. Despite the value these outdoor areas add to a home, they often take a back seat to the interior staging of a property. However, with a few simple guidelines, you can spruce up your outdoor space and invite prospective buyers to settle in and enjoy the atmosphere long-term.
The Power of Perspective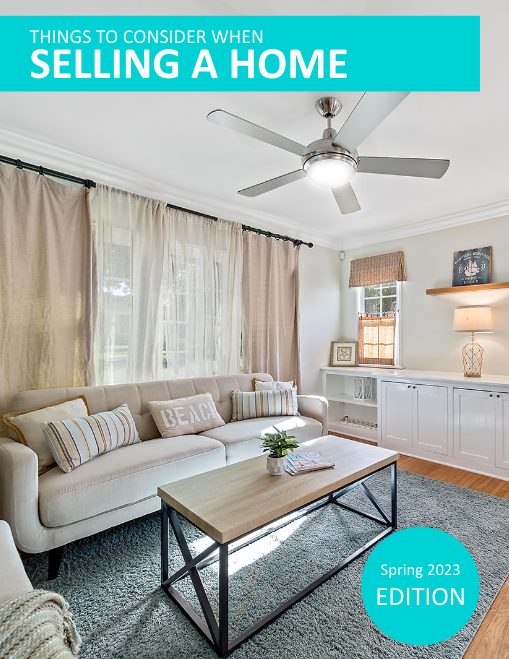 It doesn't matter if a buyer's perspective is from a curbside glance, the view from a porch rocking chair, or the door frame of a patio opening to the backyard. Structure, balance, and color are important no matter what angle you're looking from. All of those components have the ability to immediately impact a property's appeal.
So, when staging your outdoor space, take inventory of its pluses and minuses. Sometimes, cutting down on the size or number of plantings, reshaping trees or shrubs, or even replacing old lawn areas with California-friendly succulents, can add a much-needed fresh touch to an overcrowded or dated outdoor look. For more information, download our Seller's Guide by clicking the image to the right.
Create Drama with Detail
The right combination of color, plants, and structure all add visual interest to staging a property. Craft immediate impact and mood with colorfully potted perennials such as broad-leaved canna lilies, kaleidoscopic succulents, or bright bougainvilleas. Consult with your local garden center or Monrovia.com for varieties in peak foliage and bloom cycle for your showing season. Add visual focal points like Moroccan-style lanterns, dramatically strung overhead lighting, or boldly patterned outdoor pillows. These can all add a touch of the exotic to your outdoor living space. Don't forget the power of perspective from above and also add space framing rugs.
Need inspiration? Check out our outdoor living Pinterest board!
Channel Your Property's Strengths
Working within the framework of what already exists in your outdoor space can be a great staging jumping-off point. Outdoor spaces are an extension of the property's architecture, interior décor, colors, and overall experience. Find exciting ways to weave themes from adjacent interior rooms. This creates a cohesive feel and ties your outdoor space into the property's staging plan. Many historic properties come with the added bonus of fountains or water features. Bring these valuable points of interest into focus by accenting them with style or period-appropriate outdoor furniture and pottery.
Don't Forget The Little Things
Of course, while furniture and decor or important, staging your outdoor space also includes tiny touches like simple cleaning! Wash off any outdoor furniture you have, especially tables and cushions that have gotten dirty. Power wash any cement surfaces you have and clean the side of the house if you need to. Knock any cobwebs down and replace all lighting fixtures. Additionally, take a look at your garden. Are there any weeds that need to be pulled up or any plants you should trim?
Need Help Staging Your Outdoor Space?
The Shannon Jones Team recognizes the importance of staging your outdoor space, and just staging in general! We've helped a number of clients stage their homes to help them sell quickly and over asking price! If you'd like to chat about staging and see if we think it could help you sell your home, reach out. We'd love to talk and help you set a plan. In the meantime, we've included some resources below for sellers. We look forward to speaking with you!