It's easy to see why Rose Park has grown in popularity. Even though it's in an urban setting, it maintains its welcoming and friendly "small-town" feel. Named by This Old House as one of the nation's "Best Old House Neighborhoods"  in 2012, Rose Park has continued to attract residents who appreciate its rich history, diversity, convenient location, and close knit community.
"It's a hipper, expanded version of Mayberry, a place where locals gather in the park for picnics or yoga classes and where impromptu concerts might break out on porches on summer nights," This Old House noted. "Rose Park is also adjacent to Retro Row, a three-block commercial strip that's home to pubs, shops, and a restored 1920s Art Deco movie house."
History of Rose Park
Rose Park is about as Long Beach as it gets! It originated in the early 1900s with Victorian homes and between 1910 and the 1920s the community expanded with tons of Craftsman-style homes, which were in vogue at the time. Craftsman architecture is still the primary style of home in the area. At the time, Rose Park was inhabited by second-generation British and Scandinavian immigrants that worked in the oil fields and shipyards. Rose Park would later grow to include Spanish Revival and Mission Revival homes as well.
Rose Park was officially declared a historic district in 2002, and Rose Park South, below 7th Street, later also became a historic district. Together, the two historic districts make up one of Long Beach's largest historic areas. The neighborhood gets its name from a small circular park at the junction of Orizaba and 8th Street, in the center of a roundabout. Characterized by its gazebo and roses, the park was restored in 2009, and is now home to many neighborhood events as well as a great place to have a seat and enjoy the shade of some of the larger trees, or appreciate the view from inside the gazebo.  The Rose Park Neighborhood Association is very active in planning events for the community as well as maintaining the historical properties that make the area unique.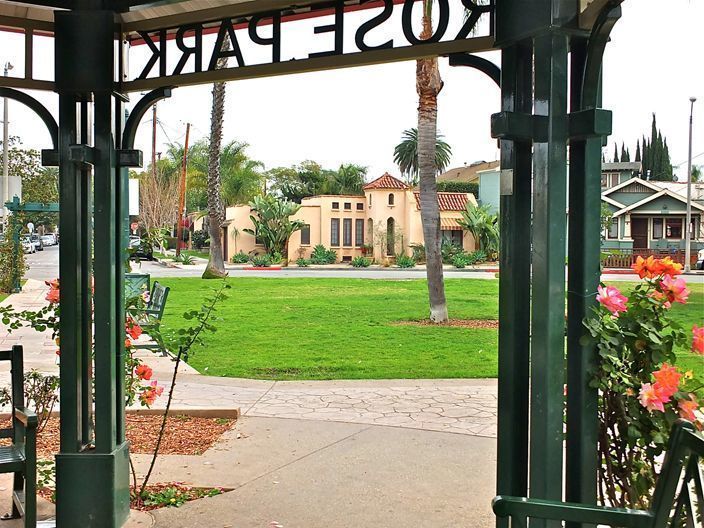 The Legacy of Locally Owned
Rose Park has an abundance of locally-owned, independent businesses. Along 4th and 7th Street, you can find everything from food to clothes to furniture. Rose Park was once considered simply the poorer cousin of Belmont Heights. Since then, it has developed its own identity and is now a hip area of Long Beach. It attracts coffee shops, small vintage boutiques, and unique indoor and outdoor eateries — along with creative, artistic types who enjoy frequenting the businesses.
Retro Row, a portion of 4th Street dominated by small vintage specialty shops, is one of the local highlights for the area. Home to the 1950's designer-furniture store InRetrospect, vintage clothing store Meow, and many other popular boutiques with classic finds from every modern era. Retro Row is a bohemian center to the neighborhood and in many ways Long Beach itself. Looking for entertainment? Catch a movie at the restored Art Theatre, sip wine at Vine on 4th, or rent roller skates at Moxi.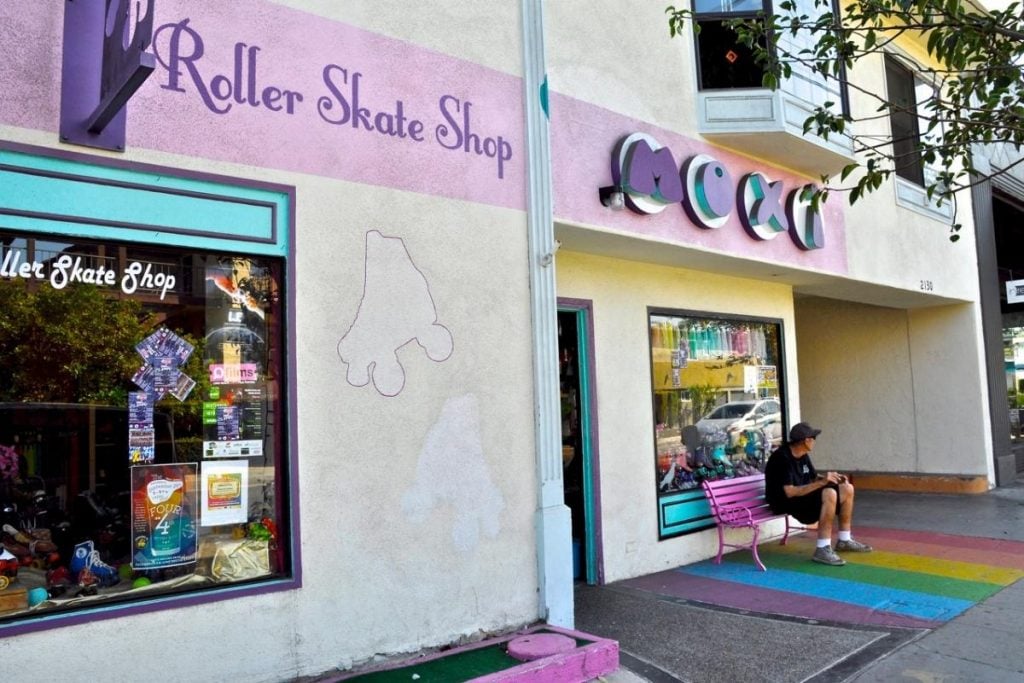 Modern eateries like The Social List, make Rose Park the perfect dinner getaway without the traffic you'd encounter heading to Melrose in LA. If you're in the mood for Mexican food, Lola's brings refinement and excitement to classic Mexican food dishes. Portfolio Coffee and Rose Park Roasters make for lovely places to spend an afternoon working or people-watching.
Getting Around Rose Park
Rose Park is an extremely walkable neighborhood and most of the area boasts very high WalkScores. Grab groceries or just a quick bite to eat with a quick stroll instead of scrambling for parking. Aside from Rose Park, other nearby neighborhoods such as Bluff Park, Carroll Park, and Belmont Heights are just a short walk away, as is the beach.
The neighborhood is also extremely bike-friendly. The Long Beach Bike Share program has found its way into Rose Park as well! You'll find cheery blue beach cruisers that can be rented for low rates throughout the neighborhood. When riding by bicycle, East Village, Belmont Shore, Bluff Park, and Downtown can be reached quickly and easily, with dedicated bike lanes scattered throughout. Interested in architecture and a short ride? Carroll Park sits very close to the Rose Park area, with more unique Colonial and Craftsman homes to admire.
Rose Park Homes
Many homeowners are drawn to Rose Park for its large lots and Craftsman bungalows. Some of the homes have been lovingly restored while others are a great fixer-upper opportunity. Spanish-style homes and occasional Victorian homes are also found in the area. Multi-unit properties also sprang up during an era when more affordable housing was sought and higher density was allowed. Since Rose park is a historic district, it's no longer possible to tear down a bungalow and put up a multi-unit structure. Modifications to homes within the historic district require that homeowners follow city design guidelines.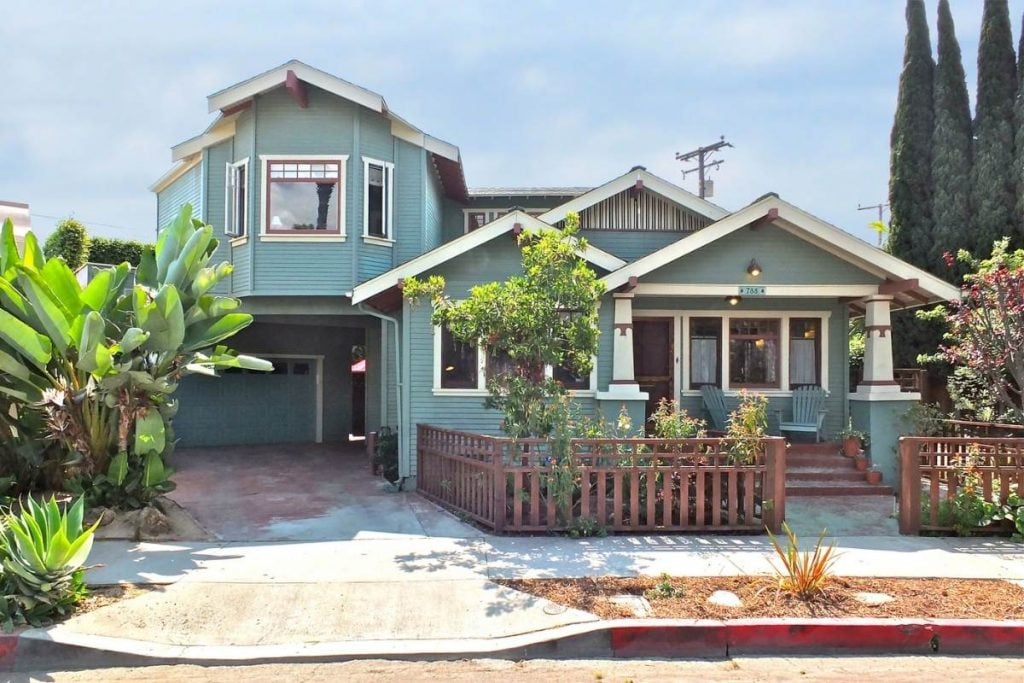 A Couple Oddities
The Skinny House on Gladys Avenue near 4th Street is a fascinating slice (literally) of Long Beach. This three-story home that is no wider than 10 feet came to be when Newton P. Rummonds built the house in 1932 after taking on a bet that he wouldn't be able to build anything on the tiny plot of land he had been gifted. A fun side note: this was the first home I sold in Long Beach back in 1999 after the client asked for charm, history, and a good match to her small budget. The home fit perfectly and continues to draw interest to this day. The first time I sold this home, it was just $100,000, the second time it listed for $225,000. Currently, even small condos in the area would go for more than that.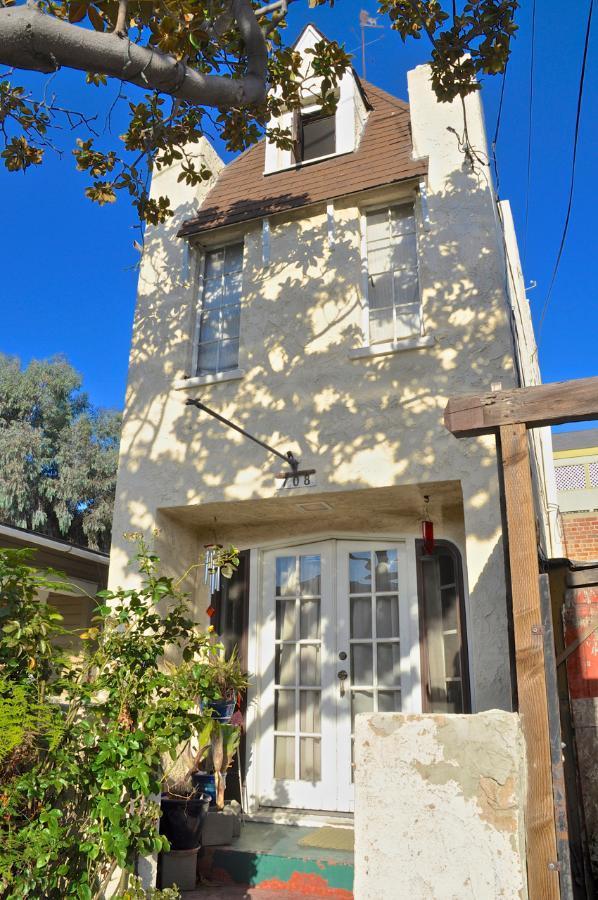 Have you ever driven by and wished you could take a peek inside the Skinny House? Here's a clip from the Early Show from 2001, the second time I sold it.
The Parrots
Keep an eye out for the iconic Long Beach parrots! They are known to drop through the neighborhood, munching on tree fruits and chirping their way through the afternoon. They typically hang out in Belmont Heights and Belmont Shore, but they don't shy away from the larger trees of Rose Park. You'll recognize these birds by the sounds they make long before you see them. Many locals have learned to live with and love them as the parrot population has grown over time.
Want to Move to Rose Park?
If you're looking for an urban lifestyle and enjoy older homes, Rose Park can look appetizing. With its close proximity to the beach, stores, parks, and entertainment, this neighborhood appeals to many homeowners and first-time buyers.  Rose Park homes are in demand due to their affordability, value, lot size, and the quality of life they bring.
The local real estate market has shown positive growth for the last three years. Oftentimes, homes often sell above the list price when they're move-in ready. For more information on Rose Park, give us a call!
Homes For Sale in Rose Park