Workshop & Deadline for Mills Act Coming Soon
There are many benefits to owning a historic home in Long Beach, with one of the biggest potential financial benefits being the opportunity to obtain a tax break through the Mills Act.
The Mills Act program offers property tax breaks to encourage the owners of historic buildings to restore and maintain the architectural integrity of their residential or commercial structures.
For many owners of homes qualifying for the Mills Act, a home's historic architecture and character is the initial draw but the tax break is a bonus.
Terry and Kari Prine moved from a home in the Rose Park Historic District to a stately two-story Craftsman just outside Carroll Park in 2016. Built in 1914, the home features original floors, woodwork, and moldings. It was largely untouched by the previous owner, who wanted the home to go to another owner who would appreciate and cherish it.
"To me, it's almost like the house is bigger than the owners," said Terry Prine. "There's something cool about that when you die that house will still be standing."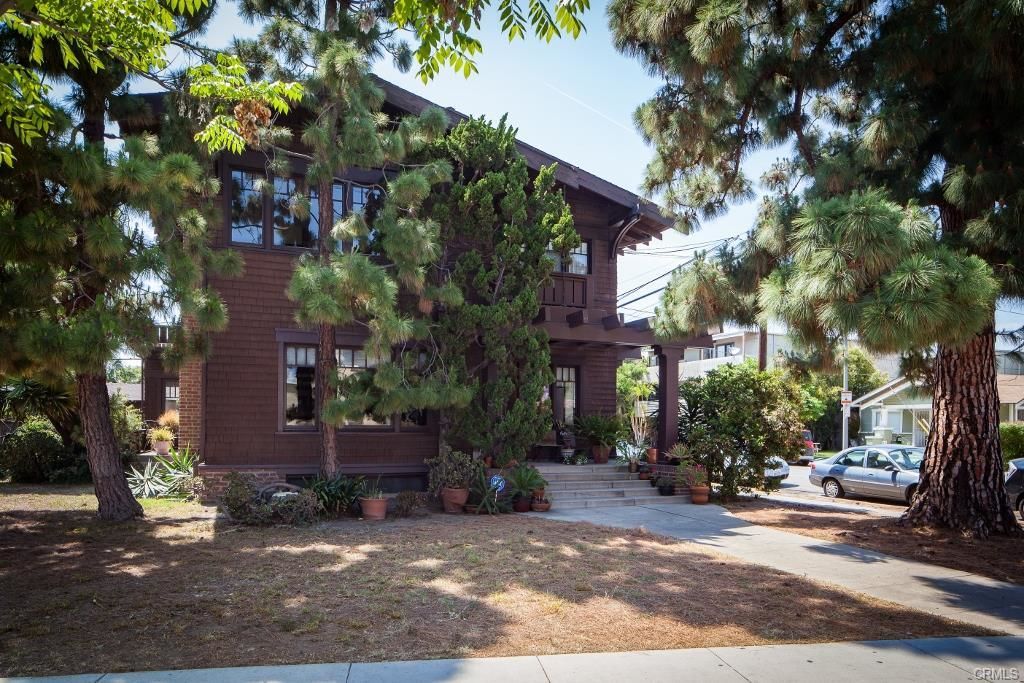 In many ways, a historic homeowner is also a steward of its architectural integrity and history. The Prines' two-story house on Junipero Avenue in Long Beach was awarded landmark status and Mills Act approval by the city last year after they completed a lengthy application process that included information about the history of the home.
Terry said the tax breaks haven't kicked in quite yet because the city only recently awarded the Prines' Mills Act contract. They expect to save several thousand dollars each year on their property taxes, which they will use to fund restoration work and preventative maintenance on their home.
The California legislature enacted the Mills Act in 1972 with the objective of designating and protecting historic properties. The program was first launched in Long Beach in 1993 and has since designated and approved tax incentives for 57 single-family residences and duplexes, 15 multi-family buildings and 13 commercial buildings. The program went dormant in 2006 amid budget cuts at city hall and was restored years later because homeowners voiced their support for its return. In 2015, the Long Beach City Council approved revisions to the Mills Act Program to provide more opportunities for eligible historic property owners.
Last year, Long Beach awarded 21 Mills Act contracts to a mix of single-family homes, commercial properties, and mixed-use apartments and condominium buildings. Overall, about 30 applicants filed for Mills Act benefits in 2017.
To receive the tax breaks, homeowners must complete an application spelling out plans for the coming decade on how and when they'll rehabilitate their home. For all applicants seeking Mills Act tax incentives this year, there's a mandatory workshop at 10 a.m. on Saturday, March 3, 2018 at the Silverado Park Social Hall located at 1545 W. 31st. City staffers will walk attendees through the application process and timeline. There is an additional recommended workshop on Saturday, March 17 at 10 a.m. at the Burnett Neighborhood Library Community Room, 560 E. Hill St.  Applications are due at 4 p.m. on Friday, March 30 with an application fee of $104.80. Applications can be mailed to: City Hall Permit Center, Planning Bureau Counter, Long Beach Development Services, 333 W. Ocean Blvd., 4th Floor, Long Beach CA 90802.
Properties must be designated City of Long Beach historic landmarks or contributing structures in Landmark Districts to get a Mills Act contract. Applicants who own properties not yet recognized as Historic Landmarks may submit a Landmark Application at the same time they turn in their Mills Act application.
Once approved, participating property owners sign an agreement with the city for a minimum of 10 years. Under the agreement, property owners agree to restore, maintain and protect their historic structures according to certain standards and conditions.
Upon receiving a property tax reassessment by the County Assessor, Mills Act participants can expect a 30 to 50 percent reduction in property taxes.
In Long Beach, the Mills Act program is overseen by the city's Planning Department. Here are some of the criteria for getting the city of Long Beach to approve tax benefits for your historic home.
Residential properties must have an assessed value of less than $1,055,700 for single-family residences, $1,267,000 for duplexes and $1,900,500 for triplexes. Historic multi-family buildings with four or more units are eligible regardless of their assessed value.
Priority is given to unique or important historic structures in particularly poor condition and in need of significant restoration.
The city prioritizes tax relief for improvements that are visible from the street, correct any critical structural deficiencies, reverse inappropriate alteration or preserves historic features.
Not eligible for tax benefits are additions, solar panels, pools, built-in barbeques and interior remodels that don't restore or rehabilitate historic character.
For a more comprehensive outline of Long Beach's requirements for Mills Act tax breaks, check out its 2018 Mills Act Application Guide.
Besides landmark buildings in the city's historic districts, several multi-family buildings are eligible for the Mills Act as designated historic landmarks. Two examples are Rose Towers at 1728 E. 3rd Street and the Villa Riviera building at Ocean Boulevard and Alamitos Avenue. These properties have a different application process because they are governed by homeowners associations.
Maureen Neeley, a local reference librarian, owns a consulting firm called HouStories that helps historic homeowners research their house's story. This type of information is critical when applying for the Mills Act.
"People who move into neighborhoods or blocks that have Mills Act homes find it tends to stabilize the neighborhood, it inspires pride and it galvanizes the community," Maureen said. Additionally, there is a monetary value attached to owning a Mills Act qualified home.
More Info: http://www.lbds.info/millsact/