This last year has been uncertain thanks to COVID-19. However, the real estate market has remained on fire since summer 2020. While it may be tempting to wait to buy until the pandemic is over, that may not be in your best interests. Here are a few great reasons why you may want to consider buying a home this year instead of waiting.
1. Buying a home is a great investment
Real estate is a good investment and some experts even believe it's better than gold, stocks, bonds, and savings. Why? Real estate helps build equity, a form of investing for you and your family. According to CoreLogic's Equity Report from December 2020:
"Over the past year, strong home price growth has created a record level of home equity for homeowners."
Additionally, CoreLogic said homeowners gained over $1 trillion in equity in Q3 2020. Equity is always a great reason to buy a home. This year, though, it's even better because home values are expected to keep appreciating. Buying a home this year means starting to build up equity and thinking ahead towards your future.
2. Mortgage interest rates are low
Mortgage rates reached historic lows last year and have remained low ever since. Even though rates are slowly on the rise, they are still extremely low. When you purchase a home at a low mortgage rate, it impacts your monthly mortgage payment. Therefore, buying a home this year means you get the opportunity to buy more house for your money.
3. Waiting Could Cost You
There are two questions you should ask yourself when evaluating the financial aspect of purchasing a home.
Do I think home values will be higher a year from now?
Do I think mortgage rates will be higher a year from now?
Right now, the answer to these two questions is almost certainly yes. That means now is the right time to buy. The figure below shows the difference between buying a home at Long Beach's median cost right now, vs a year from now. The figure does assume the following:
The experts are right and mortgage rates will be 3.18% at the end of the year.
The experts are right and home values will appreciate by 5.9%.
You want to buy a home valued at $760,000 today.
You decide on a 10% down payment.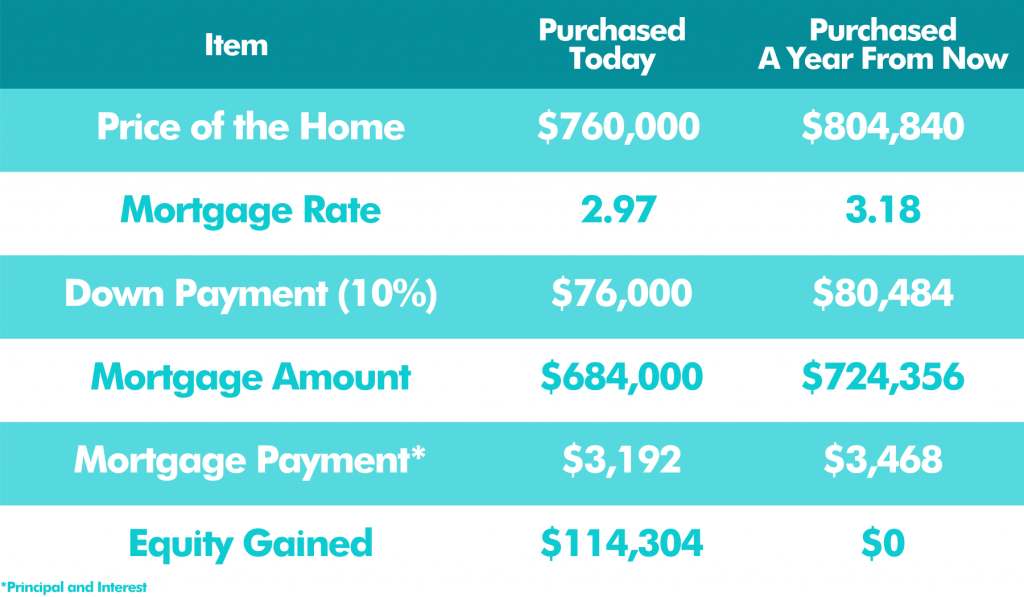 4. Investing in your family is a win
There are some renters who haven't purchased a home yet because they're uncomfortable taking on the obligation of a mortgage. Everyone should realize that, unless you're living rent-free with your parents, you're paying a mortgage – either yours or that of your landlord.
When you're paying your landlord's mortgage instead of your own, you're not the one earning the equity. As an owner, your mortgage payment is a form of 'forced savings' you can use later in life to reinvest in your family. You can use it for a variety of opportunities, such as saving for your children's education, moving up to a bigger home, or starting your own business. Furthermore, buying a home can significantly increase future wealth. As a renter, it can be more challenging to achieve those types of dreams without home equity working for you.
Bottom Line
Buying a home sooner rather than later could lead to substantial savings and long-term financial growth for you and your family. Let's get together to determine if homeownership is the right choice for you this year. Simply fill out the form below to get started. In the meantime, here are some homebuying resources for you.