Living on the beach. Sounds like paradise, and can be your everyday life if you consider some of the great condos on Ocean Boulevard in Long Beach. Long Beach is the most affordable coastal community in Southern California.
Ocean Boulevard  connects Downtown Long Beach to the Los Alamitos Bay Yacht Club at the tip of the Long Beach Peninsula. It is home to many mid to high rise condos. All these beautiful buildings take pride in their breathtaking views of the Pacific Ocean.
Downtown Long Beach has a sophisticated urban feel. Walk down any street and you are guaranteed to find unique restaurants, hip music venues, relaxing wine bars, and creative art galleries. There are interesting independent retail stores, a symphony, several theater groups, an aquarium, a farmers market, festivals, and the Majestic Queen Mary. It has all the amenities of a big city yet it maintains a cool beach town vibe.
This perfect balance of big city and beach are reflected in the condos on Ocean Boulevard. Many of these impressive iconic buildings have pools, saunas, concierge service, workout rooms, meeting rooms, business centers, and direct beach access, plus balconies that allow you to see the glistening ocean and smell the comforting salt air.
If you're seeking a low-maintenance home with a great ocean view, living in a condo along Ocean Boulevard allows the type of lifestyle many people envy.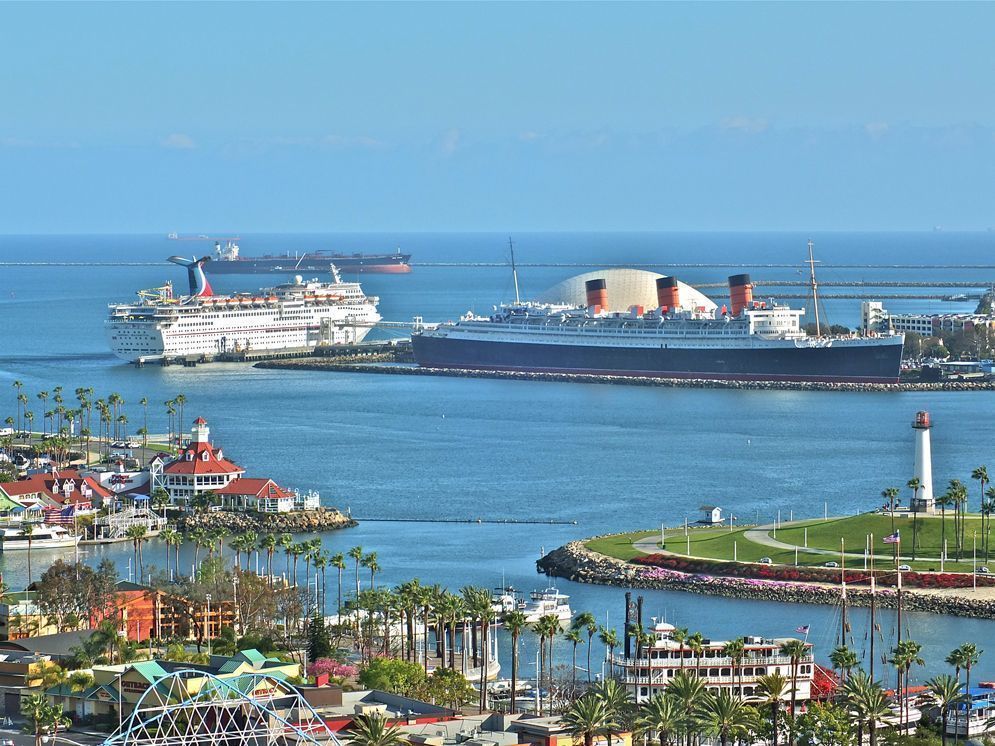 Just walk out your front door and take a stroll or bike ride along the beautiful bike path shore stretching from Belmont Shore to the Queen Mary. Sit on your balcony and sip a glass of wine as you watch the sun set over the Palos Verdes Peninsula. Imagine having no yard work and loads of five-star restaurants and night spots within walking distance. There are lots of great condos on Ocean to choose from.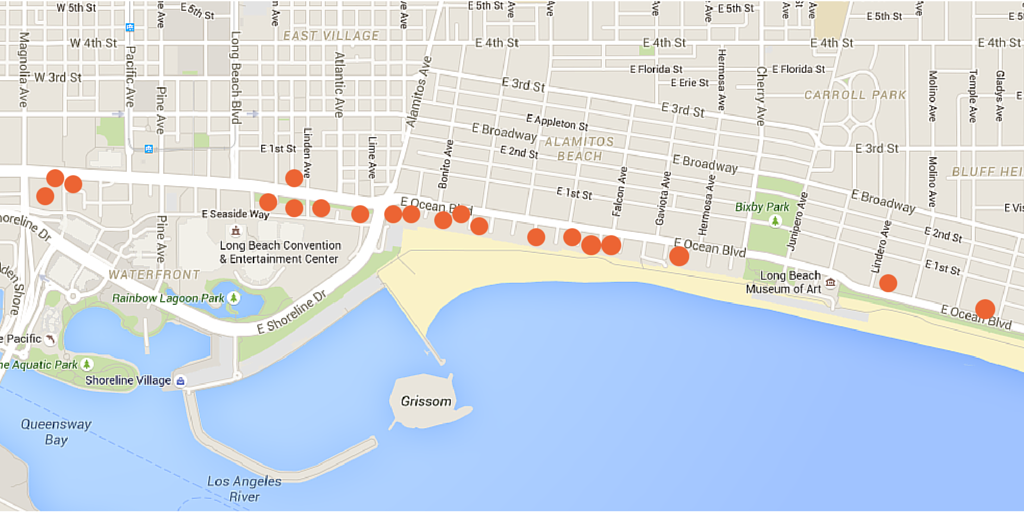 If living in a condo on Ocean sounds appealing, here are some of your options: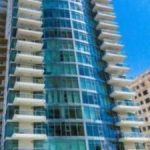 West Ocean Towers –  400 W. Ocean Blvd. and  411 W. Seaside Way – West Ocean Towers is a luxurious property with lots of amenities, including 24/7 concierge service, swimming pool and spa, deck with fireplace and barbecue, fitness center, wine storage, and a lounge/game room. The HOA (Home Owners Association) dues here are higher than some of the other properties along ocean, but you will feel pampered and the location is within easy walking distance of the new Long Beach Courthouse, the World Trade Center, the Pike and more.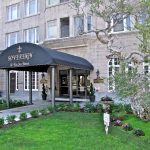 The Sovereign – 360 W. Ocean – This is one of the more affordable condo buildings along Ocean, in part because its units don't come with parking. Built in 1922, the lobby reflects an era of gracious living. Some of the units feature original detailing, while others have been renovated. The roof top solarium offers exhilarating views, but you won't find a pool, spa, or other amenities beyond the views.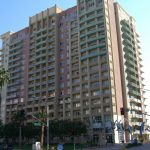 Aqua – 388 E. Ocean and 488 E. Ocean – Like West Ocean, Aqua consists of two high-rise towers with loads of amenities. The location is steps away from Pine Avenue, the Pike and the Performing Arts Center so the walkability is great.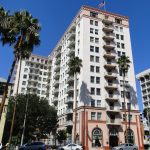 Cooper Arms – 455 E. Ocean – Built in 1923, Cooper Arms is one of Long Beach's historic condominium buildings and has historic architectural style. Think archways, marble, and hardwood floors. Downstairs you'll find a deli, and across the street, the popular 555 Steakhouse. Like The Sovereign, Cooper Arms does not have its own parking lot and residents must rent spots in nearby lots.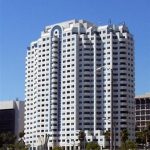 Harbor Place Tower – 525 E Seaside Way – Don't let the Seaside Way address fool you. This high rise sits right on Ocean, towering above the Convention Center parking lot and overlooking Shoreline Drive. Its resort-style amenities include a pool, spa, and a gym along with 24 hour security and lots of visitor parking.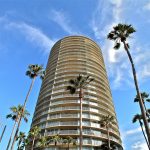 International Tower – 700 E. Ocean – The iconic "round building" in Long Beach was built in 1965 and its classic mid-century highrise style sits in the heart of downtown Long Beach. Luxury amenities here include a 24-hour doorman, a gym, pool, and beautiful community room.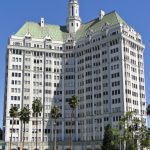 The Villa Riviera – 800 E. Ocean – Situated directly across Shoreline Drive from International Tower, the Villa Riviera is another of Long Beach's classic landmark buildings. This historic high-rise was built in 1928 and some of its units qualify for tax breaks under the Mills Act. The common areas feature vintage detailing, as do many of the units. Units in the Villa Riviera do not come with deeded parking, but there is an adjacent lot where many of the residents rent parking spaces. The building doesn't feature the pool, spa, and other amenities that some of the newer towers have but it makes up for it with style.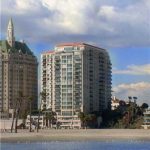 The Pacific – 850 E. Ocean – With just 16 towers (compared to International Tower's 32), this isn't one of the tallest buildings on Ocean, but it does offer luxurious appointment in the way of a 24-hour concierge, gym, pool, and spa.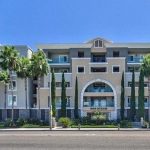 1000 Ocean Condominiums – With a lower profile than some of the other Ocean Boulevard condo buildings, these units were completed and sold in 2004 and offer a great location between 1st and 2nd Place, convenient to the Marina, Shoreline Village, the Convention Center and more.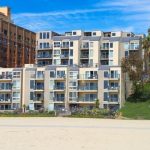 Ocean Terrace – 1 3rd Place – Right next to the historic Saint Regis building, these condominiums were constructed in 1976 and offer both ocean view and beach front units. This is one of the buildings that offers units from one- to three-bedrooms. Amenities include a community pool, spa, sauna and outdoor cooking area.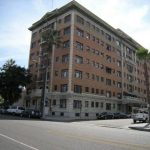 Saint Regis – 1030 E. Ocean – This 1920s mid-rise condo building has direct access and offers one of the most affordable options for a condo along Ocean Boulevard.  As with The Sovereign and Cooper Arms, units don't come with parking and don't offer pool, gym, sauna, etc. Yet you are easy walking distance to Pine Avenue, The Pike, and Shoreline Village.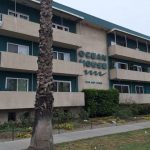 Ocean House – 1200 E. Ocean – This is a low-rise building by Ocean Boulevard standards. Built in 1958, it is situated at 6th Place, convenient to all that downtown Long Beach has to offer.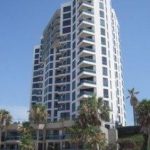 The Ocean Club – 1310 E. Ocean – This is another luxury high-rise condo with amenities including a gym, pool, and spa and a location convenient to both downtown and Belmont Shore.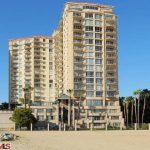 The Meridian – 1400 E. Ocean Boulevard – Built in 2001, this is a newer building by Long Beach standards. The units are two- and three-bedrooms, ranging from 1,300 to 1,500 square feet. Association amenities include a community pool, spa, fitness center, outdoor cooking area and on-site security.
1500 E. Ocean – Built in 2000, this is another newer, secure building with direct beach access and complex amenities including a pool, spa, recreation room, gym and guest parking. Situated between downtown Long Beach and Belmont Shore.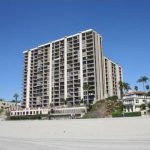 The Queens Surf – 1750 E. Ocean – Built in 1975, this building has a pool, sauna, hot tub, rec room, and gym with HOA dues that are more affordable than some of the newer buildings. It has direct beach access and a location that's convenient to Belmont Shore, downtown, or the Broadway Corridor.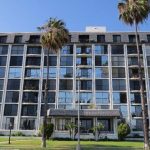 The Versailles – 2601 E. Ocean – Built in 1973, the Versailles sits across Ocean from the Bluff, but features unobstructed views and amenities including a pool, hot tub, and rooftop deck.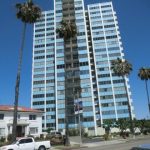 Galaxy Tower – 2999 E. Ocean – This iconic Bluff Park condo stands out in a row of stately homes along Ocean. Built in 1967, it offers classic mid-century modern style and phenomenal views of the Ocean.
Condos for Sale on Ocean in Long Beach CA
Search All Homes for Sale in Long Beach CA