Have you ever been to someone's house before they had children, then visited after they had kids? Did you feel like their house transformed from a home to a glorified playground? Or maybe this describes your home. Many parents complain that it feels like their kids have taken over their home. No matter what stage of parenthood you're in, here are some tips to help you make your home kid-friendly without losing the charm and cleanliness of a home meant for adults too.
Low Maintenance is Key
Perfectly fluffed throw pillows and crisp white furniture look nice, but they aren't realistic if you have kids. Materials that are easy to clean will save you a lot of hassle in the future. Slipcovers are a lifesaver if you anticipate a lot of spills in your family's future. Rugs made out of natural fiber are easy to clean, as are leather couches. Another alternative? Use an outdoor rug indoors! They were made to be extra durable and the woven materials are not just kid-friendly, they're design-friendly too.
A simple wood table rather than an expensive dining room table is another kid-friendly alternative. It has no sharp edges and can get food spilled on it. It's also a great place for arts and crafts.
Pro Tip: Use a conditioner every 6-12 months and simply wipe up spills as they occur.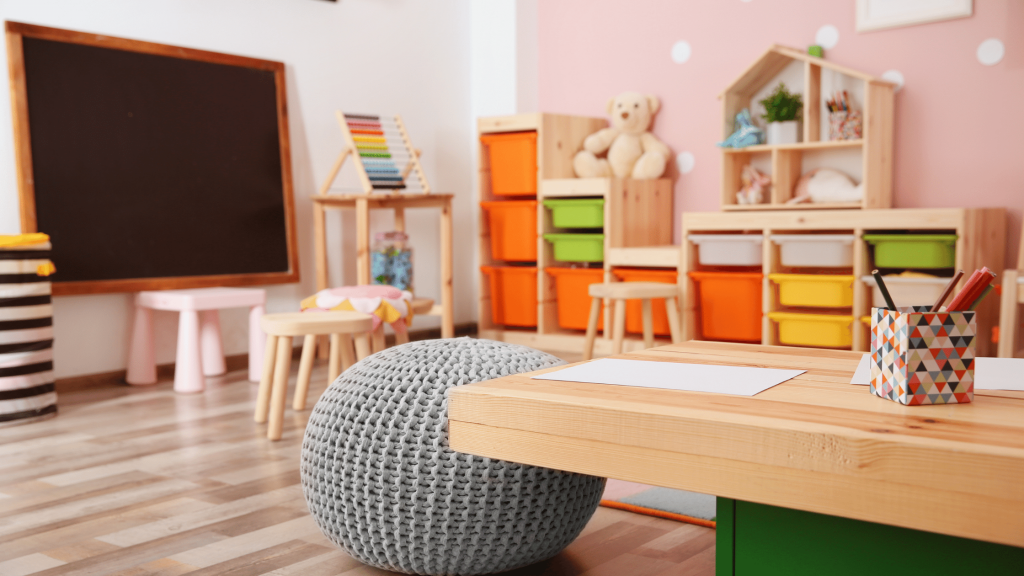 Create Space
Overcrowded rooms tend to look messy. Add kids into the mix and it's easy for all the toys to overfill a room. Also consider an open floor plan, which may require knocking down a wall. Open floor plans give the allure of more space and allow the whole family to be together without crowding into one room.
If you find that you just have too much stuff everywhere, check out these underutilized spots in the home that can be used as storage.
Double-Duty Furniture
When you have kids, it's unrealistic to think that your home will constantly be clutter-free. However, if you have the right furniture, the clutter can be easy to hide when you have guests coming over.  For example, these ottomans from Crate & Barrel serve as seating and storage. They look sleek and stylish, plus they are made out of kid-friendly leather!
Not Stuffy – Just Livable
Rather than trying to make your home look picture-perfect, go for the simple and cozy look. You want furniture that's comfortable and a space that can actually be used. Move your collectibles and breakable decor items up high and keep surfaces fairly empty.  The key is to create a balance between style and real life. If you have toddlers, they will want to touch everything! The solution? Reserve bottom shelves for toys and children's books. Parents are getting creative and displaying kid books like art. It's a great way to add some kid-friendly decorations to your home. Also, skip out on shelves, lamps, and any other items that are easy to knock over.
Create a Play Station
If you don't want your entire house to be one big jungle gym, reserve certain spaces just for playing. Create a section of the living room where toys, books, and games can be stored. That way the kids will feel like they have their own special space and you can still keep an eye on them.
While your dream home palette may be neutral, kids love colors! Consider adding pops of color all over the home, but especially in kid-designated areas.

House Rules
Set some house rules. Especially as the kids get older, have them keep their sporting equipment, musical instruments, and video games in their rooms or another designated area of the house. Keep a chore list and hold the kids accountable for doing their part to keep the home clean. Consider painting a small wall with chalkboard paint and use it to communicate with the family during busy schedules.
Create your "Me" Space
Running a household can be exhausting. Whether you're cooking dinner, packing lunches, or helping with school science projects, parents need a break too. Set aside a separate space in the house for you. Dedicate this space to relaxing and taking care of yourself. Keep the space free of toys, Sippy cups, and kid books.
Need help creating an office for yourself? Click HERE to learn about turning your closet into a home office and HERE to read our tips on creating an attractive home office!
Kids Will Be Kids
Sometimes being a parent just means rolling with the punches. Don't sweat the small stuff like dings on the wall or spills here and there. A home is meant to be lived in! No matter how meticulous your design style is, a home can never be fully kid-friendly and perfectly clean. But that's okay! Kids are worth it.
However, sometimes your home will never be kid-friendly no matter how organized it is. The layout could be wrong, or you might just need more space. If that's the case, The Shannon Jones Team would love to help you find a home you and your kids will love. Fill out the form below so we can chat. We look forward to meeting you and your family!