With so many people working from home now, the consumer's home wish list is changing. A huge trend we're seeing is the desire for a home office. Especially with kids and even college-aged students living at home, getting some time away can be necessary. A home office can give you some space back and give you a productive area to get your work done.
Creating an Attractive Home Office
Here are some tips to help you create an attractive home office that you'll actually want to spend time in.
1. Pretty Matters
A home office doesn't have to be just functional — it can be pretty, too. So take as much care with the decor as you would in the other rooms in your house, making sure office furniture and accessories coordinate with wall and floor coverings.
Want to make your home office trendy as well as pretty? Check out these 20 fall home trends!
2. Light It Up
If you don't have a lot of natural light (or you'll be working mainly in the evenings), make sure you have good lighting, particularly task lights for illuminating your desk. Include other types of lighting too, so you'll make the room feel comfortable. Twinkle lights are an affordable way to give your home office a cozy feeling and give you extra light.
3. Take a Seat
It's essential that your desk and chair are comfortable to work at, so take the time to choose them. Make sure the seat and backrest of your chair are adjustable and that the height of your desk is comfortable. A standing desk is a great way to make sure you get up throughout the day and avoid back and neck problems someday.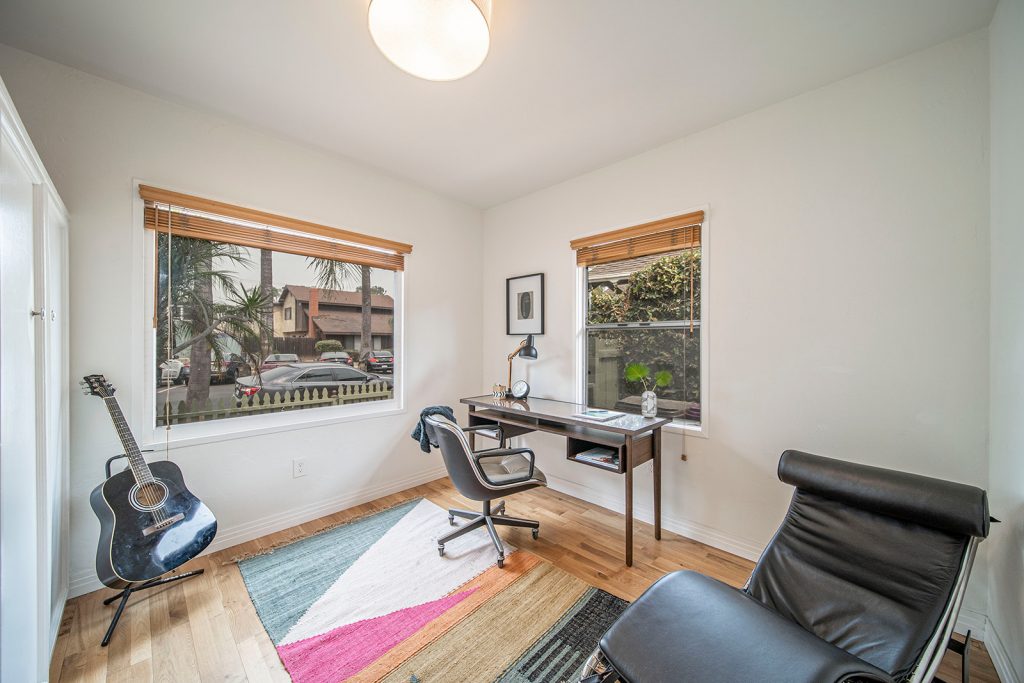 4. Get Plugged In
Make sure there are plenty of power outlets in the room and easy Internet access. If your whole family is working and studying from home, consider upgrading your Internet power and speed. HERE is a list of Long Beach utility companies that can help you upgrade.
Avoid a "rat's nest" of cables by bundling them together and tucking them out of sight. Trying searching for chord organization on Pinterest for plenty of hacks and gadgets to keep all your chords organized.
5. Secret Spots
Think carefully about the kind of storage you'll need in your home office and make sure there's enough of it to hide away any potential clutter. Consider stackable boxes to store paperwork efficiently and an attractive filing cabinet. Put shelves on the walls and use them to store books. Plus, add wire baskets to the shelves for documents.
Not enough storage space in your home office? Try using some underutilized spots in your house.
6. Get Tacky
Put up a bulletin board for reminders and other essential information you use every day. Then you'll avoid ugly sticky notes and random notes all over your workspace.
Home Office Not Enough?
There's no doubt the current pandemic is changing real estate trends. If you're starting to realize you don't have enough space in your home, you're not alone. If you don't have a separate room for a home office, you can build a closet office. Or, you can look for a bigger house altogether. If you decide selling is right for you, now is a great time to sell a home.
The Shannon Jones Team would be happy to set up a complimentary appointment for you. We can discuss your home and what selling could look like for you. To get started, simply fill out the form below or give us a call at 562.896.2456. While you wait for us to get back to you, instantly check the value of your home HERE. We look forward to talking with you!