Your home is your castle, but if you've got pets, it's also their castle and you want to make sure your pets are comfortable and safe. Whether you're thinking of selling your home or planning on staying put, there are a number of things you can do to create a pet-friendly home.
In 2016, 61% of U.S. households owned a pet or planned to own one in the future and there are many features both in the home and surrounding community that pet owners value. As you're working to make a more pet-friendly home, you may want to consider the features that buyers find most important.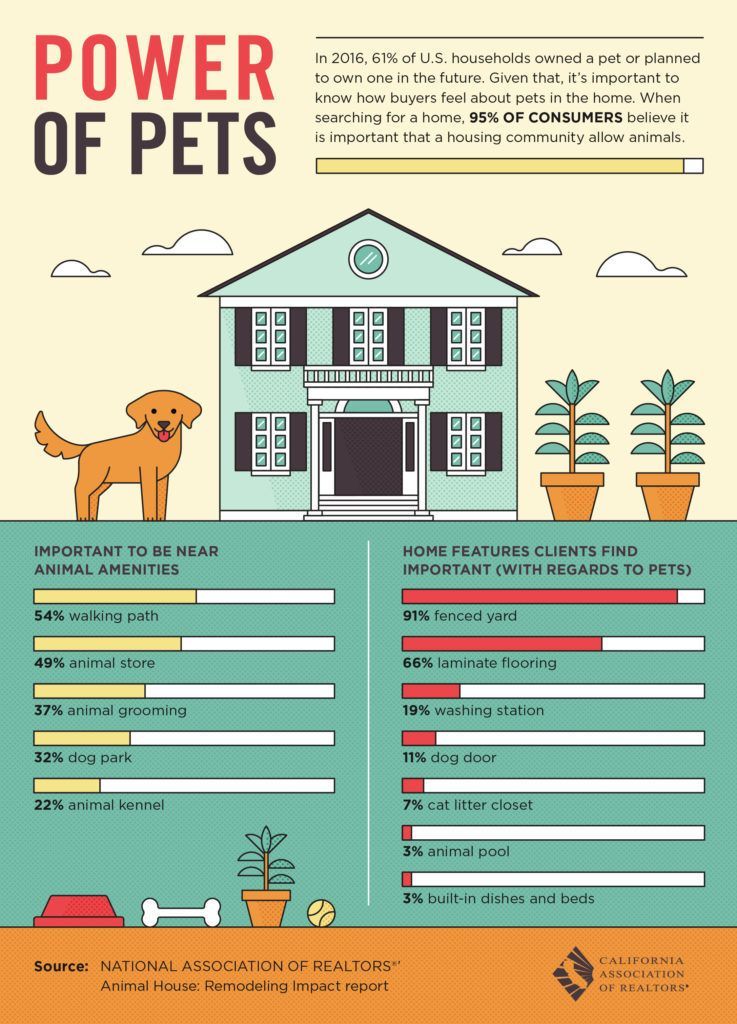 Fencing
Not surprising, having a fully fenced yard is important to the vast majority of pet owners. Check to make sure that all the holes and spots for possible exit have been fixed. You might want to consider not purchasing on a busy street if you have pets, just in case they do get out.
Landscaping
Make sure that plants are pet-safe. Lilies can cause kidney failure in cats. Some other common but toxic plants include amaryllis, poinsettia, mums, aloe vera, some ferns and ivies, and daffodils. Consider organic gardening as insecticides and fertilizers were among the ASPCA's top 10 pet poisons in 2008.
Flooring for a Pet-Friendly Home
As wonderful as pets are, they can be tough on some flooring surfaces. Paw prints, scratches, and or piddle can make keeping a home in tip-top shape tough if you choose the wrong flooring. Wood flooring can scratch more easily than laminate so you may want to select a harder wood like oak or mahogany rather than a softer wood like pine or fir. If you go with carpet, select a low pile one that is stain-resistant and consider one that may better blend with your pet fur.   Laminate flooring, stone or ceramic tiles, or painted concrete are all good choices for a pet-friendly home and are easier to keep clean and stain-free than carpet.  Keep in mind that polished flooring can be slippery and difficult to maneuver, especially for older dogs and cats. You may need to add area rugs or rubber mats for their safety.
Check for Hazards
Inspect your home for potential dangers. Medications and cleaning products, for example, should be stored in cabinets that securely close. Get on your hands and knees and scan your living space at your pet's level. Seeing what they see could identify hazards and issues you might otherwise overlook. Keep your toilet lid down to eliminate a drowning hazard, and if you use automatic bowl cleaners, to eliminate the risk of poisoning. If you have any high windows, make sure that screens are sturdy and properly installed to eliminate any risk of having your pet fall out the window.
A Space Of Their Own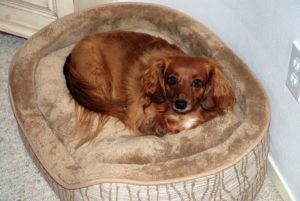 Pets like downtime just like we do. Give them an area where they can find refuge to sleep or relax. Include a pet bed and a crate if space allows. Choose a corner that is quiet, out of direct sunlight, and where you won't mind a little dirt or hair. Also consider adding a perch where your pet can easily view the great outdoors. Place their food and water in a convenient location where they can easily get to it and won't be underfoot. For cats, place litter boxes away from feeding areas and in a place where they have a little privacy.
Clean, clean, clean
Vacuum regularly. Pet hair can have an odor and contains an oil that will attract dirt to the fabric or carpet on which it sits so regularly so keeping pet hair in check is a must. Additionally, keeping your dog or cat clean and groomed will keep your house cleaner for longer. Trimmed nails won't scratch floors or upholstery as easily and regularly brushing removes loose hair before it ends up on your floor, bed, throw pills or curtains. Consider installing a washing station for your dog.
In & Out Privileges
Consider making your life and your pet's a little easier by installing a doggie door. When you're fixing dinner or sleeping, you may appreciate you don't have to jump up and let the dog out. This also means that when your gone, your pet can remain inside but have the flexibility to head outside when nature calls.
Scope Out Dog-Friendly Places Around You
Many pet owners place a premium not only on pet-friendly homes but also homes that are located in pet-friendly communities. Long Beach is a very pet-friendly city with not only a dog beach and multiple dog parks but also many restaurants and other businesses that will allow pet owners to bring their four-legged friends. Scope out some of the dog-friendly places in Long Beach.